Children's gardening expert Lee Connelly – also known as the Skinny Jean Gardener – started gardening at the age of 26 when he took on an allotment growing his own veg with his brother.
In 2014, he became the CBBC Blue Peter Gardener, inspiring children to get outside and get their hands dirty, encouraging them to use gardening to help attract wildlife. During his time on Blue Peter, Lee became a father to daughter Olive and he decided to concentrate on family gardening and getting kids and parents outside.
All set to take his Hilux Invincible X for a tour across 20 schools nationwide, Lee shared his gardening tips with the TGB magazine and spoke about encouraging pupils to bring in their home-nurtured plants and starting mini allotments within school grounds, in the national schools tour, sponsored by M&S.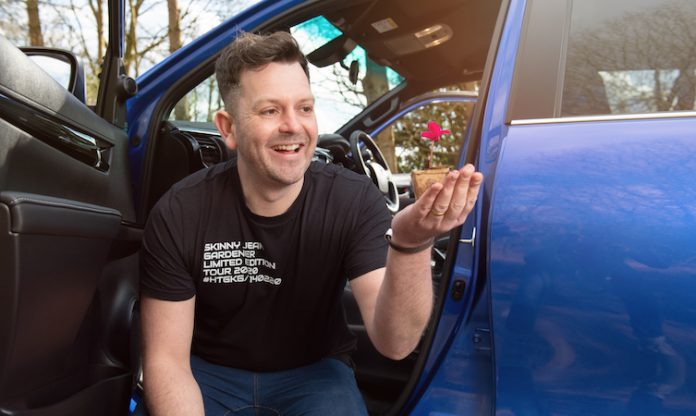 How did you come up with the name Skinny Jean Gardener? 
Lee Connelly: "For just over seven years now I've been the Skinny Jean Gardener, and I wish I had some magical, exciting story about why. But I don't. It quite simply is because I garden in skinny jeans. They're actually really comfortable for gardening in. They're streets plus you look fashionable too! I'm not sure what will happen when they go out of fashion, or when I can no longer fit them on. Maybe I'll be the baggy-jeaned gardener in the future."
Where did your love of gardening come from?
"I actually got into gardening really late in my life. At 26 would have been the first time I picked up a spade. I'd left my mum and dad's house to move in with my now wife, and me and my brother missed each other. So we decided to do a hobby where we could spend time together. We tried being in a rock band but we couldn't play instruments. We were useless at sports and then one day we were offered half an allotment, and so our love of gardening began. I wish that I had learned about how to grow my own food at a young age, and that's why I get kids gardening now.
"My inspirations have to be people like Jamie Oliver and Joe Wicks. To begin with, Jamie Oliver made cooking so easy to get into by just keeping it simple. He doesn't get fancy with it, which means more people can relate and get cooking themselves. Joe Wicks too; what he's done for fitness is get people exercising with no need for equipment, and that can be done wherever you are. Again just keeping it simple and easy to get in to. That's what I want to do for gardening: step away from the stuffiness of it and keep the fun aspect at the forefront."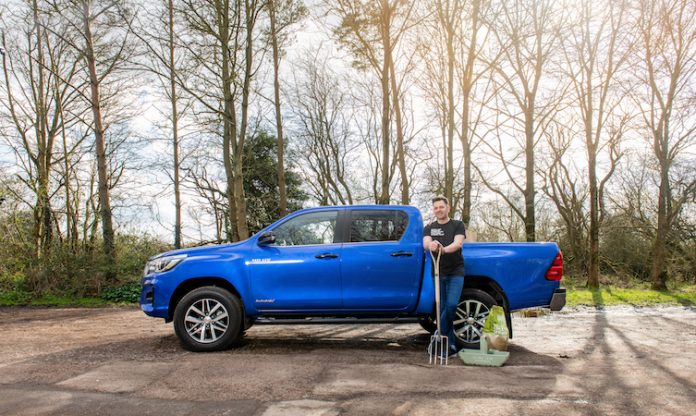 Have you experienced any challenges in spreading your message?
"Actually, yes, I have. The biggest challenge is learning all about it. For someone that never grew up with even the word sustainability in their vocabulary, it has been a learning curve. And if I'm totally honest, it wasn't until we had a daughter that I really started to take it seriously, when you think about what our world will look like when she's my age. I'm still learning now, and as I put that message up, I always get people coming and talking to me about it. Nobody's perfect, but we can all learn from each other how we can do our bit."
What tips do you have to get young kids interested in gardening?
"Rules. Rules are good in some circumstances, but in the garden you have to throw the rule book out. Plants are going to get stood on, some are going to get ripped out, and things are going to get dug that don't need to be dug. But if the children are out there with you getting their hands messy then all of that shouldn't matter. It's all about letting them do their thing, and not personally having gardening jobs to do while they are out there with you. And if that is the case, then don't take exception and you'll get those jobs done. Messy hands equals kids getting gardening."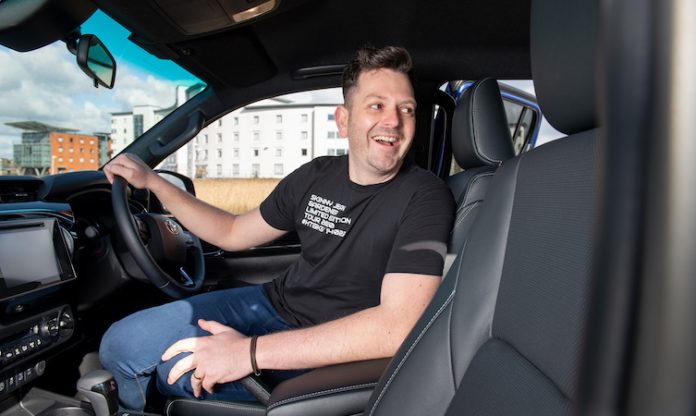 Can you tell us about your schools gardening tour?
"I'm so excited about this. It's something I've wanted to do for a long time. I'm constantly getting asked by schools to visit them, which is great! It means that teachers know the importance of kids knowing and getting outside gardening.
"The only thing that stops me is time. I'm away so much at shows that if I went to all the schools, I'd never see my own family. The other thing is money. Schools don't have the funds to bring it together and get kids out there, or the knowledge for the kids either. So I wanted to do a tour over one week and visit as many schools as we could, for free! So Marks & Spencer got involved with its fab Little Garden campaign, that's already getting so many families growing in 2020, and we came together with a plan. 
"The team and I will be travelling all over the UK in one week, visiting 20 schools, starting 20 school allotments and getting 10,000 school children gardening in one week. This means 10,000 children will be going home with their seedling kits, growing at home with their families, and then bringing the plants back into school to be used in the allotment."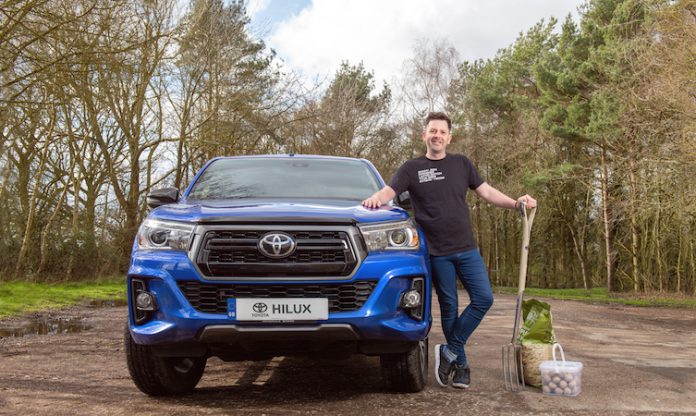 What do you look forward to about driving a Toyota Hilux?
"We are covering a lot of miles in such a short time. So myself and the team need a bit of comfort as we travel from school to school, which I think the Hilux will be providing for us. But also we have a lot of gear to take around with us. One of the team of three will be travelling with luggage and a lot of skinny jeans, then we've got all the camera equipment, and then all the stuff for the school allotments and seedling kits. With a lot of gear to get about, I don't think we could have a better vehicle for the job."
How will you use the Toyota Hilux during the schools tour?
"Like I said, travelling around the country with all the equipment is the biggest thing, but we had an idea that the back of the Hilux could actually be used as a bit of a stage as we are doing the growing sessions in the playground with the whole school. So yes, a bit different, but it will definitely be put through its paces."
What do you look for in a car?
"The older I get the more it's about practicality. It needs to be able to do the job, and not let you down. That's one of the reasons the Hilux is perfect. I want something that I can use for work and also with the family. I'd be lying if I said it didn't look good. I love the design of the Hilux!"
"It needs to be able to do the job, and not let you down."
Have you driven a Toyota before?
"I have! To be honest, I'm not sure what model it was, but it was a Toyota van that had been turned into a camper. While I was in Australia me and my mate drove it the whole way round the country for four months and we never had an issue with it. It was quite old but got around without a problem. Four months living out the back of a Toyota: that's got to be a TV show idea right there!"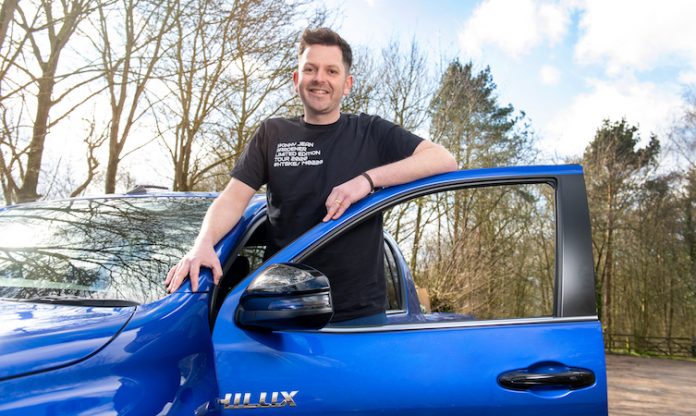 Do you have any advice for people without gardens?
"I've actually just bought a book out about this. It's about how to get kids gardening but also that you don't need a massive lawn. In fact, It doesn't matter how big your garden is, we can all be gardeners. It's all about making the most of the space you've got. Using walls, hanging from the ceiling, there are even pots that stick to the window. There really is no excuse. It's also about keeping it simple and growing what you're going to actually eat. Be selective and don't just grow any seed packet that's thrown your way." 
"It doesn't matter how big your garden is, we can all be gardeners."
What are the best resources for those who want to be sustainable?
"Upcycle, recycle, reuse. You'd be surprised at what people still throw out. We still live in a throw-away culture that uses things once and then gets rid of them. With a little bit of imagination, anything can be turned into a growing container or pot to start seeds in. It's about recycling old coffee cups and bottles and just having a little think: Do you really need to buy that or has someone got that in their shed they never use? If you look on the online marketplaces you're bound to find something that you will need that's being given away for free."
Do you have any personal gardening goals?
"It has to be continuing to get my daughter into it. She loves it. And as I'm away so much for work during these hot summers I'd love to say she's got the allotment to take care of. It's all about continuing to spend time outside together creating real memories that she will cherish one day when she's older."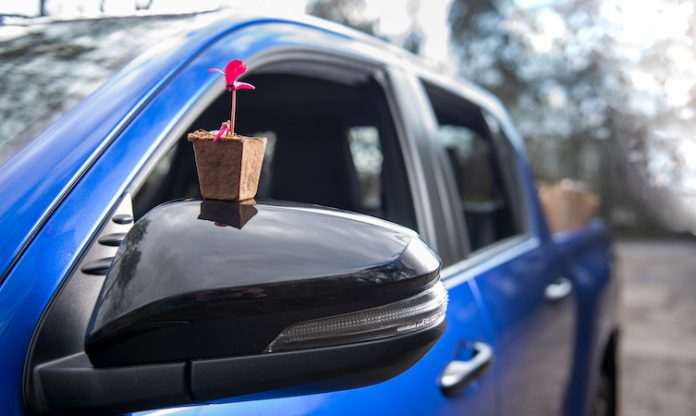 What does the Skinny Jean Gardener love the most about gardening?
"It really is therapeutic. If I'm not out there with my little girl, I'm out there alone. And as much as my job is surrounded by social media, just getting away from it, getting my hands messy and having some time on my own, really gives you time. It's amazing. We have our heads down walking around on our phones most of the time. If we just looked up, we'd see what we were missing." 
And lastly, do you have a favourite plant?
"Easy! Dragon Breath chillies. They are proper hot and I just love growing them. They are fiery, hence the name, but a great one to add to dishes, and a fun one when the mates come over."
Thank you for your time Skinny Jean Gardener! We hope you have a great tour.
Lee Connelly, the Skinny Jean Gardener, was speaking to Neha Aggarwal