Last weekend, services personnel and motorsport fans came together to mark Remembrance Day with the second Race for Remembrance at Anglesey Circuit. Toyota supported the event by supplying two GT86 race cars – read about that in this post.
Also at the event was former Army medic and YouTube star Bill Callaghan. Here's his report on the day.
My first Remembrance Parade was at the age of 9. I was a Cub Scout, parading with 1st Wythenshawe Scout Group along Moorcroft Road in Manchester, and I remember the solemnity well. I knew what the Poppy was all about – everyone did back then, a lot of my scout leaders were World War II veterans. I've never forgotten it, and I've marked every Remembrance Day since in a variety of uniforms and places – but the feeling remains.
This year's Remembrance Day at Anglesey was, I have to say, one of the most unusual I've experienced. I was privileged to be asked to attend Mission Motorsport's Race of Remembrance at the Anglesey Circuit, Ty Croes. In short, Mission Motorsport is a charity that enables sick and damaged service personnel to "Race, Retrain and Recover" through the field of motorsport (find out more about them here).
Now I know next to nothing about racing cars, but I do know a lot about soldiers and injuries – so I was truly delighted to go along and meet everyone at the event.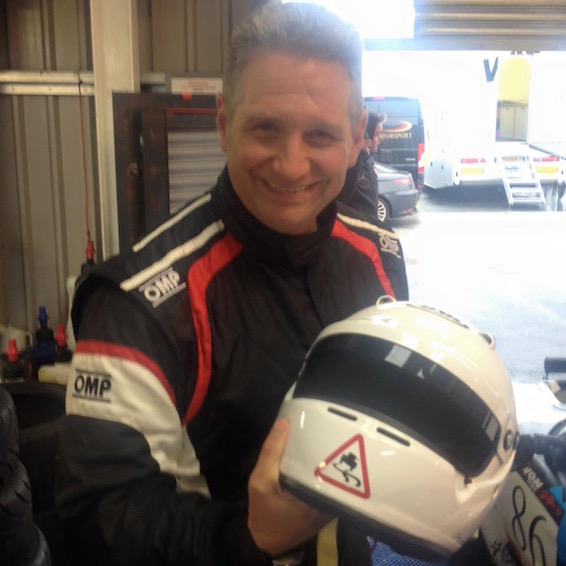 After a trip up in grim weather, I first sought out James Cameron. He is the charity's founder and – pardon the pun – driving force, known as 'Tank Slider' (don't ask). He has himself been knocked about in several recent wars and his passion for the troops he commanded and for motorsport came together in his head to bring about the provision of this invaluable support to so many veterans. The involvement as drivers, mechanics, photographers, logisticians has led to many apprenticeship opportunities with donor companies and groups, and certainly not just in motorsport – one MM beneficiary is even training as an arborist at Goodwood Park.
There's an amazing vibe. It's all about the car; the driver might grab the attention but in truth they're no more important than the crew that keep the car moving; in fact, the driver is the only component the team can't vouch for. When the driver takes over the car, all the team's hope, effort and focus roll as dice… it is the driver's job to load those dice for a win. After all, there's three podium slots and only one winner.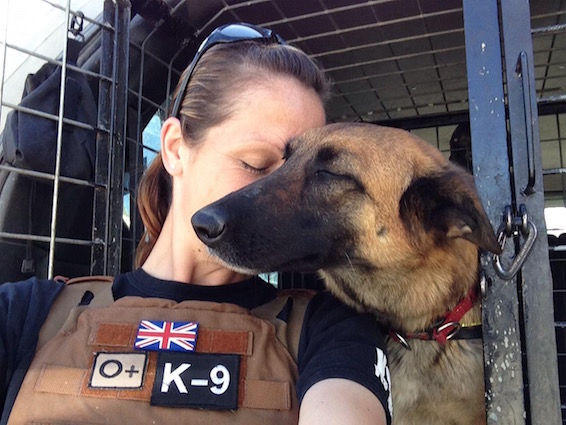 There are a terrific group of people supporting the teams. I was a delight to meet Steph Evans among them – I've actually met her before, and helped her bring home her search dog Kikay from Afghanistan last Christmas, so it was grand to learn that Kikay was home with her and enjoying a more peaceful retirement.
It's difficult for some to engage with people who've had such life changing injuries and I've always felt it best to just ask openly, get that chat out of the way and speak as people. A little shared black humour with Ashley 'Basra' Hall made this really easy.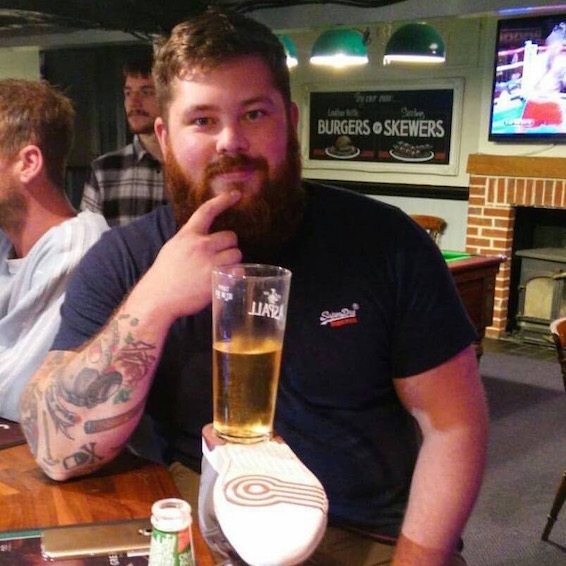 "What happened to you Ash?"
"It was an IED." (Improvised Explosive Device)
"What unit were you with?"
He laughed and said "EOD, Bomb Disposal."
"Haha, you weren't very good then."
"I was great. I found the bomb and disposed of it pretty quickly."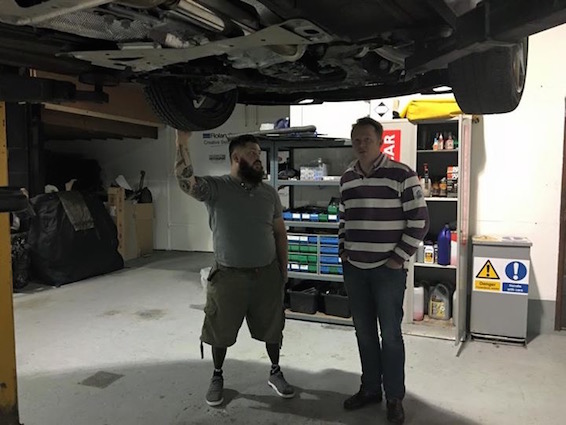 David Birrell is a fiercely competitive Scot and has taken to racing like a thing that takes to racing really well.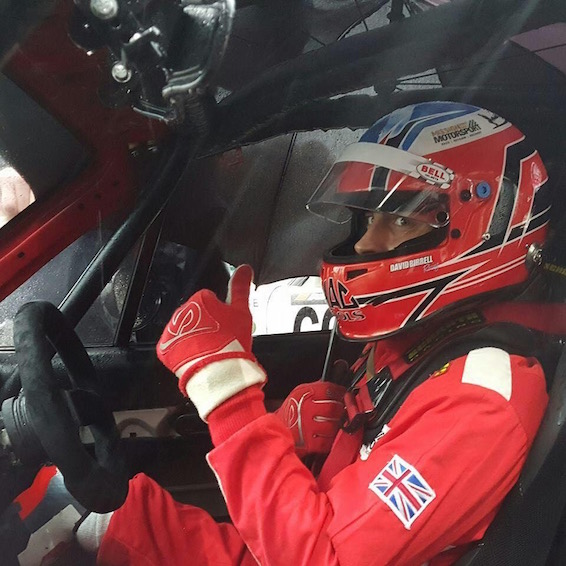 He's a double amputee and has had a special pair of race legs made to use when competing.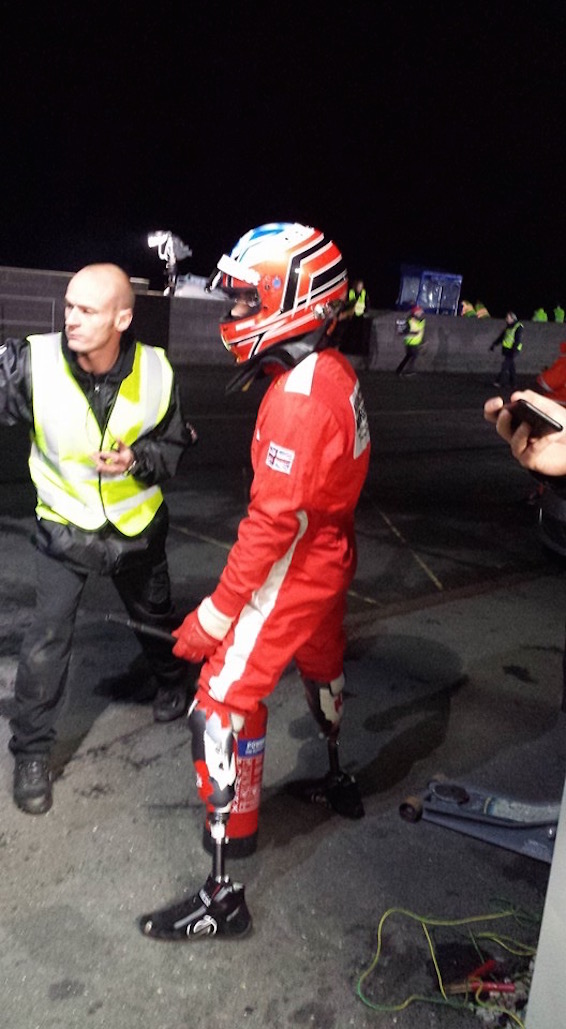 As you can see; the cars aren't the only example of ingenious engineering.
You can learn more about David and his racing with Mission Motorsport on his Facebook page.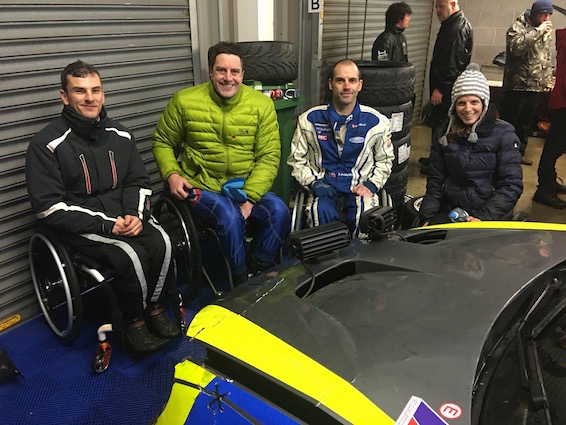 This is Spinal Track!
Three men, one woman, four severed spinal chords, one team. Their car is craftily painted in police colours with (for legal reasons) 'POLIZEI' emblazoned upon it. They've used some psy-ops too: anyone about to overtake them will read the "Reduce Your Speed" sticker, muscle memory may come into play at this point, for who would defy the law?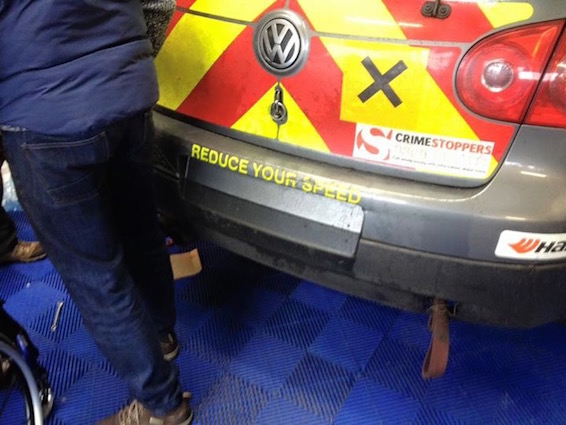 The racing took place on the Anglesey Circuit at Ty Croes and I managed to get in the Pace/Safety Car for a look at the track.
I was greatly impressed by the Medical Cover for the event this was supplied by volunteer doctors and paramedics of the Welsh Air Ambulance.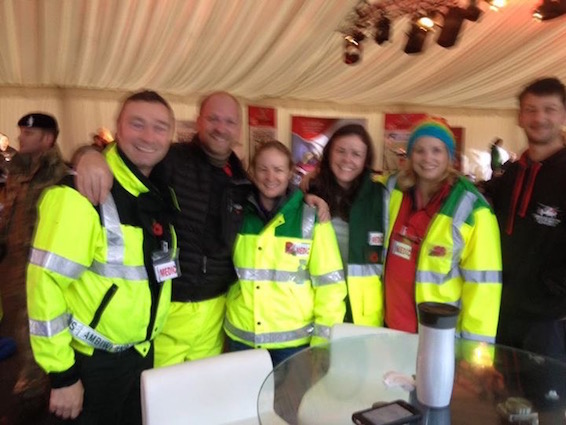 I love it that the Welsh word for Doctor is "Meddyg."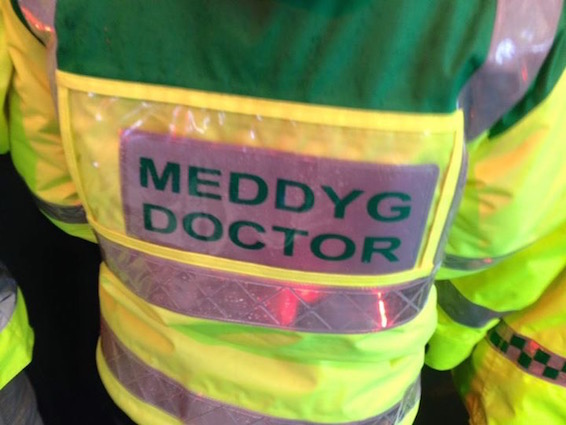 They were a great bunch of folk and happily redundant throughout the event but it couldn't have happened without them.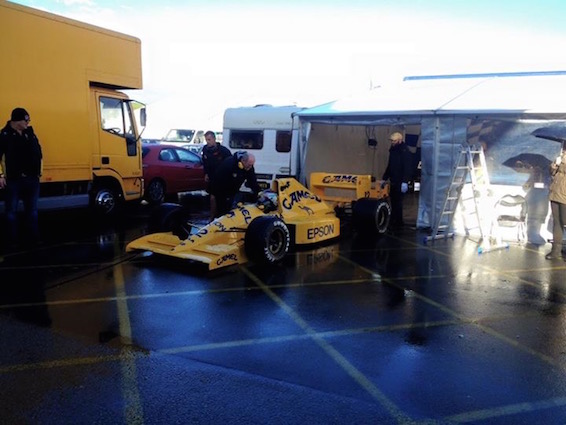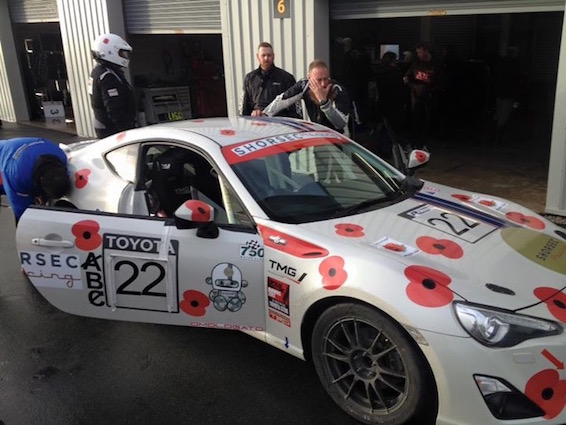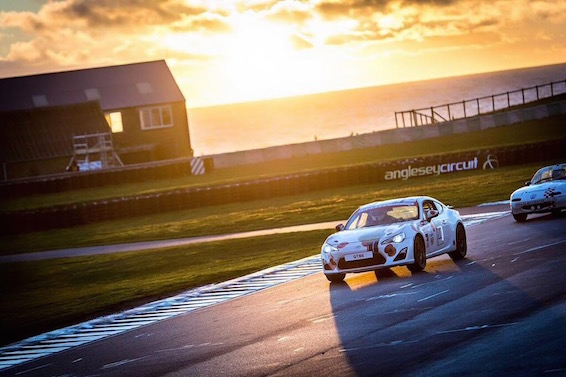 At 10:30am on Remembrance Sunday, racing paused for the Remembrance Service. It was far too blowy to be held in the Anglesey pit lane and the marquee was rattling too much to hold the service there so we opted for the lee of the team sheds.
Our Cenotaph was known this year as the 'Poppy Car'. It's rather beautiful livery was unspoiled by sponsor logos but as a grateful gesture the team listed them on the inside doors.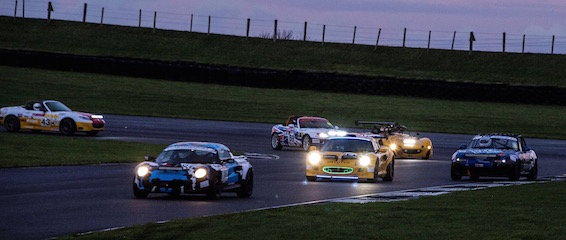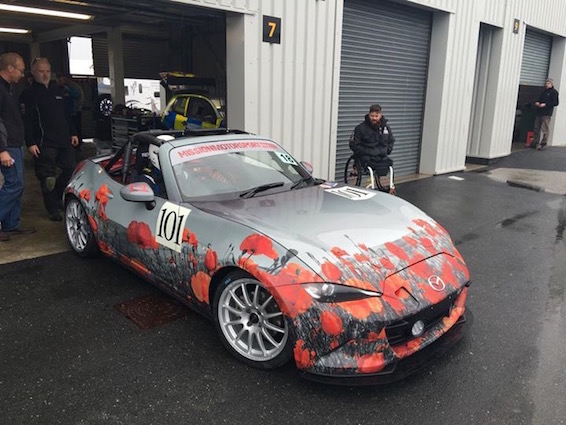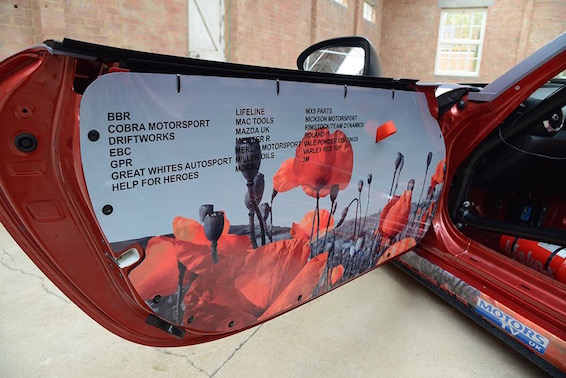 It was numbered 101 as nod to the hundred and one years since the outbreak of the Great War. By the time it came to be used as a cenotaph it was, perhaps appropriately, displaying its own battle scars, having been in collision earlier while racing.
I was honoured to be asked to be parade marshal at Anglesey. It gave me the opportunity to exercise my drill instructor's voice but in all that I had to think of to get that right I couldn't help but reflect on the irony of us gathered there to remember the sacrifices of others.
Though those memories are painful – indeed too painful for some – it's not something I want to forget, and I know that many gathered there live with permanent reminders. Once my duties there were done, instead of bellowing a parade dismissal I stepped back. James Cameron stepped forward and bellowed "LET'S RACE CARS!"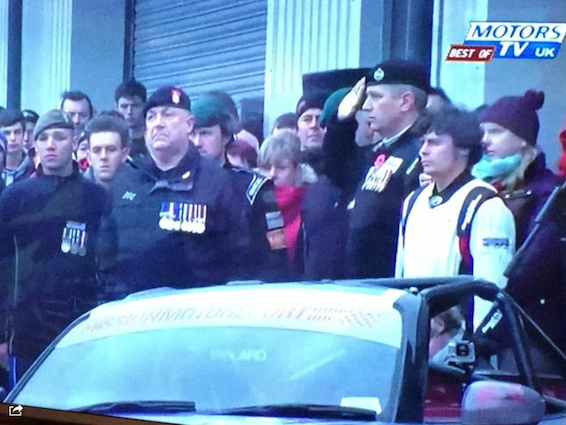 To some that may seem irreverent but it's a beautiful way to end; it is after all our duty to enjoy our freedom and live life to the fullest; that is the truest way to honour those that gave their tomorrows for our today.