The greatest mission in Toyota's history is to provide freedom of movement to all. We believe it is a fundamental right of humankind. Yet within the hubbub and distractions of modern life, it is possible to forget how joyous and beautiful movement can be.
Beautiful Movement, our new Start Your Impossible campaign for the 2022 Olympics and Paralympic Winter Games, aims to remind us of the journey that all of us share, irrespective of who we are or where we're from. Moving through life brings challenges and help is always needed as we journey from one place to another or transition from who we are to who we want to be.
The campaign (video embedded above) highlights the challenges and joy of movement through the experience of teenage ballerina Pollyanna Hope, who lost her right leg in a road traffic accident at the age of two. Now dancing with the youth company of the English National Ballet, she uses a variety of prosthetic legs – including the world's first custom-made prosthetic for en pointe work – to train at the same level as able-bodied students.
As both the star and voice of the Beautiful Movement campaign, we caught up with Pollyanna and dance teacher Amber Doyle to hear about her training regime, the challenges of dancing with a prosthetic device, and her determination to succeed.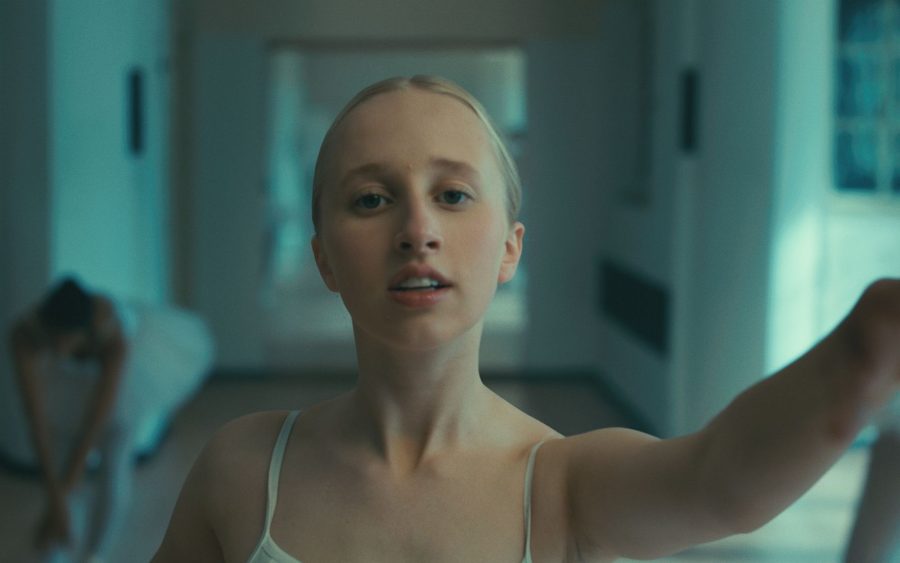 What challenges have you encountered while training to become a ballerina?
Pollyanna: "The physical strain of it leaves me exhausted – but it always feels rewarding. I like being graceful and ballet makes me feel like I am floating."
How often do you train and is it any different to able-bodied dancers?
Pollyanna: "I usually train three days a week: two days with the London Contemporary Dance School, and then one day a week and one day a month with the English National Ballet youth company, where I've been since September 2021. I do all the same dances and training as everyone else."
Amber: "Pollyanna attends my open classes, where she makes the adaptations herself. But in our private sessions, we work en pointe and spend quite a bit of time strengthening the standing leg to gain stability for centre practice (without the support of the handrail). We exercise both sides to create balance in the body, and while she was waiting for a new pointe leg and blade, we worked on floor-barre and Pilates-based training to increase core strength. It's been incredible to see how Pollyanna adapts!"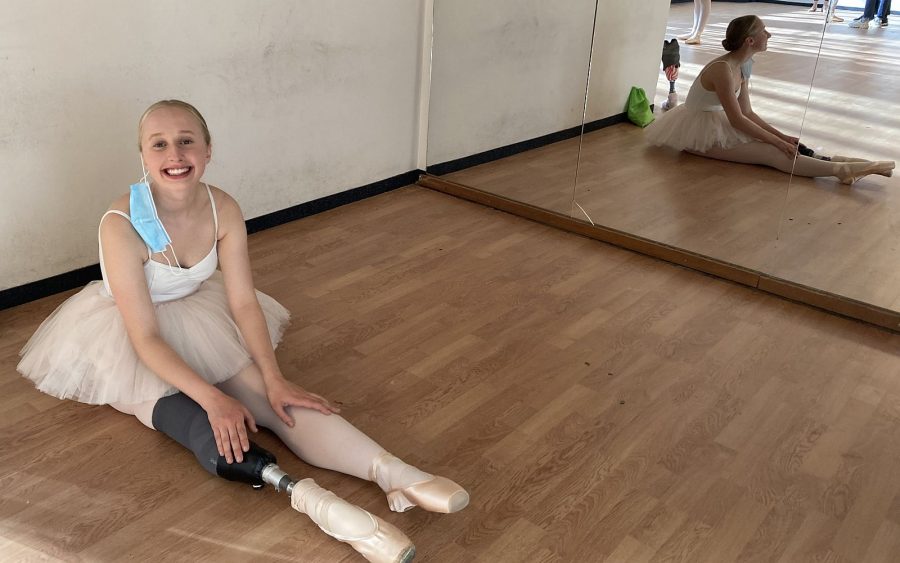 How do you juggle ballet with everyday life, and what other interests do you have?
Pollyanna: "It is a tight squeeze – I am not going to lie. I am also doing three A-Levels of which my favourite is theatre studies. Alongside this I also enjoy designing and making my own clothes, particularly smart dresses."
What different prosthetic devices do you use?
Pollyanna: "Dorset Orthopaedic made a special en pointe ballet prosthesis for me (seen in the video) and it is quite cool. I have another leg for normal walking and a blade for running that I also use for dance. And I'm getting a new activity leg soon, too. I hope to be able to dance and walk on it, so I don't have to carry around so many legs!"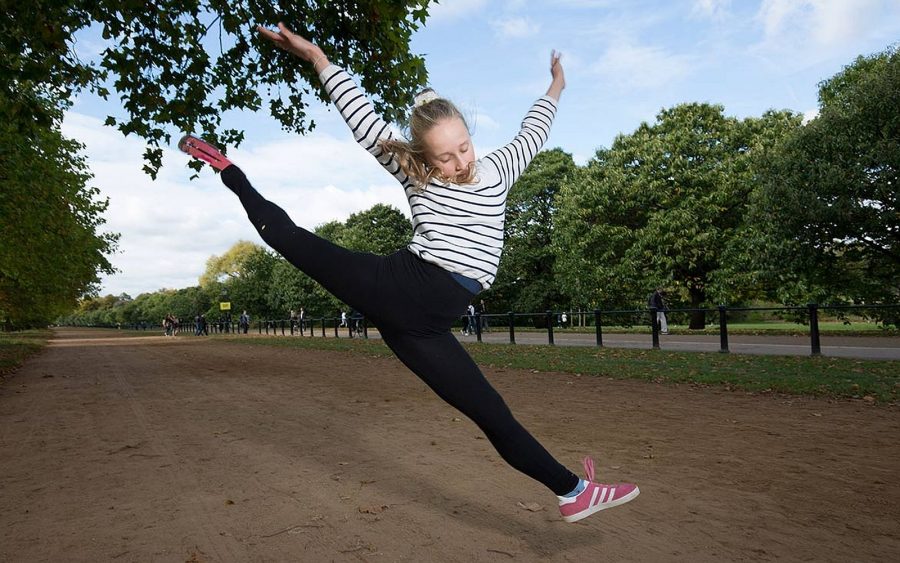 Is there anything Pollyanna can do that other dancers can't?
Amber: "With the en pointe leg, the foot is always in plantar flexion. So although Pollyanna can stand for longer than other people in this position, she cannot stand on both legs when working this way. This means we have to adapt exercises to keep her centre balance. Grand allegro is a part of the dance where we have to make amendments so she doesn't land on the blade leg with force."
How important is determination and willpower versus physical ability and training?
Pollyanna: "I think they stand in conjunction. Dance is impossible without both, but if I had to choose I believe that determination will get you further. So if I were to give any advice to other children with disabilities, I'd say: 'Go for it. There is no limit but what you think you can achieve. If you believe in yourself, all else will follow.'"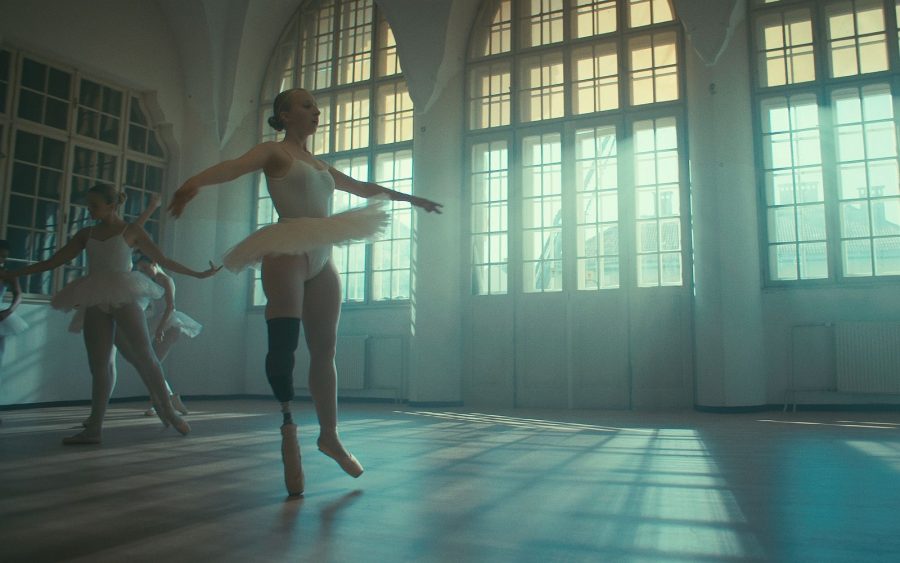 What was it like being part of the Beautiful Movement campaign?
Pollyanna: "It was brilliant fun to travel to Slovenia for filming. My first experience of being on a film set was incredibly exciting for me and I enjoyed meeting so many new people. I loved doing the voiceover too; that was amazing. I am delighted to be a part of the Beautiful Movement campaign and can't wait for my friends and family to see it!"
Thank you so much for talking with us, Pollyanna and Amber. Your beautiful movement is really inspiring us to keep moving!
Read more: Meet wheelchair motocross world champion Lily Rice