The first Supra model was produced in 1978, and 40 years later the hotly anticipated, all-new fifth-generation model has been revealed in prototype form. It's been experienced dynamically at the famous Goodwood Festival of Speed hill course and showcased statically at a special invite-only event for Supra enthusiasts.
At all times, chief engineer Tetsuya Tada has proudly accompanied his 'new baby' and been eager to reveal tantalising glimpses into its development and specifications. The following is a transcript of our discussion together.
How long have you been working on the Supra project?
Tada: "Since 2012, so nearly seven years… a long time. The normal cycle for car development is around three years but with this project we wanted to make absolutely sure it was right."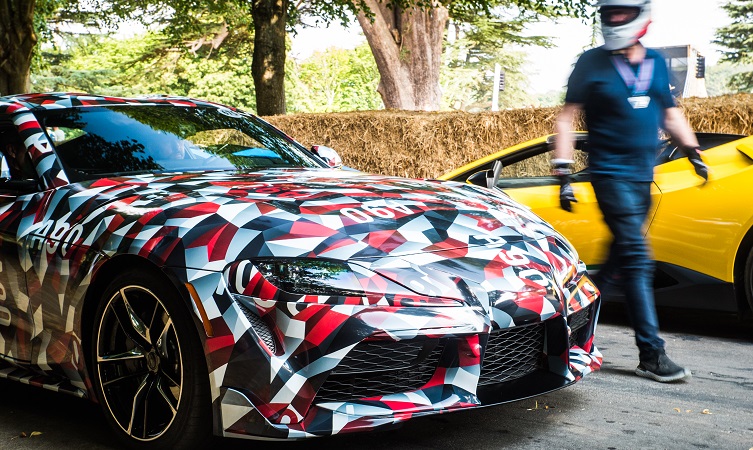 How does it feel to finally reveal the prototype after such an extended development programme?
Tada: "All I can say is that I'm just so happy that we've made it to this point. I've finally been able to reveal the car to the UK; it's the happiest day of my life. And to drive it up the hill at Goodwood was a really exciting experience."
You introduced the GT86 as your 'passion project.' Did the Supra project arouse similar feelings?
Tada: "Of course. It was imbued with a lot passion. Before the GT86 arrived, Toyota had not produced a sports car for a while, so there was a lot of ground to catch up. But for the Supra project we already had the experience from developing the GT86 and were able to start from a much higher level. This meant we were aiming for a much higher level in the finished car."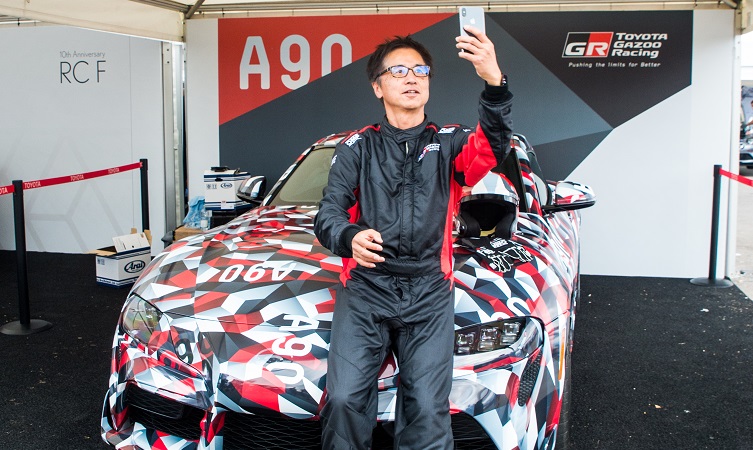 Were you trying to create a big brother for the GT86?
Tada: "Akio [Toyoda] has always said that as a company he would like to have Three Brothers, with the GT86 in the middle and Supra as the big brother. So we've tried to aim for the Supra to offer an overwhelming superiority in all attributes. For example, people were happy that the GT86 had a very low centre of gravity… but the Supra has an even lower centre of gravity, and its body rigidity is twice that of the GT86.
"It's actually the same level of rigidity as the Lexus LFA supercar, and it has been achieved without using carbon fibre so we could keep the price point at an affordable level. That was the most difficult thing to achieve. But I'm pleased we were successful because when I was sitting in the queue to go up the hill at Goodwood, I was surrounded by all these amazing supercars and thinking: 'This is the cheapest car in the line by a long way – probably about a tenth of the price – but we got the biggest cheer!'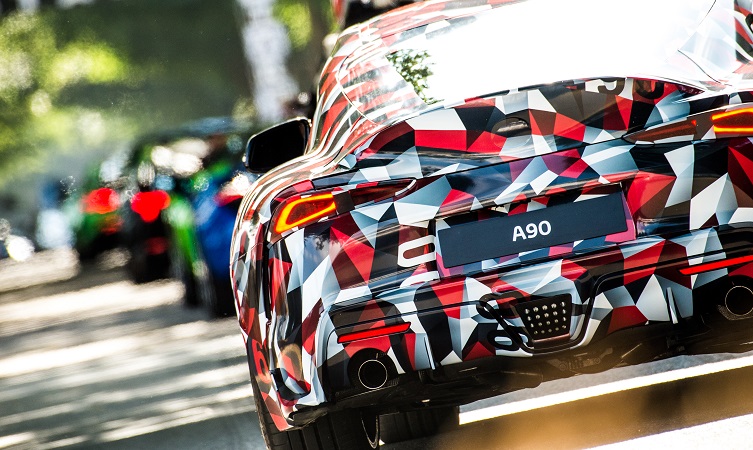 "The track width is also wider, of course. But it may surprise people to know that the new Supra has a shorter wheelbase than the GT86. The car was developed with a specific ratio of wheelbase and track in mind, and I think we've been able to achieve the balance that we were looking for."
How do you think the new A90 will be received by hardcore Supra fans?
Tada: "I'm really looking forward to hearing from them, actually. Thinking back to the introduction of the GT86, some owners of classic AE86 models were quite hard to please and were very critical of the new car. So it may be similar with this car. I know there are hardcore owners of the previous generations out there and it may be hard to convince them just by introducing a new car.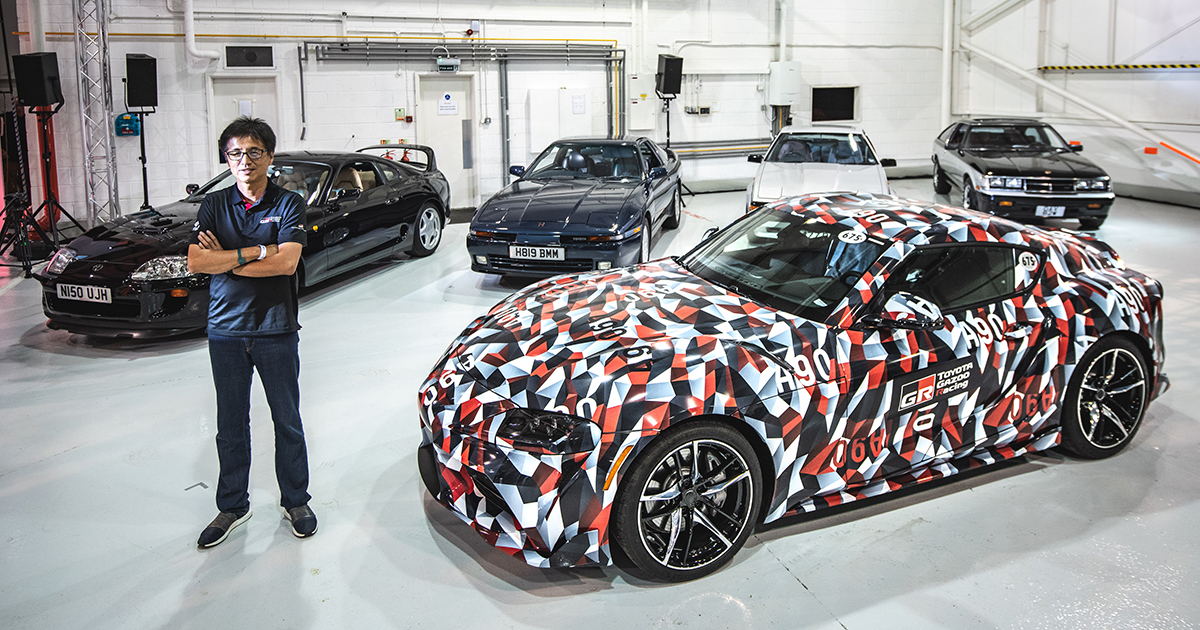 "But I have an open stance and want to offer my respect for the older Supra models. In turn, I hope the owners will be open enough to see what the new model is all about, even if it takes them some time to fully accept it."
As this is the fifth-generation Supra, can you give us five things that you would like Supra fans to know about the car?
Tada: "First of all, the Supra has always had an inline six-cylinder engine, and of course we have that with the new car, too. Secondly, all generations had a front-mounted engine and rear-wheel drive; that is also the same here.
"I think for number three I would like to point out its design. We've taken cues from the A80 [fourth-generation Supra] and, although the design is not the same, we carried elements over so that when people look at the new car they can tell immediately that it is a Supra.
"Number four is that if you look across the previous generations, each of them have been exciting in their own right and in their own era. We wanted to achieve the same thing with this new-generation car, and I believe that when it goes on sale next year it will be the most fun-to-drive car in its class.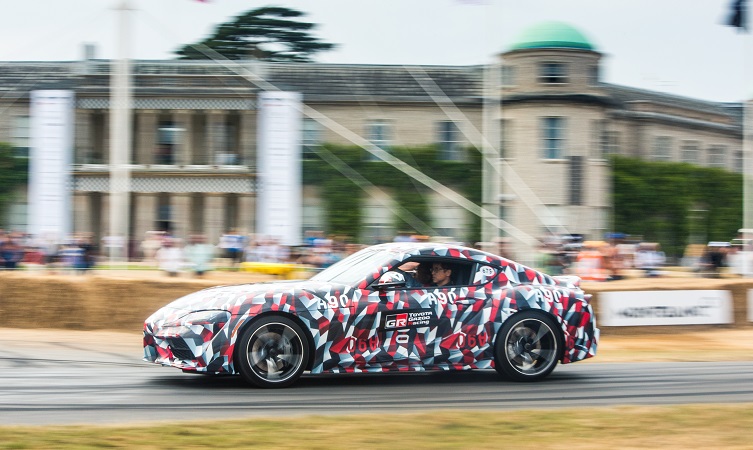 "Looking at the current automotive industry, the talk is all about autonomous driving, electrification and artificial intelligence. What that's doing is giving rise to a lot of strict regulations, and that limits our capacity to make emotional sports cars; it's getting much more difficult to do that. So for the fifth point, I think the new Supra will be the last present from Toyota to those who enjoy hearing the pleasing sound of a pure petrol engine at high revs.
"Those are my five highlights, and I hope that people will be able to enjoy the new Supra for a long time to come. Perhaps in another 30 years we will be able to meet again and talk about how good it was."
Learn more: History of the Toyota Supra