The 2019 Toyota GR Supra racked up its first motor racing success on Saturday when Christopher Bell won the NASCAR Xfinity Series (NXS) race at Atlanta Motor Speedway.
In only the second race since its arrival in NXS, the Supra dominated proceedings, with Bell leading 142 of the 163 laps in his Joe Gibbs Racing-entered car. He also collected Toyota's 150th NXS win since we entered the series in 2007.
Read more about the Toyota Supra road car
Bell said: "There's always these marquee wins, right? The first win, the 100th win, the 150th now… So it's really special to become the first driver to win in a Supra. You don't get to be a first-timer very often."
On the same day as Bell's success, the Toyota Tundra pick-up was first past the chequered flag in the NASCAR Gander Outdoors Truck Series. Kyle Busch, driving a Tundra entered by his own team, scored his 52nd victory, and in so doing became the most successful driver in Truck Series history in terms of wins.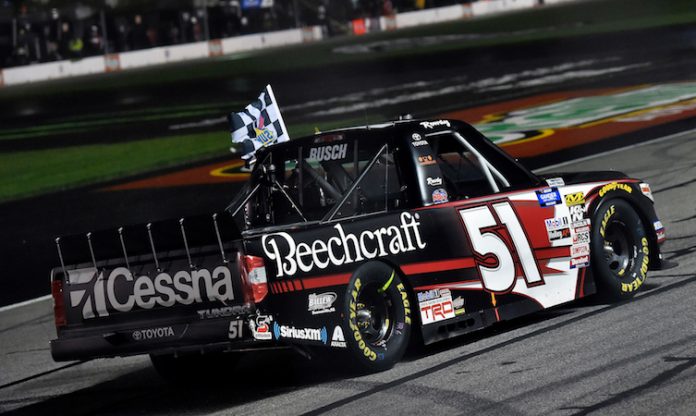 He led 92 laps (of 130) on his way to this record-setting victory, which now gives him the all-time win lead in two NASCAR Series – Trucks and Xfinity.
"It certainly means a lot," said Busch. "It took getting [Truck Series car preparation expert] Billy Ballew back on my truck to be able to get me a win here, so we might have to make that an annual recurrence. I can't say enough about my guys. Everybody here at Kyle Busch Motorsports, they do a phenomenal job."
The 2019 season marks the first year Toyota is fielding a different model in all three of NASCAR's national series: Camry at the Monster Energy NASCAR Cup Series level, Supra in the NXS, and Tundra in the NASCAR Gander Outdoors Truck Series.
All three models will compete again this weekend at Las Vegas Motor Speedway.
Read more: Ten of Toyota's motorsport successes in 2018