Racing is in the blood for the nifty Nicholls clan… after Stuart Nicholls enjoyed success in the Toyota MR2 Championship, his 63-year-old father, Mick, decided to take up the sport also. Now they have been joined on the grid by Maxine Nicholls, Stuart's 31-year-old sister, who made her racing debut at Silverstone in the latest rounds of the championship.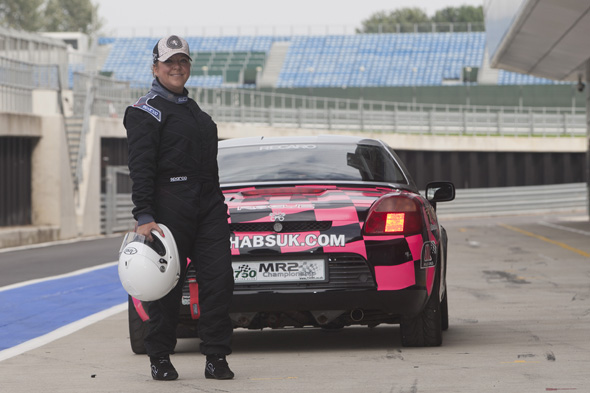 Although it's not unique for a father, his son and daughter to take up motorsport, having them all on the grid at once is a little piece of history for the MR2 Championship.
The family caught the bug when they went to Bedford Autodrome for an experience day. "We all loved it," said Maxine Nicholls. "Stuart showed real potential, so he went on to take up racing, and Dad went along to a couple of his races and decided to join in. Then about 18 months ago an MR2 came up on eBay and Dad bought it for me and had it turned into a track day car."
Hertfordshire-based Maxine so enjoyed her Brands Hatch track days that she decided to bite the bullet and take the Association of Racing Drivers Schools test to gain her track licence. She passed with flying colours in early August and jumped in at the deep end at Silverstone, her Rogue Motorsport MR2 Roadster joining the identical cars of Stuart and Mick on the grid at the home of British motor racing.
First hurdle for Maxine Nicholls was to get used to not having someone alongside her telling her what to do: "When I've been on track days I've always had an instructor, so that was a new experience to overcome. I spun in testing: my first real 'moment' on my own; I was quite glad to get that out of the way."
She qualified in 28th place in the 30-MR2 field and was pleased to finish both races without major incident. "In the first race the pack just went away from me, I think when my foot slipped off the accelerator, but I stayed with the pack in race two until I pushed a little hard and spun at Club. I was really pleased with my times, which were really consistent. I had so much support: they mentioned me in the driver briefing, and I was cheered afterwards. Everyone was so lovely. I absolutely loved it, even though it was all a bit nerve-wracking."
Her delight was compounded by two podium finishes for brother Stuart, including a commanding win in race two, his third victory of the season. Mick finished both races in the top 12. "My brother was at the front, Dad in the middle and me at the back – we had the whole race covered!"
Maxine Nicholls is racing to help raise awareness of a neurological condition called Charcot Marie Tooth, from which she suffers. "It affects the muscle tone in my legs, and I have had to have 20-plus operations, including hip replacements. I'm quite proud that the only special adaptation on my race car is an upstand on the clutch pedal so that my left leg doesn't tire so easily, and some additional padding under my thighs."
Find more details of the MR2 championship at www.mr2championship.com.