Markku Alen was one of the stars of the show at Rally Day at Castle Combe last weekend where he took the wheel of the Toyota Celica GT-Four rally car.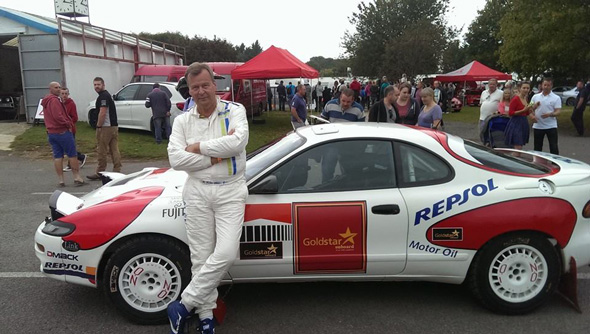 The last time Alen was in the car he drove it to fourth place on the 1992 Lombard RAC Rally. So on Saturday it was the first time he had sat in the car in more than 20 years.
"It's great to be back in the Celica," said Alen. "I only spent three years with Toyota but they were good times. Tough times but good times."
Perhaps more well known for his career with Lancia, Alen won 19 WRC events, racked up more than 800 stage wins and was the Finn who coined the catchphrase 'Maximum Attack'. He drove for Toyota in the early 1990s, with a third place on Rally Finland being his Toyota highlight.
The ST185 Celica GT-Four is now owned by Warner Lewis Rally Sport and owner Warner Lewis was thrilled when Markku Alen slipped in behind the wheel of the car at Castle Coombe.
"You could tell he knew it was his car," Warner commented. "It was the little things he noticed."
The event at Castle Coombe attracted thousands of visitors and a host of rally drivers, including Elfyn and Gwyndaf Evans, Markko Martin, Harri Toivonen and Dai Llewellyn.
"I had no idea coming here what to expect, but I like it very much," Alen told Crash.net. "There are a lot of spectators, a lot of history and also this track is beautiful – very safe. A beautiful day – absolutely, I like it."
See also
Inside the Toyota Motorsport Museum: rally cars
The Toyota Celica – History
Looking to buy a rally car? Toyota GT86 CS-R3 price revealed
Details in this article were correct at the time of publication.