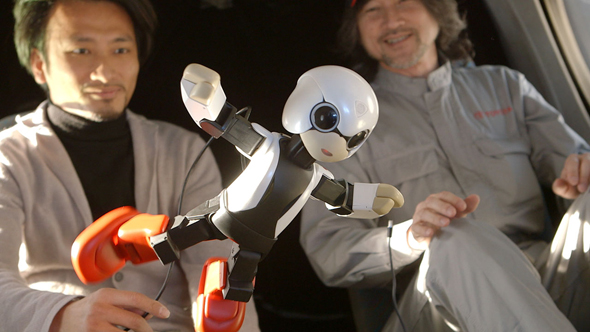 Kirobo, the pint-sized robot built with the help of Toyota in Japan, has been fired into space on a first-of-a-kind mission.
The 34cm-tall robot blasted off from the island of Tanegashima aboard the unmanned H-2B rocket on the way to joining the International Space Station on Friday, August 9th.
Kirobo will serve as company to Jaxa (the Japan Aerospace Exploration Agency) astronaut Kochi Wakata, who will take over as commander of the ISS when he arrives in November. The project is part of an effort to see how useful robot companions can be to astronauts over extended periods in space.
Toyota has helped develop Kirobo's facial recognition software, which will come into play when Mr Wakata joins at the ISS, as it is programmed to remember his face. Kirobo can also talk in Japanese and could serve as an intermediary between the Jaxa control room and Mr Wakata during the mission.
Weighing about 1kg and designed to have a wide range of physical motion, Kirobo was developed by Tomotaka Takahashi in association with Toyota and advertising company Dentsu. Its name is derived from the Japanese words for 'hope' and 'robot', and its design was inspired by the animation character Astro Boy.
Kirobo has a twin robot on Earth called Mirata, which will monitor any problems its counterpart may experience in space.
Find out more about Kirobo here.