The International Union for the Conservation of Nature (IUCN) and Toyota Motor Corporation (Toyota) have announced a five-year partnership to provide funding to broaden the scope of The IUCN Red List of Threatened Species.
This will significantly increase knowledge about the extinction risk of more than 28,000 species, including many that are key food sources for a sizeable number of the world's population.
With our planet experiencing extinctions at the fastest rate in its history, IUCN and Toyota believe that there has never been a greater need to understand the current status of the species upon which our survival depends.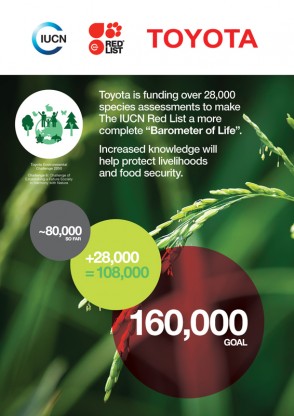 This new knowledge will provide a roadmap to guide conservation; concrete action which could positively affect the livelihoods of hundreds of millions of people worldwide. Toyota's support for The IUCN Red List is the first project to preserve species to be implemented under the company's scheme to reduce the environmental impact of automobiles, the Toyota Environmental Challenge 2050. This year alone, Toyota will provide grants amounting to approximately $1.2 million towards the project.
Find out more: Toyota Environmental Challenge 2050
Inger Andersen, IYCN Director General, said: "The Toyota Environmental Challenge 2050 addresses not only climate change, but also biodiversity. They are two sides of the same coin which cannot be dealt with separately.
"This generous grant from Toyota will enable our Red List researchers to take a big leap towards reaching our goal of assessing 160,000 species by 2020. This would also help IUCN's work in supporting the implementation of the Sustainability Development Goals adopted last year by all members of the United Nations, in particular the Zero Hunger Goal."
Didier Leroy, Toyota Motor Corporation Executive Vice President, said: "When tackling threats to the global environment, it is important to act early and boldly with concrete steps that will make a difference in people's lives. We did it in 1997 with Prius and more recently with the hydrogen fuel cell Mirai. But protecting the environment is not just about CO2 and emissions; biodiversity is equally important to human lives. By entering this partnership with IUCN, we are very proud to take an additional step towards the challenge of establishing a future society in harmony with nature."
IUCN's 'barometer of life'
The IUCN Red List assesses the risk of extinction of wild species based on past, present and projected threats. To date, 79,837 species have been assessed and more than 23,000 have been found to be threatened with extinction. The collaboration with Toyota will enable at least 28,000 more species to be assessed over the next five years.
Jane Smart, Global Director of IUCN's Biodiversity Conservation Group, said: "Toyota's grant will enhance the Red List's invaluable role in helping determine conservation policies, tracking progress towards reducing biodiversity loss, providing data for scientific research and raising public awareness about species."
Toyota Environmental Challenge 2050
Toyota is keenly aware of the importance of biodiversity in achieving sustainability and has taken substantial steps to preserve and support plant and animal species around the world. In order to address these and other key environmental issues, the Toyota Environmental Challenge 2050 was announced in October 2015. The programme aims to reduce the negative impacts associated with automobiles to as close to zero as possible, while simultaneously making positive impacts on society.
To help establish a future society in which humans live in harmony with nature, Toyota plans to globalise its long-running environmental grant programme and to create environmental preservation projects in collaboration with organisations that engage in such activities on a global scale.
Critical to food security
IUCN experts have chosen to focus much of the newly funded research on the populations of plants and fish that billions of people depend on as a vital source of food. These will include species of wild rice and wheat that are crucial to food security because they are the source genetic material used to increase the yield, fertility and resistance to disease of staple crops produced by farmers across the world.
Additionally, marine fish, such as sardines, pilchards, sole and plaice will be assessed. They are not just a source of food for billions, but catching and processing them also provides work for an estimated 200 million people worldwide.
The new grant will also be directed to work assessing other economically important plants, fungi, freshwater fish, reptiles and invertebrates such as dragonflies, as well as upgrading the web platform used by more than 3.5 million people a year to access data on The IUCN Red List. Furthermore, the grant will support IUCN in carrying out activities to improve awareness about biodiversity.