British-born Anthony Davidson is one of the six drivers campaigning Toyota Hybrid Racing's World Endurance Championship assault in the incredible TS030 Hybrid. We caught up with Anthony Davidson at Goodwood for a chat.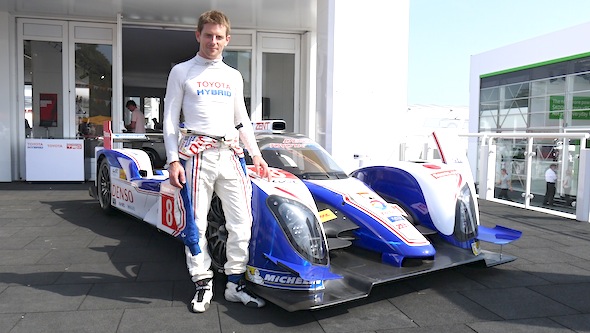 His driving career can be traced back to the tender age of eight, when his father treated him to a karting session. It was a hobby that soon turned into a competitive sport, Anthony progressing in various British, European and World Championships over the course of the next 12 years.
His success in karts launched him into the world of single-seaters, where he quickly climbed the motorsport ladder through drives in Formula Ford and Formula 3 series before receiving an entry into Formula One in 2001.
Since 2009, Anthony's time has primarily been split between Formula One commentating and endurance sports car racing, where he recently secured a hard-fought second place for the Toyota Hybrid Racing team in the 2013 Le Mans race.
How are you enjoying the Festival of Speed?
Anthony: I'm really enjoying the Goodwood Festival of Speed. Over the past month or so I've done the Le Mans test, Le Mans, which was back to back with the Silverstone Grand Prix, then Nürburgring [Grand Prix], a bit of simulator work and then here this week and I think I've had two days at home – so this is relatively easy. I am looking forward to a having a whole weekend off though! It's great we've got this weather for this event, it's really amazing.
It is a real scorcher today – how are you getting on in your racing suit?
It is hot, but to be honest when you're used to wearing a suit, racing and doing endurance sessions, your tolerance for being hot goes up quite a lot.
Have you driven the Goodwood Festival of Speed course yet?
I've been up the hill once in the TS030 Hybrid. I've got the feel for it now so I'll be having some fun when I go again.
How does TS030 cope on a tight course like this?
Anthony: It is difficult to get around the place and you can't see much, so you're just looking for signs you're OK to go. It would be quite easy to crash into the back of someone here.
What is it in particular that makes the Toyota TS030 special to you?
Anthony: In terms of balance and grip the TS030 is honestly the best car I've ever driven at Le Mans. After the victories at the end of the last season we were hoping for more at Le Mans, if I'm honest. Audi did a good job but we did too – and from a driver's point of view I can't imagine our car being any better.
There's one area where we lost ground to Audi and that was halfway down the straight and there's nothing that any of us can do about that. The TS030 is a very slippery car and has been well-designed in the wind tunnel, and we were the same speed as Audi at the end of the straight, but it was the middle section after the hybrid kick has gone where we were just using the combustion engine that we felt a deficit to the diesels. We did have fuel economy on our side, which almost balanced things out but it wasn't quite enough.
We had a brilliant car and it was an absolute joy to drive. It grates me so much that we couldn't win. That said it was my best result at Le Mans, and after trying six times I finally made it onto the podium. I'll take that as a good first step back after last year's race.
How was it getting back into the TS030 Hybrid after your serious accident last year?
Anthony: It was about seven and a half months after the accident that I got into the car. I'd done some karting and intensive physio for my back and now when I look back at it, that was hellish at times. The physio was intense and I didn't enjoy it at all, but every week it got easier and I got fitter – I was just in the zone of trying to get better and taking every day as it came.
I started flat on my back in a corset, on a few drugs to ease the pain. I came off the drugs, started to get a little more confident and then it was a case of getting used to everyday things like brushing my teeth. I was in really good hands but I'll never forget the first time they made me take my corset off – the physio just said: 'OK, now touch your toes', I couldn't believe it! I was scared but I just had to trust who I was working with and it's thanks to them that I gained the confidence to push myself. I had an MRI scan six months on and it showed the bone was healing well, and that was just before I went to Daytona.
This year was your first time at Daytona – what was it like?
Anthony: I've always wanted to do Daytona, and it just fell beautifully as another step in the rehab. It was low-pressure from my side as I was 8 Star's fifth driver and they said 'if you have any problem, or it doesn't feel right, no problem – come back in and we'll take care of you'. Daytona in a Corvette was a completely new experience for me and when I first went out I felt like a complete amateur – it was a big culture shock and I was a bit intimidated at times. I was in a nice place mentally though and in the end I put it out of my mind completely.
At the finish, I was so relieved I can't really explain it. I really needed that race to prove that I was back to 100 per cent and I could jump into the Toyota in our test at Paul Ricard.
How did it feel to stand on the Le Mans podium?
It really started at Silverstone. Getting the podium there was a great arrival back in the TS030. To stand there, at a home race was really good and since then the season has gone really well.
Standing on the podium at Le Mans I looked up to the sky and thought: 'Wow'. Totally different experience to last year. Although, the sad fatality we had made my experience seem even more scary. It was a strange emotion, I was very pleased with our result, but at the same time thinking about poor old Alan Simonsen and his family I almost felt guilty that I was there, had come back and had a good result. I found that mentally quite tough to cope with.
We spoke to Martin Brundle about his Le Mans experience with Toyota, and you're both broadcasting in Formula One. Have you ever spoken with him about that?
Anthony: Strangely enough we've never spoken about it at great length but you can appreciate what the other has done. I look at that car [The TS020 GT-One] and I can kind of imagine what it was like to drive based on the our car, other ones I've driven and what I know about it – the GT-One was just such a muscle car.
I caught up with Martin today and talked about it, and he asked about the TS030. He looked into the cockpit and said it looked like fighter jet controls.
Details in this article were correct at the time of publication.