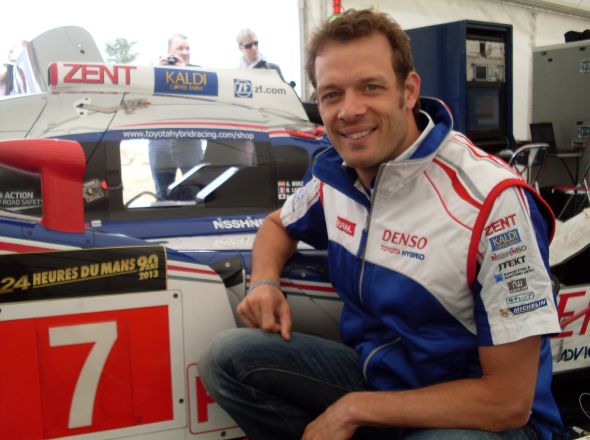 Unlike our other interviewees at Goodwood Festival of Speed this weekend, racing driver Alex Wurz's introduction to motorsport came via manpower rather than horsepower — in the late Eighties he was a world championship-winning BMX rider.
However, with a European rallycross champion as a father, it was somewhat inevitable that Alex would progress into the more stable footprint of four wheels.
Early efforts in karting offered a stepping stone into Formula Ford, Formula 3, and then ultimately, Formula 1 in 1997.
One year prior to this, Alex competed for the first time at Le Mans, where he stunned the crowds and came first, simultaneously becoming the youngest ever Le Mans winner (age 22). It was an achievement he repeated in 2009, though at the riper age of 35.
Alex signed for Toyota Hybrid Racing last year with immediate success in the 6 Hours of Sao Paolo, Fuji and Shanghai, and was instrumental in leading the #7 Toyota TS030 Hybrid to a solid fourth-place finish in this year's Le Mans 24 Hour race.
Blog: Thank you for taking the time to talk to us, Alex. Was there anything about your early career on a BMX that prepared you for racing on four wheels?
Alex: The physical aspect, of course. With any type of racing you can only win if you're really fit, so I've always tried to stay one step ahead in that respect. I basically got my first Formula 1 contract because I was able to drive eighty laps for two days running when other young, promising drivers appeared to be exhausted after just ten or twenty laps.
Blog: You've now competed at Le Mans for six years running. In your experience, how have you seen technology improve vehicle performance?
Alex: I first competed in Le Mans in 1996 and returned in 2008 after my Formula 1 career, and during that time I noticed a massive leap in technology. It's exactly the same now, because I think Le Mans is a fantastic proving ground for new technology and a great marketing platform for that technology, too. For example, in the past decade, each win has been achieved by a diesel car. If you'd predicted that twenty years ago nobody would have believed you, but that's what's happened. Since 2012, though, we've entered a new era of Le Mans with hybrid vehicles, and from now on I think that no car without hybrid will ever be able to win at Le Mans. The efficiency of hybrid technology will only improve from now because of this extreme testing and competition level. We now have a much better understanding of how to store and deploy the hybrid energy, and the ultimate winner of all that effort will be the man on the street. Toyota's hybrid technology is getting lighter, more powerful, and more efficient in its recovery, all of which gets passed on to Toyota road cars. I think our efforts at Le Mans play a key role in that.
Blog: What do you think are the particular strengths of the Toyota TS030 Hybrid?
Alex: Its aerodynamics, low drag efficiency and, of course, our secret weapon — hybrid technology. When I joined Toyota Hybrid Racing last year it was amazing to feel it; the extra power it gave the car and the consistency of its delivery. The real secret with our system is not so much how you discharge the energy — though that is very important — but how you recover the energy through braking on the limit without affecting the brake balance. That's where we're extremely strong.
Blog: Does that mean you have to alter your driving style because of the hybrid drivetrain?
Alex: No, not at all. I like to tackle each race the same way, whether the car has old-fashioned, heat-making disc brakes, or with energy recovery brakes. But I would also like to say that our TS030 Hybrid is without compromise; it is the most extreme in that it is the only hybrid car that will only ever work with the hybrid technology active. This is unlike the KERS system in Formula 1, for example, where it can be turned off so the car can return to the pits to be repaired.
Blog: Do you get to choose when to deploy the hybrid energy?
Alex: No, in our regulations it is not driver-controlled, it's automatic; we're out of the loop, you could say. The regulations also restrict us in the amount of energy we can use per sector.
Blog: Where do you see the team coming next year?
Alex: Historically, new manufacturers don't win in their first or second years of competition. If you want to make a difference you need to win in the third year. So we're really ramping up the pressure to win in 2014 and each team member is working toward that aim.
Blog: What do you like to do outside of your racing commitments?
Alex: Well, I've now sold 75% of my restaurant business in Austria but I'm also very busy with my road safety company, which I find very interesting work.
Blog: Thank you for your time, Alex. We hope you enjoy the rest of the show.