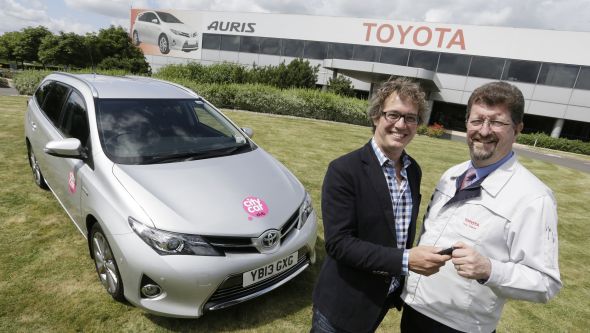 City Car Club, the UK's leading car sharing company, is adding 75 newly launched Auris Hybrid Touring Sports models to its fleet. It is a number that forms the first wave in a 350-car order City Car Club will purchase from Toyota this year through Toyota Financial Services.
City Car Club has grown steadily since it was formed and currently runs a fleet of 650 vehicles – more than 80 per cent of which are Toyota models – that provide service to customers in 14 cities. The scheme enables club members to rent a car for as little as one hour, a feature that is proving increasingly popular as people become more budget conscious.
Due to its focus on urban transportation, low carbon emissions figures are an essential quality in the vehicles City Car Club chooses for its fleet. In that respect, the Auris Touring Sport's hybrid technology reduces the environmental impact of journeys to a minimum, delivering class-leading CO2 emissions figures from 85g/km.
Auris Touring Sports is the latest full hybrid model to be launched by Toyota, built at its UK manufacturing facility in Burnaston, Derby alongside the Auris hatchback and Avensis. It marks a return for Toyota to the compact wagon market, and another new segment for the introduction of its full hybrid technology. Meanwhile, clever packaging means that no compromise is made on boot space as the hybrid battery is located under the rear seat.
James Finlayson, Managing Director of City Car Club, visited the Burnaston plant for the hand-over of the new cars and had the opportunity to tour the factory and witness first-hand the world-renowned Toyota Production System in operation. He said: "I was extremely impressed. I had assumed it was just an assembly plant but saw how Toyota manufactures all the car's major components. It is very much 'Made in Britain' which we at City Car Club support wherever possible."
Mr Finlayson is pictured being handed the keys to the first car by Tony Walker, Deputy Managing Director of Toyota Motor Manufacturing UK.
Neil Broad, General Manager of Toyota and Lexus Fleet Services said: "More and more businesses are finally getting to see the financial and environmental benefits which can be achieved by switching their fleet to hybrid. City Car Club is a good example of how choosing this technology can tick both boxes, and we have been delighted to work with the company over the years helping with its fleet requirements."