Central Training Services Limited is putting its green message into practice with the introduction of a new fleet of Toyota hybrids. A leading provider of accredited training courses to clients in all industry sectors, the Scotland-based business has ordered six Auris Hybrid Touring Sports wagons for its trainers.
Allan Thomson, Central Training Services Limited Director, said: "We are proud to present ourselves to clients across Scotland as an environmentally focused business, with protection of the environment being an important element in much of the training we provide. By choosing Auris Hybrid for our vehicle fleet, we can develop this commitment further, also gaining real-world benefits in reducing our carbon footprint.
"Previously we operated a mixed fleet with brands such as Audi, Volvo and Peugeot, but after test driving new options, including Volvo and Volkswagen models, we were unanimous in choosing Auris."
Central Training Services Limited provides accredited, nationally recognised training in safe working practices to businesses in all industry sectors, from construction, warehousing and transport, to agriculture, aquaculture, power generation and petro-chemicals. It provides effective and authoritative support for its clients to maintain and improve health and safety in the workplace, with the ability to provide bespoke courses to suit individual client requirements.
The company's trainers will use the Auris Hybrids – Icon Plus models – for their work across Scotland, enjoying the smooth, refined and relaxed driving that is a characteristic of Toyota's hybrid technology. As well as low emissions, good fuel economy and low company car tax rates, the British-built Auris Hybrid also has a proven record for hard-wearing reliability.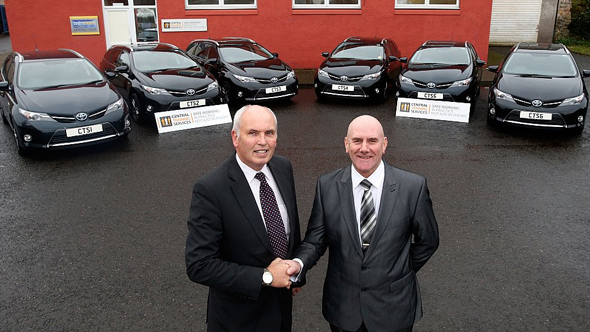 See also:
#LoveHybrid: Addison Lee and the Toyota Prius
Lord Combustion fires up a new fleet of Toyota hybrids
SCC cleans up its fleet with Toyota Auris Hybrid Touring Sports