There was a British first at the Nürburgring this weekend when the British-based Vantage Motorsport GT86 CS-V3 won the third round of the GT86 Cup.
Brother and sister team Nigel and Sarah Moore won the four-hour battle, ahead of the Toyota Swiss Racing team of Werner Schmid, Oliver Burri and Roger Vögeli. Third place was reigning champion Jutta Beisiegel and her Leutheuser Racing & Events team-mates Pawel Ledwon and Ralf Goral.
This win marked the most successful weekend so far for the Vantage Motorsport team. Though Nordschleife rookies, the Moores have always been among the fastest since the start of the season, yet they had struggled to score a strong result.
"We had some initial problems familiarising ourselves with the car," owner Mark Robinson commented. "But in close cooperation with Toyota Motorsport GmbH we were able to analyse and solve our problems. This win certainly proves it. Now, we are simply very happy."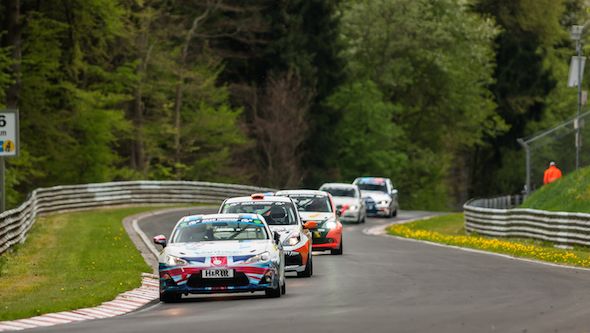 Sarah Moore said: "Today we have every reason to celebrate. Our first win on the Nordschleife means a lot to us. This track is simply incredible, a huge challenge, and very different from all the other tracks we know. This win also makes us optimistic regarding the rest of the season. I very much hope that this will not have been our last win in the TMG GT86 Cup."
The British siblings started from third place. During a nervous first stage of the race, which saw some minor incidents, Nigel fought for the lead and eventually secured it after an hour. The odd pit stop notwithstanding, their win then was never in danger.
Nico Ehlert, TMG Principal Engineer Customer Motorsport: "I congratulate the Vantage Motorsport team on its achievement. That a team new to the TMG GT86 Cup is able to win as early as its third race proves the equal opportunities offered by this competition. And that Sarah and Nigel Moore have comparatively little experience on the Nordschleife makes their success even more remarkable."
Learn more: GT86 Cup site