Just one week after its reveal at the New York International Auto Show, Fredric Aasbø's new 2019 Toyota Auris* drift car thrilled America's motorsport community with a smoke-billowing win in the opening round of the 2018 Formula Drift championship in Long Beach, California.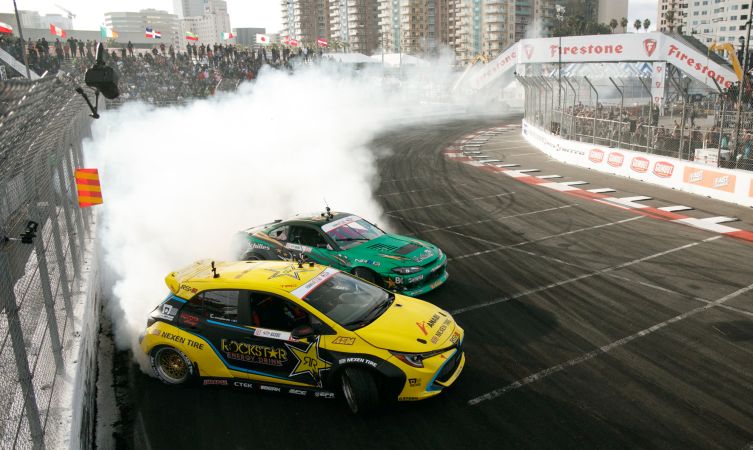 Its 1,000bhp output is transmitted to the rear wheels via a four-speed manual transmission
Response to the forthcoming 2019 Toyota Auris has been overwhelmingly positive, its TNGA-based architecture and new hybrid powertrain options promising a dynamic driving experience. But even we have to admit that Aasbø's prototype Auris is a very different animal to the car that will soon commence series production.
Built in secrecy over a short, three-month period by Papadakis Racing, the project included designing and manufacturing a wide-body conversion and exchanging the original front-wheel drive powertrain for a turbocharged and nitrous-injected 2.7-litre engine. Its 1,000bhp output is transmitted to the rear wheels via a four-speed manual transmission.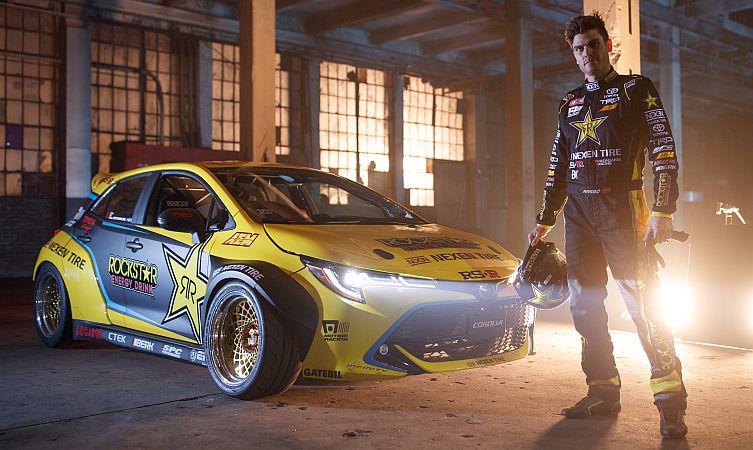 "We got this car three months ago and it was a brand new prototype [that we] couldn't talk about," revealed Aasbø. "It's taken everything we have and then some, but we're really relieved. Honestly, I had no expectations of ending up on the podium.
"Winning the event is a testament to the team but more so to the car," he continued. "It's crazy saying that because the [Auris] didn't start off as a natural drift car, but it has that aggressive stance. It lends itself to [drifting] and I couldn't be happier about the car choice."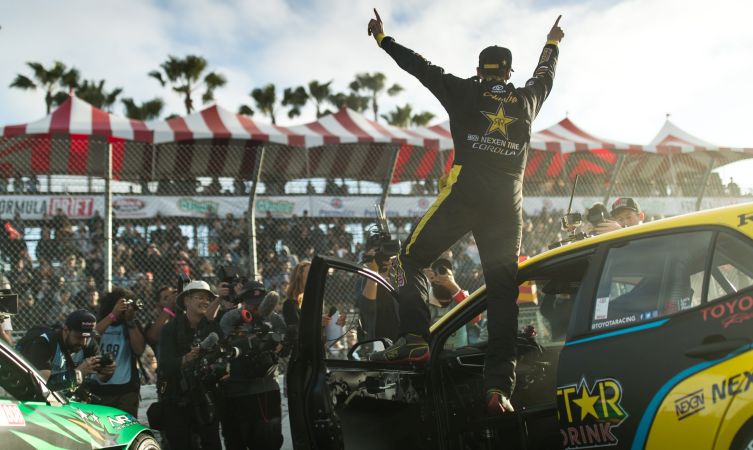 Regulations surrounding Formula Drift are flexible enough to allow almost any engine and chassis combination – as long as the end result is rear-wheel drive. However, the fact that the engine in Aasbø's Auris also comes from Toyota (it is based on the 2.5-litre 2AR-FE unit installed in the US market RAV4) allows the team to compete within the manufacturers' championship.
What is Formula Drift?
Formula Drift is the foremost professional drift championship in North America and is one of the world's fastest-growing motorsport series. Now in its fifteenth season, the 2018 series consists of eight rounds and one invitational event – this year all held within the United States itself.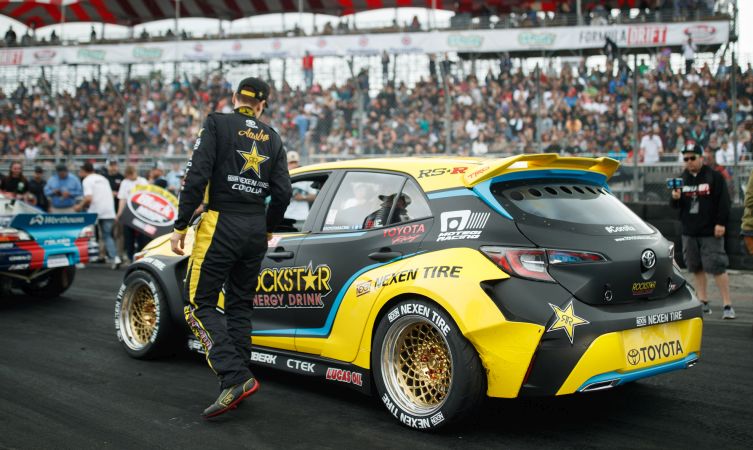 Drifting is primarily judged in terms of execution rather than outright speed
Up to 32 drivers populate the top-level Pro class in which Toyota ambassador Fredric Aasbø competes. Each driver is categorised in terms of his respective vehicle manufacturer and tyre sponsor, while being additionally supported by numerous lifestyle business partners.
A Formula Drift race weekend consists of practice sessions and qualifying on the first day, with further practice and the main competition rounds on the second day. Each driver has two chances to qualify for participation in the Top 32 tandem drift elimination round before the halftime break. Successful drivers then go on to compete in the Top 16 tandem drift elimination, the main event of the weekend.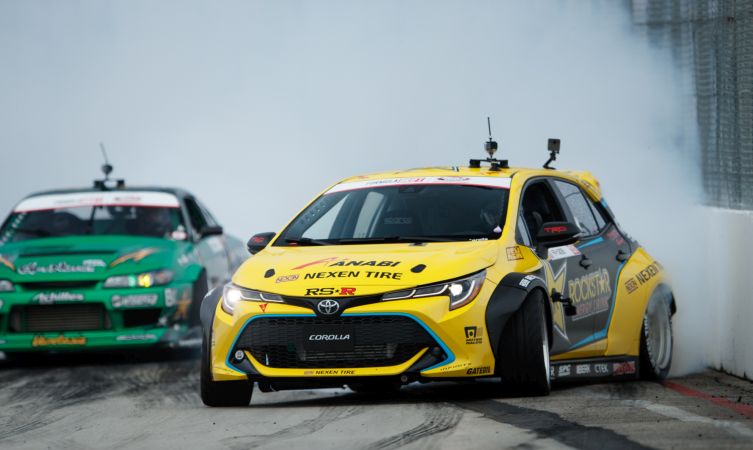 Each tandem battle consists of two runs – one conducted as leader (see image above), the other as chaser (see image below). The lead driver sets the pace and attempts to score as many points as possible while trying to lose the chase car. However, the chase driver is expected to stay as close as possible to the lead car, mimicking its speed, angle and line, while attempting to intimidate the driver into making a mistake.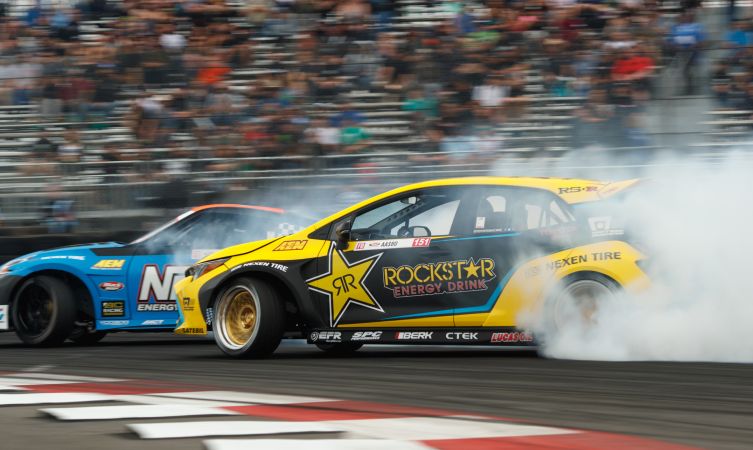 How is Formula Drift judged?
Unlike other competitive motorsports, drifting is primarily judged in terms of execution rather than outright speed. Points are awarded in three categories: line, angle and style.
Line: At each event the judges outline their criteria for the ideal drift line. This will usually push drivers to the extreme edges of the track, from precise clipping points on inner apexes to broader clipping zones on the track's outer corners. In some cases, these clipping points are solid concrete walls and it is anticipated that some competitors will leave their mark – without coming off too worse for wear.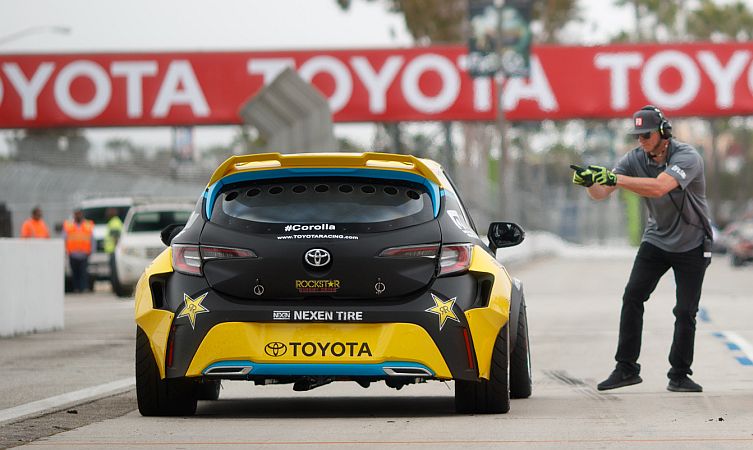 Angle: While driving through the prescribed drift line, judges look for slip angles that are as perpendicular as possible to the direction of movement. Straightening up in the middle of a drift will deduct points.
Style: From beginning to end, drifting should be carried out with style. Initiations (the moment the car is pushed into oversteer) should be carried out as early as possible and the drift held for as long as possible. Mid-drift steering adjustments should be kept to a minimum, and competitors should swing confidently and with fluidity through each left-right/right-left transition.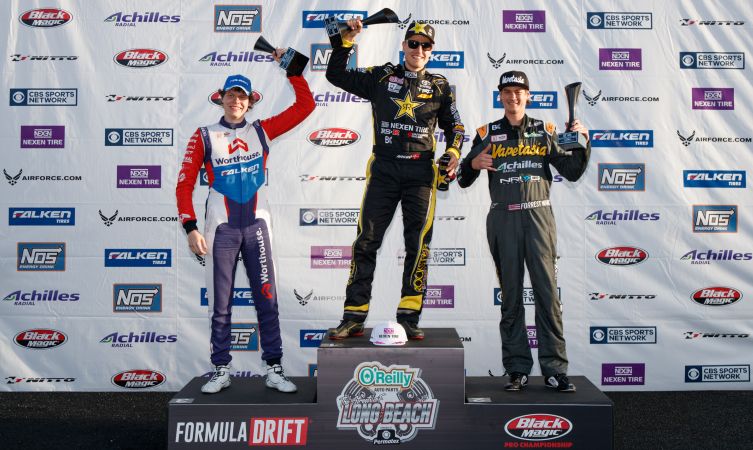 2018 Formula Drift calendar
| | | | |
| --- | --- | --- | --- |
| ROUND | TITLE | LOCATION | DATE |
| 1 | Streets of Long Beach | Long Beach, California | 6-7 April |
| Invitational | Motegi Super Drift | Long Beach, California | 13-14 April |
| 2 | Scorched | Orlando, Florida | 27-28 April |
| 3 | Road to the Championship | Atlanta, Georgia | 11-12 May |
| 4 | The Gauntlet | Wall, New Jersey | 1-2 June |
| 5 | Throwdown | Monroe, Washington | 20-21 July |
| 6 | St. Louis | St. Louis, Missouri | 10-11 August |
| 7 | Showdown | Dallas, Texas | 14-15 Sept |
| 8 | Title Fight | Irwindale, California | 12-13 October |

Specifications: Aasbø's Auris*
| | |
| --- | --- |
| Car | Rockstar Energy Drink / Nexen Tire 2019 Toyota Auris hatchback |
| Team | Papadakis Racing |
| Exterior | Wide-body conversion designed by Jonsibal and built by TRD, RMR Racing carbon fibre bonnet and rear hatch |
| Wheels | 9×18" (front) and 10×18" (rear) Motegi MR406 alloys with 265/35 and 275/40 Nexen N'Fera SUR4G tyres respectively |
| Interior | Sparco bucket seats, Sparco harnesses, Sparco steering wheel, Tilton 600 Series pedal set, Papadakis Racing roll-cage, AEM CD-7 Dash instrument cluster |
| Chassis | Papadakis Racing custom anti-roll bars with SPC adjustable links, RS-R custom coilover suspension |
| Engine | Toyota 2AR-FE four cylinder with turbo conversion and nitrous injection, stroked to 2.7-litres. 10.5:1 compression, Supertech Performance valvetrain, Portflow Design headwork, AEM engine management, Borg Warner EFR 9174 turbocharger, dual 38mm Tial MV-S wastegates, 2000cc Injector Dynamics injectors, AEM fuel regulator and filter, twin AEM 380 fuel pumps, ATL fuel cell. Power rated at 1,000bhp with 850 lb/ft on E85 fuel |
| Drivetrain | Gforce GSR four-speed dog box transmission, Tilton four-disc clutch, carbon fibre driveshaft |
Learn more: Meet the new Toyota Auris
*The new 2019 Toyota Auris will be known as the Toyota Corolla in the United States.
Images courtesy of Papadakis Racing and Larry Chen/Toyota Racing