How do you help a blind driver set the fastest lap he can? Toyota GB enlisted the help of Mark Watkins, a professional supercar driving instructor who spends his 9-5 in the passenger seat of some of the world's fastest cars, to sit alongside Toyota Blind Driver Amit Patel.
"Of course I remember gears!"
Amit and Mark first met in Upper Heyford, at an open airfield, for a test session. "Amit was overwhelmingly friendly. He was outgoing – I didn't know who I was meeting, all I knew was that I was meeting a chap called Amit Patel; I didn't know what kind of barriers we may face," says Mark.
"We did a morning [of acclimatisation in] a Yaris Hybrid and then we stepped it up into the GT86," he adds. "I asked him if he remembered gears; 'Of course I remember gears!', Amit told me."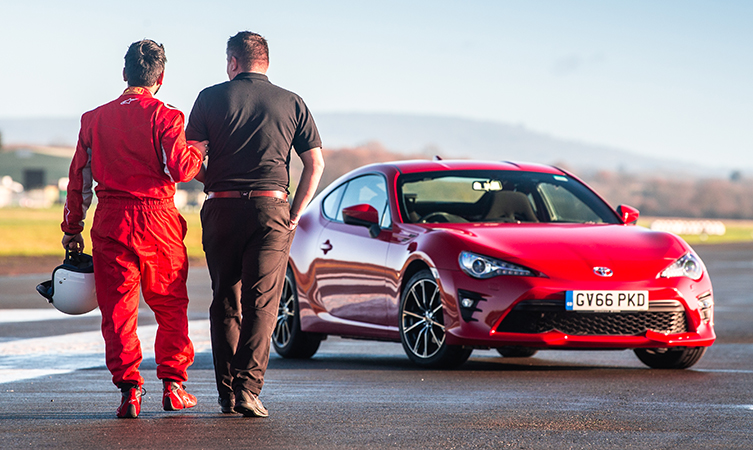 Amit and Mark's relationship was immediately open. "When I met Amit, we talked. I wanted to know how he had lost his vision. I wanted to know how he was feeling and what standard he was at behind the wheel before he lost his vision," Mark says.
"Some people I've instructed in the past turn up with all the gear but you question whether they even notice when a corner is coming up. Amit was a natural behind the wheel, and the thing that impressed me all the way through was how he was just so smooth.
"We did about two-and-a-half hours on that test day in the GT86 and we didn't know what was next until we got a call in September with dates to do the real thing.
"That's never going to happen…"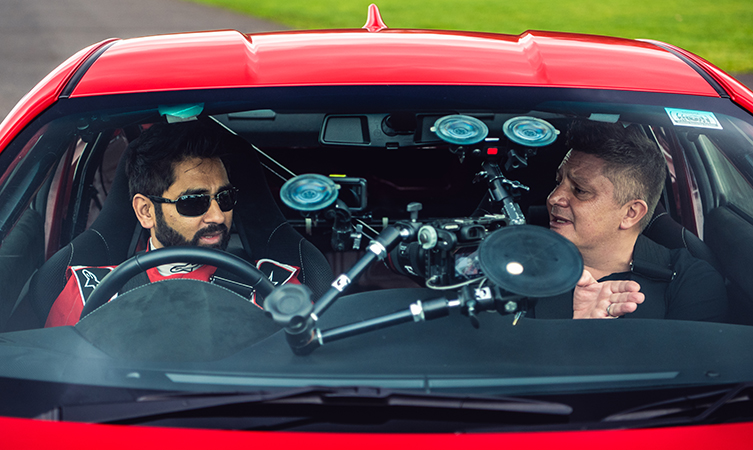 When Amit and Mark were reunited a few months later at Dunsfold, Mark was very conscious of the challenge in front of him. "I believed that we'd get round the track, but I didn't believe we'd do it on the right lines and apexes," he says.
"If you put it on paper in front of you – we're going to take some of your cars and put a blind guy in the driver seat, and we want to be in the top five of people who have lapped this track you'd say that's never going to happen."
Amit and Mark had just two days to push the envelope, and there was plenty of drama. "We had three or four massive spins with Amit where he wanted to push and we had to find the limit. There was only one moment that made me panic. We went backwards across the grass and I could see the fire engine and ambulance moving. Amit said 'that felt fun' while I was like 'hmm, yeah – but I've just seen two metal signs that have gone past me at about 80mph Amit…'".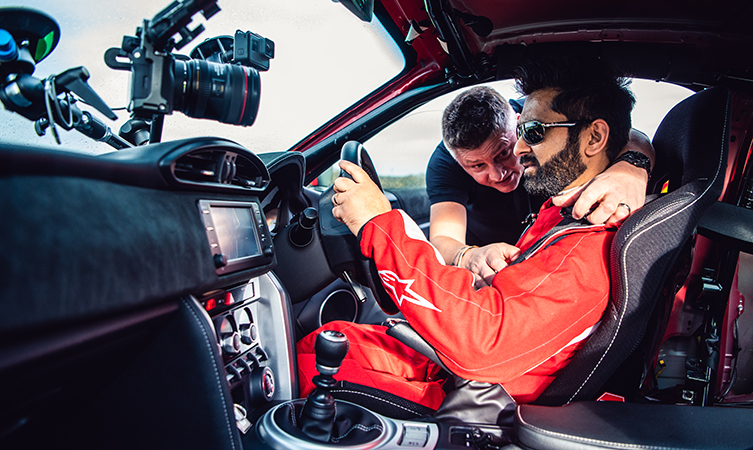 Despite the spins, Mark and Amit's partnership never wobbled and by the second day both were determined to do more than make up the numbers. "We had Track Mode on, TRC off. We weren't out there relying on traction control – we wanted to take all the assistance off the car because we wanted to rely on Amit's foot feathering the throttle to carry that speed through the corners."
Even with all his experience, Mark was left astounded, "not by what he was doing but how he was hearing road surface changes and how he was adjusting his line. It was like another sense coming into it, from him getting dialled in to what I was about to say when the road changed."
1m 46s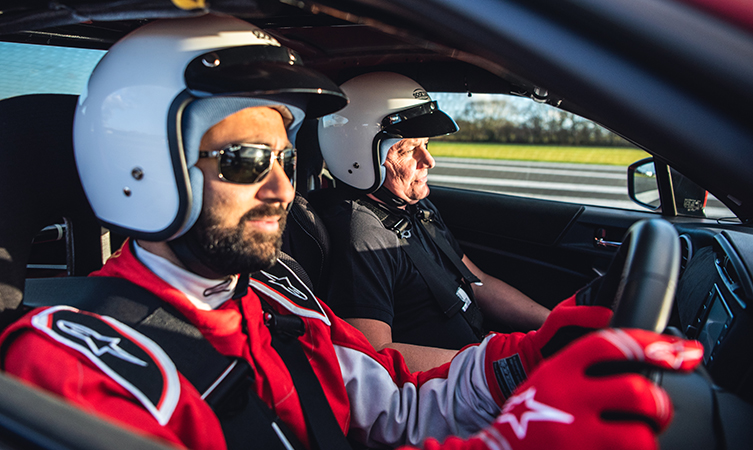 After two days and over 40 laps of the Dunsfold circuit,Toyota Blind Driver Amit launched off the start line for his final attempt. "It was phenomenal," says Mark. "We clipped the grass when we ran wide through the middle section but I could still feel it was quick and I was trying to get him to make up a little bit more time after the grass excursion without making it go pear-shaped. In the last quarter of the run I left the instruction to brake as late as we'd left it for every other run. To be driving with somebody next to me who was taking it almost as quick as I could – but was blind – was a surreal experience.
"To get to that final lap and see the stopwatch stopping in the mid 1m 46s felt like Christmas as a kid. I was ecstatic, he was ecstatic. It was way beyond any expectation; I'd have been happy with 2m 30s and leaving the track with the car in one piece."
"Two more seconds…"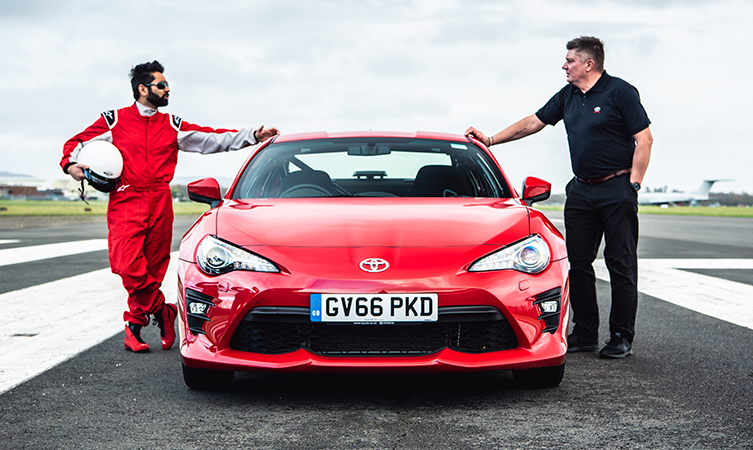 "In ten years of instructing, those two days were up there with probably the best two days I've ever done," reflects Mark. I was driving all the way home absolutely buzzing from what we'd done over those two days.
"I would have loved to have carried on and I reckon there was a fair bit more time to be gained – together we could have pushed and taken another second off, if not two."
Mark left the experience knowing he'd been part of something special, and he continues to stay in touch with Toyota Blind Driver Amit since that astounding lap. "When we were in the car together it was like having my best mate sat next to me," he says.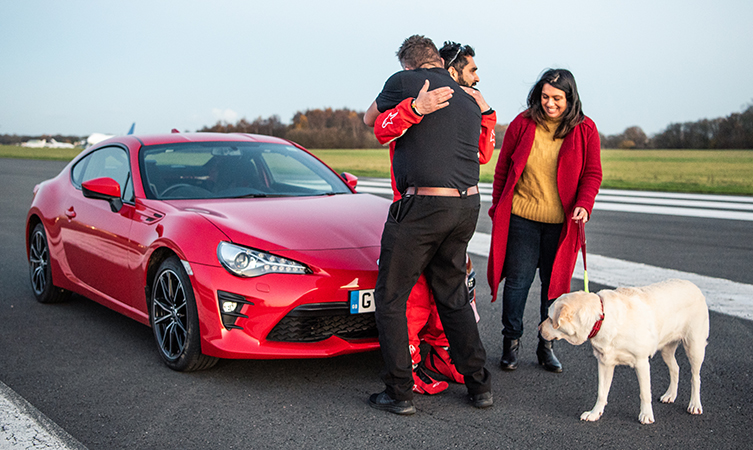 Read more: Toyota helps Blind Driver achieve track driving dream