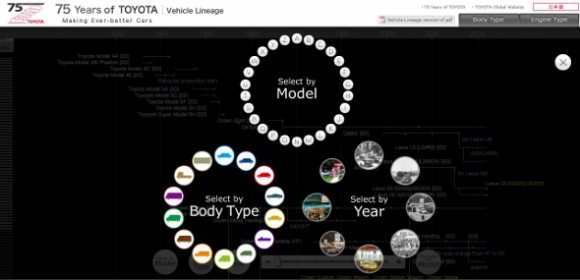 Have you ever wondered what the very first Toyota cars were like way back in 1936? Or is there a model from our past that you're particularly fond of and want to rediscover? If the answer to either of these questions is 'yes', then the Toyota Motor Corporation has just the thing for you – an interactive desktop timeline application that allows you to explore 75 years of Toyota across the world.
Among the model highlights is the 1936 'AA' model. The model was the first passenger car by Toyota, and used the earlier 'Toyoda' name, after founder Kiichiro Toyoda. It used a 3,389 cc 65bhp water-cooled inline six-cylinder engine, and by the time production ended in 1942, 1,404 were built.
Taking pride of place on the timeline are nine generations of Corolla – over 40 million Corollas have been sold since its launch in 1966, meaning that in its lifetime, more have been sold than any other model of car.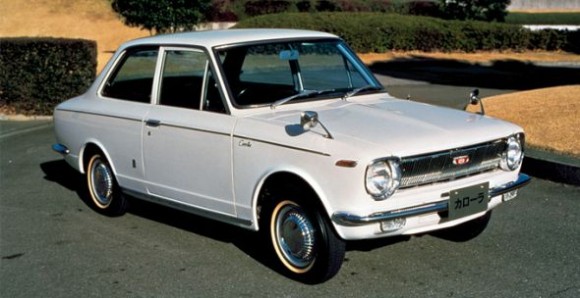 There's also a chance to find out about the first-generation Prius. Launched in Japan in 1997 as the world's first mass-produced petrol-electric hybrid car, the ground-breaking hybrid system in the first-generation Prius consisted of a 1.5 litre VVT-i transversely-mounted petrol engine mated to an electric motor.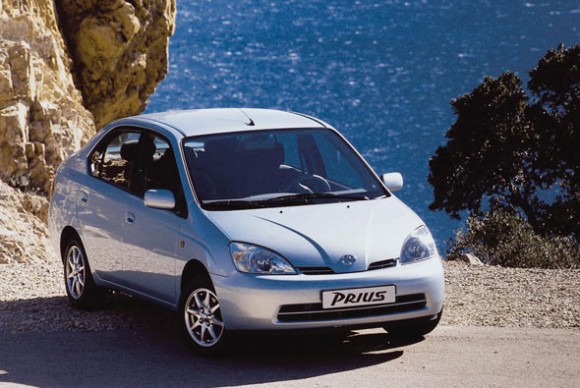 You may not recognise some of the cars on the timeline, as many were never developed for the UK market. They represent something of a curiosity to British Toyota fans, and you can discover all of them here. Of note is the luxurious large MPV the 'Alphard', which first went on sale in 2002. The large model has van-like proportions, and is popular across Asia. The name is derived from the Greek letter 'Alpha' and is intended to evoke an image of the brightest star in a constellation.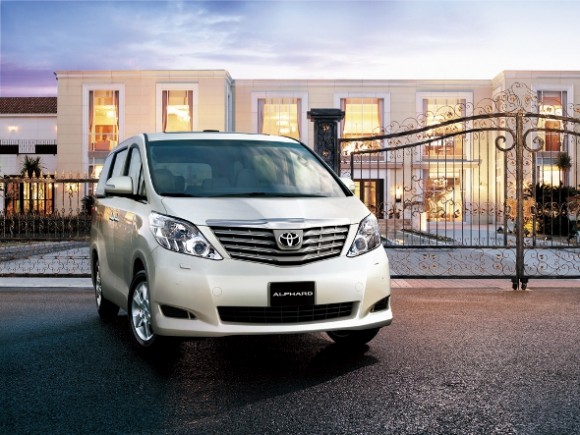 At the other end of the scale, there is the 1990 Toyota Sera. Unveiled at the Tokyo Motor Show in 1987, the Sera is a low-slung two-seater coupe famous for featuring doors which opened upwards instead of out. The top half of the 'Butterfly' door glass wrapped around the roof and extended toward the centre – providing unparalleled visibility in all weather conditions. Under the skin, the Sera was altogether more conventional, employing the platform of the Starlet, and using a 1.5-litre inline 4-cylinder 16-valve transversely mounted engine. While it was never officially offered for sale in the UK, a small number were imported independently.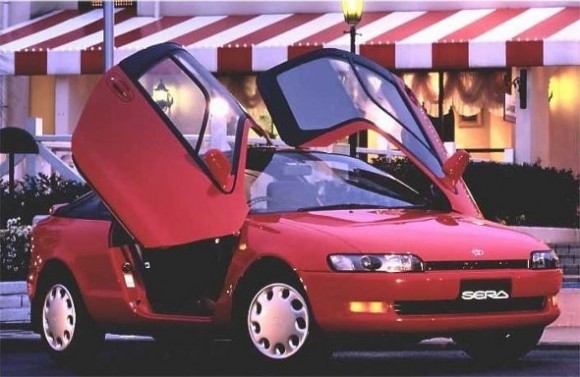 The timeline also features recognisable cars that use different names to their UK counterparts. For instance, the 1999 'Fun Cargo' is the car that we Brits know as the Yaris Verso, meanwhile the Yaris is displayed under its Japan-market name 'Vitz'.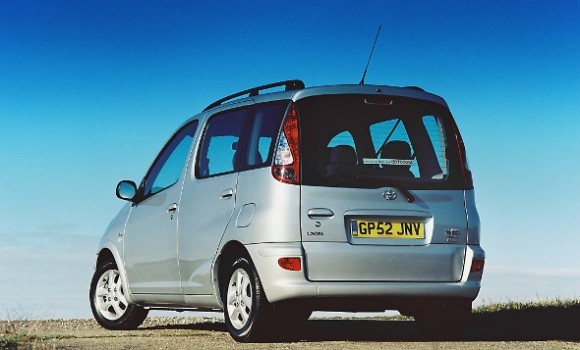 You can see the full vehicle lineage timeline here. If you'd like to find out more about our current range, visit the Toyota UK website.