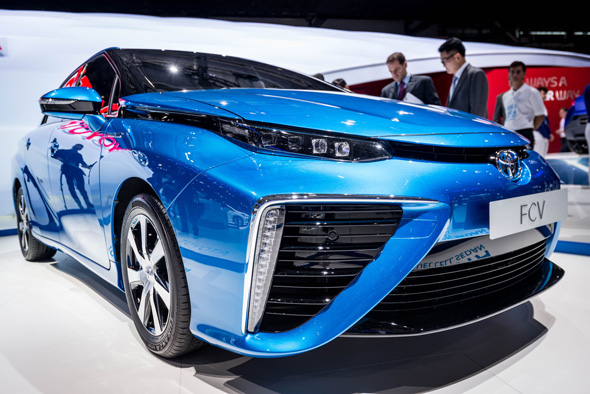 Just one week after the European reveal of the new hydrogen-fuelled Toyota Fuel Cell Sedan, Business Minister Matthew Hancock today announced an £11 million investment by government and industry to prepare the UK for the roll-out of zero-emission hydrogen fuel cell electric vehicles.
Speaking from Japan after a meeting with executives from Toyota and other Japanese manufacturers, Mr Hancock revealed that of this £11 million investment, £7.5 million will come from government and £3.5 from industry. The money will help establish an early network of 15 hydrogen refuelling stations by the end of 2015 and include £2 million to fund a fleet of around 40 hydrogen vehicles within the public sector.
This announcement marks a significant first step towards achieving the initial goal of 65 hydrogen refuelling stations identified by the UK H2 Mobility Project, of which Toyota is one of the founding partners.
Toyota has already chosen Britain as one of the first markets to introduce its new Fuel Cell Sedan, a decision partly based on the government's drive to become a global leader in de-carbonising the road transport system. The UK is also pushing toward being one of the best places in the world to design, manufacture and sell ultra-low emission vehicles.
By 2040, all new cars and vans sold in the UK will have to meet ultra-low emission criteria, whether via hydrogen fuel cell, pure electric or plug-in hybrid technologies. To meet this goal the current Parliament has already pledged £400 million of support and committed to deliver a further £500 million in the next.
As a manufacturer at the forefront of these initiatives, Toyota will launch the advanced Fuel Cell Sedan in Britain in the summer of 2015, where it will become the latest model in Toyota's ever increasing range of low- and ultra-low emission vehicles.