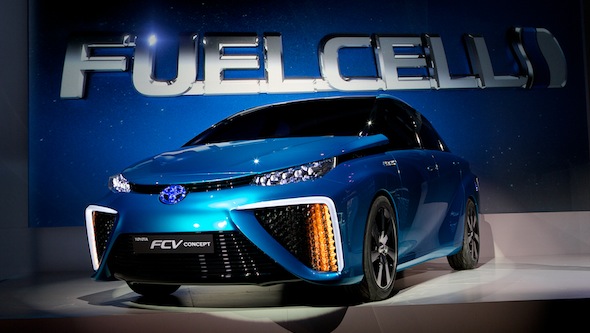 Toyota is one of five leading motor manufacturers that will today sign up to the HyFive project, a multi-million pound effort coordinated by the Mayor of London's office that also pools the intellectual resources of energy and technology consultancies from around the world.
As part of the agreement, the five manufacturers have agreed to deploy a total of 110 hydrogen fuel cell vehicles at several European locations (Bolzano, Copenhagen, Innsbruck, London, Munich and Stuttgart), while the infrastructure network will be developed through new clusters of hydrogen refuelling stations. Three of these stations are being sought in London and are expected to be operational by 2015, by which time Toyota and some of the other manufacturers will have launched their hydrogen-fuelled cars in selected European markets.
The prospect of hydrogen-fuelled cars becoming more widely available is now seen as increasingly likely, given that the cost of this technology is becoming more affordable. Supporters of the technology point to the zero emissions produced from the tailpipe, the quiet operation of the electric motors, the rapid refuelling times, and the potential of these cars to travel over 400 miles on a single tank. They also believe that fuel cells have the ability to be scaled up to run larger vehicles such as buses or trucks.
The Mayor of London, Boris Johnson, said: "To sell this technology we need to show Londoners and the wider world that it is not science fiction. By building the vehicles and filling stations and allowing people to kick the tyres we will be able to demonstrate that hydrogen is a viable option and that London is at the forefront of efforts to make it so."
Kit Malthouse, Deputy Mayor of London for Business and Enterprise, said: "This technology was invented in the UK and London already has a massive research base around hydrogen and alternative fuels. We are doing everything we can to ensure London is ready when the very first commercially available hydrogen vehicles begin to come to the market in 2015. We are also extremely appreciative of [all] commitment and support to the HyFive project, and our long term plans for fuel cell and hydrogen technology to be a core component of our secure, affordable and low-carbon energy supply system in London."
The collective goal of all 15 partners of the HyFive project is to advance the awareness, understanding, viability and uptake of zero-emission, hydrogen-powered vehicles. The collective mid-term goal is to grow a pan-European refuelling network and ensure more of these vehicles are seen on the road.
Click here for more information on Toyota's FCV hydrogen fuel cell concept, the production version of which will be launched in 2015.