Toyota People… is a series that celebrates individuals with a special enthusiasm for Toyota, whether that is related to its vehicles, philosophies, or manufacturing processes.
Read more: Gerard and Kieran, dedicated job-for-lifers
Toyota People: Gemma Wade
Arriving at the Wade residence in rural Ayrshire, Scotland, you immediately get the impression that the family are Toyota People through and through. As long-time members of the Toyota Enthusiasts' Club, their yard is filled with an astonishing collection of retro Toyota models.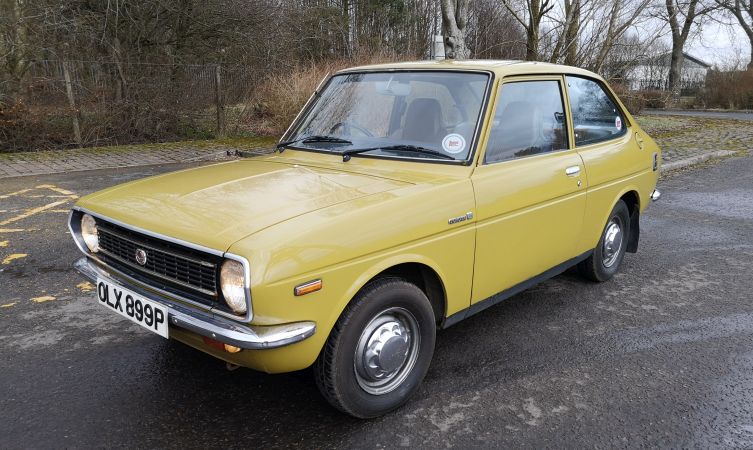 Among these rarities is this tiny, mustard-coloured 1976 Toyota 1000 – currently one of just ten examples of this pre-Starlet supermini left on the road in the UK. Seeing one in such fine fettle is an occasion in itself but what makes this particular car more remarkable is that it was restored by daughter Gemma from the tender age of 12, under the watchful supervision of father Harvey.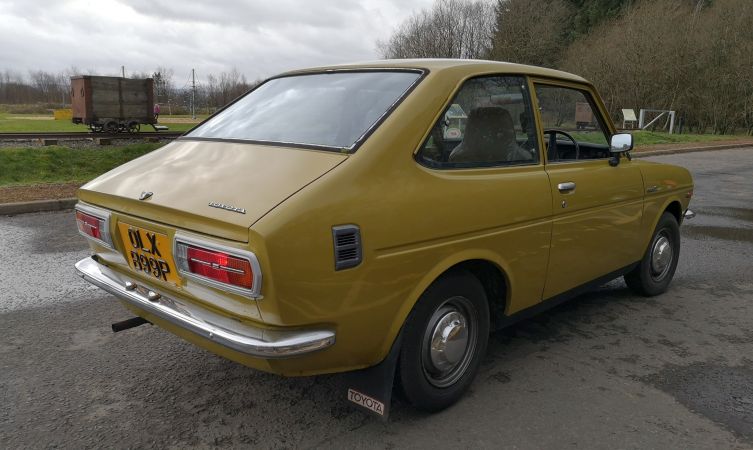 Now aged 24, we spoke to Gemma about the challenges of restoring a classic Toyota, the joys of ownership, and her deepening involvement with the brand.
When did you begin this restoration, and whose idea was it?
Gemma: "I started it back in 2007 when I was 12… and I remember that because it was the same time I started secondary school. I'd actually known from the age of seven or eight that this was going to be my car. Although I didn't get to choose it, as soon as I saw the 1000 was a wee, boxy thing I loved it.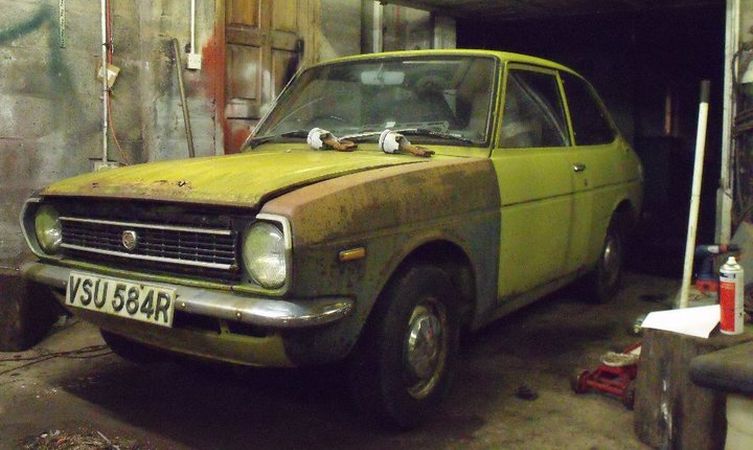 The Wade family bought the Toyota 1000 in 2002 as a write-off but knew it was entirely salvageable. This photo was taken as the restoration was about to commence in 2007.
"Dad had kept it in a local lock-up since finding it in 2002 and we used to joke that when I eventually took over the project it would soon be filled with unicorns and pink, fluffy cushions. Fortunately, I'm really glad we decided to keep it all-original."
How daunting was this project for such a young person?
Gemma: "It wasn't too bad as it had only suffered from some rear-end damage and had been lightly restored in the past. But I think it went downhill fastest when it came out of the lock-up and had to sit outside our house for a couple of years – that's when a number of woodland creatures decided to make it their home. That increased the work for sure, but both dad and I knew that we wanted it finished by the time I was 17."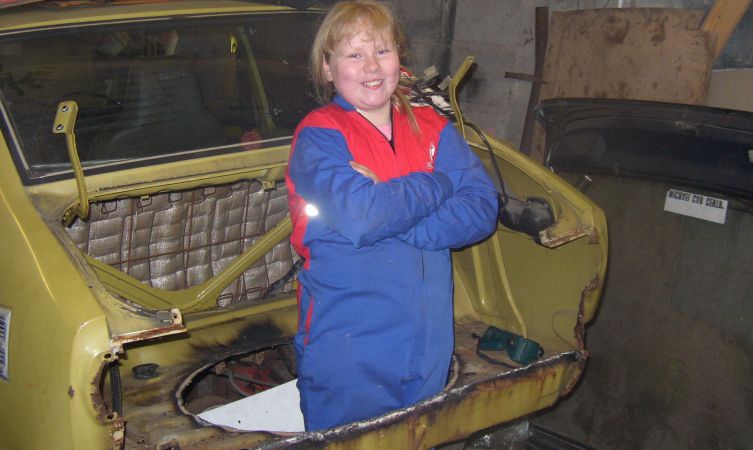 The restoration took place during Gemma's secondary school years, so it took balance to juggle this extracurricular activity
What mechanical skills did you learn along the way?
Gemma: "I like to be hands-on in all of dad's projects, so I was always taking parts off, cleaning them, packing them away, or putting them back on. I also took apart the engine after being handed the repair manual, which taught me how to undo the bolts and what order to tighten them back up again.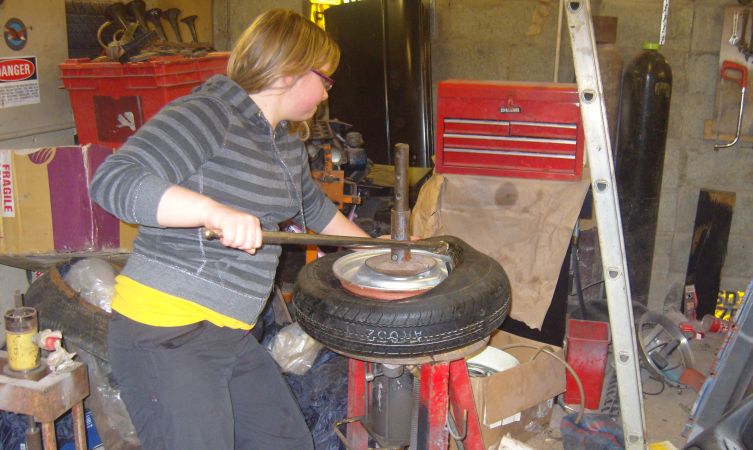 "Towards the end of the project I even learned how to change tyres by hand – the old-fashioned way by levering them on and off with a long bar. From the very start of the project I had been taught how to start the engine and use the manual choke, and then by the time I was 15 or so I was trusted enough to move the car around the yard."
What challenges have you had in sourcing parts?
Gemma: "An insane amount of challenges! Nobody has any spare parts for this model. Sometimes we've found stuff on eBay and sometimes parts have gone for crazy money. But we were lucky in having had a number of donor cars – as you can see from the yard, my dad is a hoarder of cars and parts. So I guess that's the only reason why we've been able to save this little car.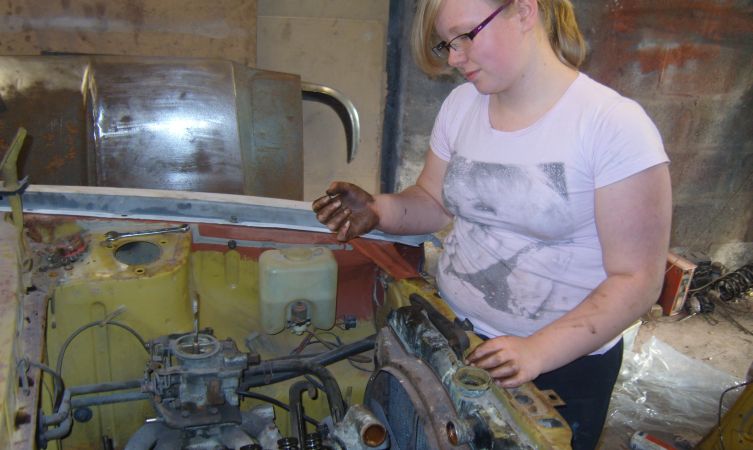 "Dad had to fabricate some of the wheel arches from scratch using his shrinking and stretching machine, but that was still guesswork. We've also had to look for parts from vehicles of a similar time frame. For instance, we modified a Ford Cortina panel to make the rear valance, we pinched a carburettor from my mum's Starlet, and we've even made a modern Yaris exhaust fit the car instead of the wee peashooter it should have had."
Looking back, is there anything you would like to have done differently?
Gemma: "I really don't think I would change anything. It's been a really nice journey, especially as I've always been working with my dad. There are still skills I'm trying to learn but between studying, working and doing my degrees I don't have a great deal of time."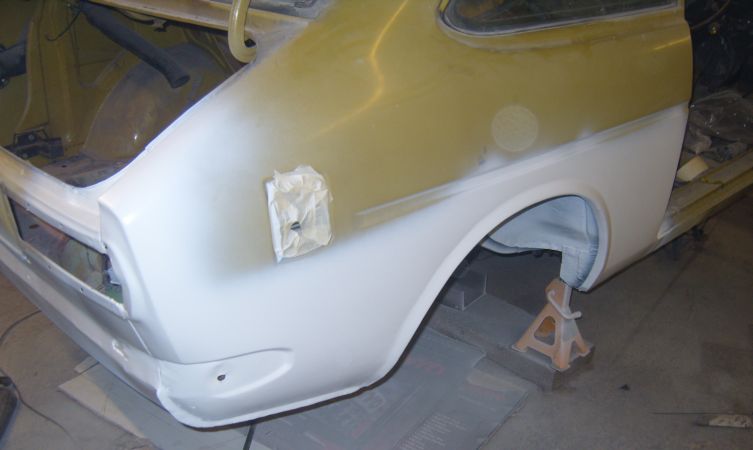 New arches had to be fabricated by hand to repair the bodywork
What memorable experiences have you enjoyed with the car?
Gemma: "The experience of driving it is always fantastic. It's completely different to that of a modern car – you feel like you're really driving and paying attention rather than being driven. You can head on out to nowhere in particular and it has this ability to make you forget about everything else.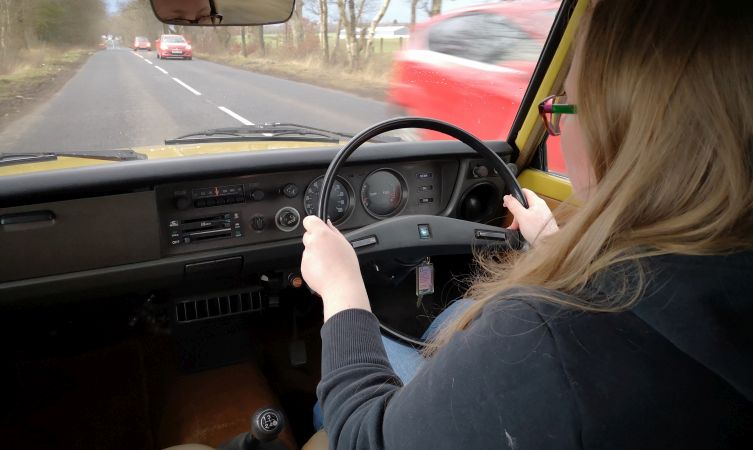 Driving the Toyota 1000 is a smile-a-minute experience for Gemma
"I always catch people smiling at my 1000 on the road. And then they see that a young girl is driving it and this look of shock comes over their face like they can't quite compute that the two can go together. I think that's really fun to watch.
"It's also great fun at shows when I hear people say with absolute conviction that this is not a Toyota. They're sure it's a Datsun or a Honda, and I just say: 'No, it's definitely a Toyota. Look, there's the badge!'
"I remember at the NEC classic car show last year my 1000 was a great talking point. There was this one man who came over to talk to me because his parents had had one and he could remember being sat in the back on long journeys. So he asked if he could climb in and sit back there again. Quite unexpectedly, the experience made him very emotional. In particular he said the smell of the car was exactly as he remembered."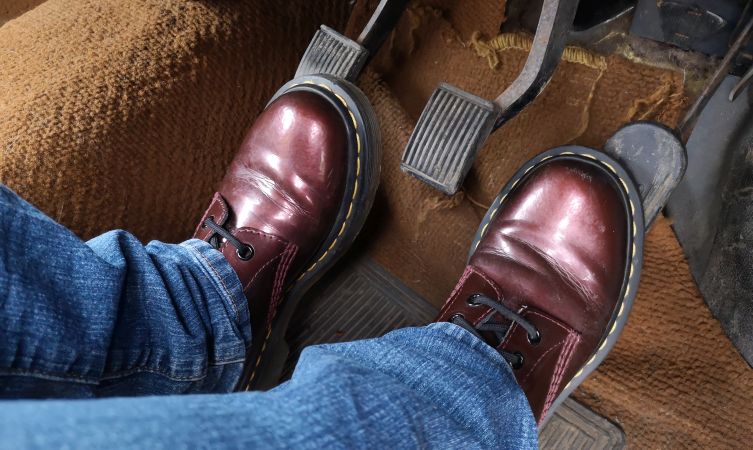 Would you ever undertake a project like this again?
Gemma: "Yep, absolutely. I'm still in love with my 1000, so there's no way I will sell her. But I help my dad with his projects when I can and I've got my gold Yaris T Sport – my 21st birthday present – that I like working on and maintaining."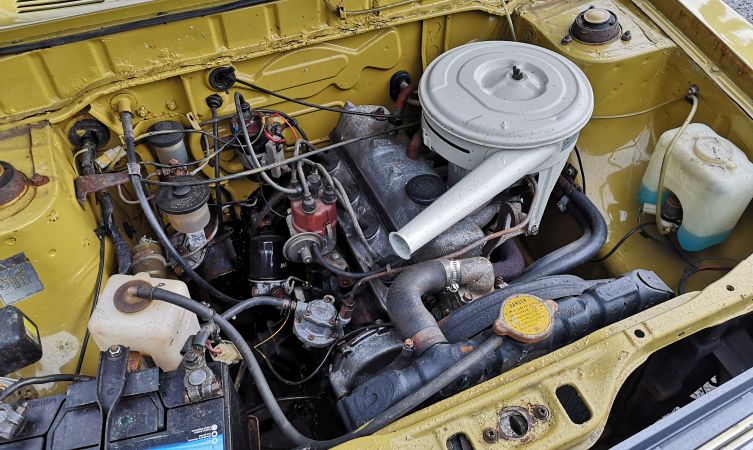 Do you consider yourself to be a Toyota fanatic?
Gemma: "Definitely. I'll only ever drive a Toyota. I think it's based on the fact that this car is over 40 years old and that one [points to her gold Yaris] is nearly 20 and they're both going strong. I've experienced other cars, of course, but Toyota engineers them just right. I think they drive really nicely.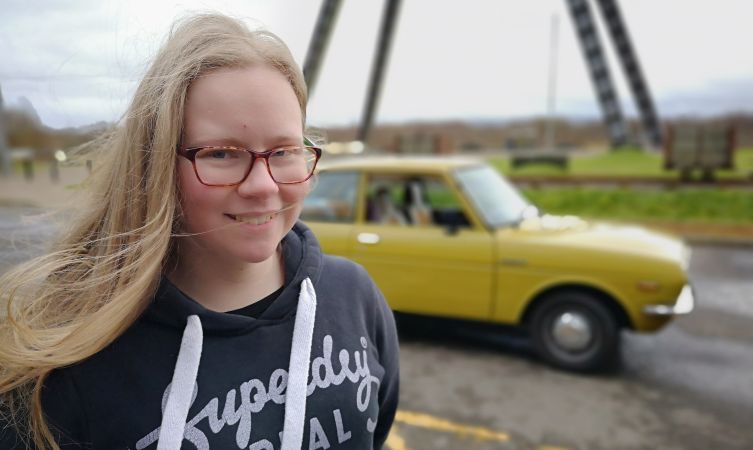 The Wade family is deeply involved in the Toyota Enthusiasts' Club. Gemma now manages the club's social spaces and magazine, while her father is the treasurer and her mother is the club secretary
"In addition, my involvement with the Toyota Enthusiasts' Club has grown over the years. From the age of 16 or so I've looked after the club's social media accounts and tasked with improving our online presence. To be honest, since the club didn't really have much of an online presence, it's almost been like starting from scratch. And now I've been asked to produce the regular club magazine and design the show fliers, so I'm getting more deeply involved all the time."
What advice would you give to anyone thinking of taking on a similar restoration project?
Gemma: "I have actually been asked that very question by an interested person who messaged the club recently. He wanted a KP30 like mine and I had to tell him that another one is going to be incredibly hard to find.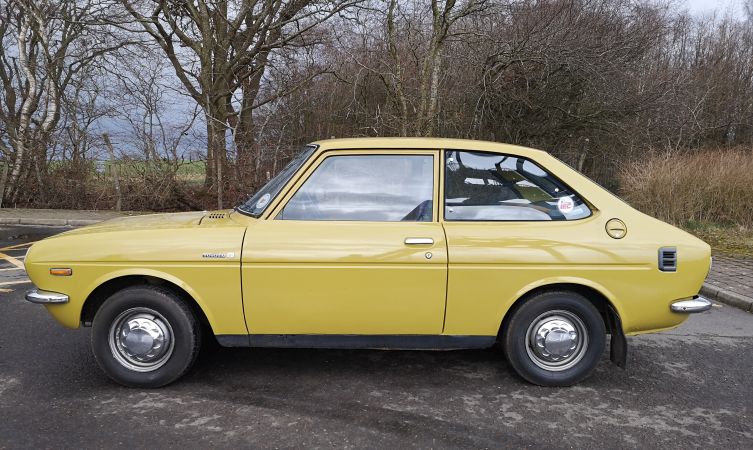 Future plans for the 1000 include colour-coding the sills, upgrading the headlights and giving the interior some further TLC
"I also advised him that tackling a restoration on a Japanese classic is not like restoring a British or American car. It's not easy to find original parts and reproduction parts don't exist either. But if you're willing to try hard and can find someone with the skills to help, it's definitely worth it in the end. There's no experience like it."
Toyota People: Gerard and Kieran, dedicated job-for-lifers
Toyota People: Julia Albu, epic adventurer
Toyota People: Fergus McIver, resto-modder
Toyota People: Guy Nicholls, world-class Hilux collector
Toyota People: Warner Lewis, rally's Mr Toyota