For the first time in 21 years, Toyota has undertaken a full redesign of the Century, its exclusive, hand-crafted limousine.
Modern styling cues are combined with a traditional, dignified look that references Century's heritage, while the cabin is equipped for VIP rear seat passengers to be chauffeur-driven in complete comfort. The new model is equipped with a 5.0-litre V8 hybrid electric powertrain and adopts advanced safety technologies, including Toyota Safety Sense.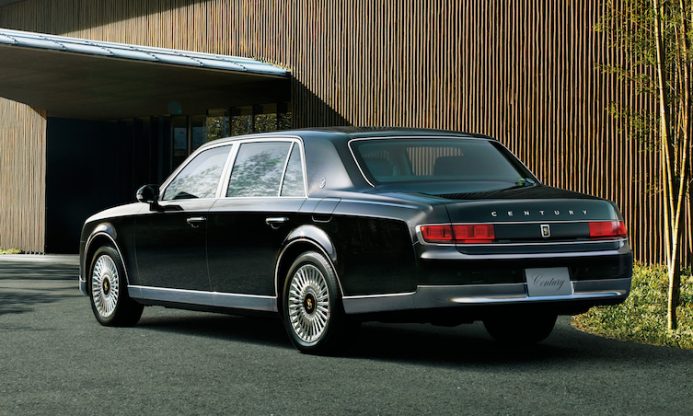 The first Century debuted in 1967, created to mark the 100th birthday of Sakichi Toyoda, founder of the Toyota Group. For more than 50 years, it has been Japan's most popular chauffeur-driven luxury car, favoured by the country's leading industry executives.
Available exclusively in Japan, the new, third generation model sustains its tradition of master craftsmanship and monozukuri – all-encompassing manufacturing. Its new hybrid electric powertrain addresses the demand for improved environmental performance, while the interior and exterior designs blend new elements with the car's heritage look.
Toyota Century: exterior design
Century's profile reflects the Japanese aesthetic of "passive symmetry". The silhouette is easily recognisable as chauffeur model, with a more upright centre pillar shifting the design focus to the rear of the car.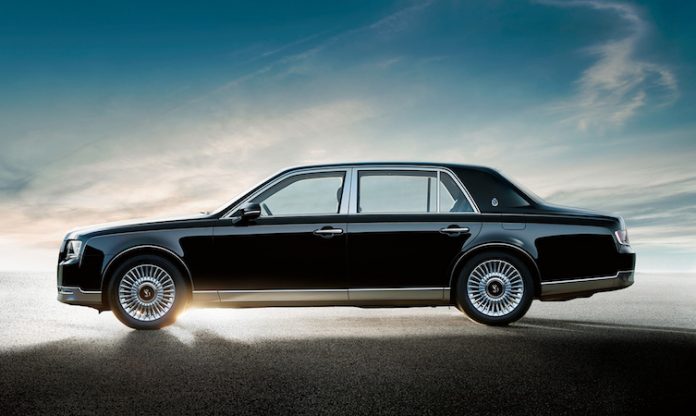 The curvature of the doors is enhanced using a surface treatment along the shoulder section that dates back to the design of room partitions from Japan's Heian period (794 – 1185 CE). The coachwork has two distinguishing lines that are polished at an angle and separated by narrow space so that they appear as single, prominent line, lending the bodywork an air of dignity and excellence.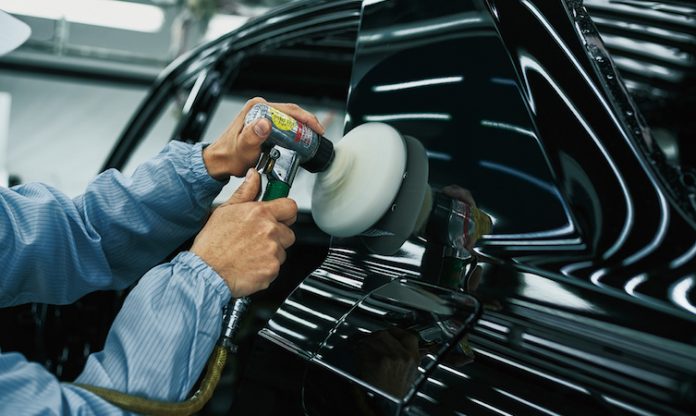 The model's heritage is represented by its phoenix emblem, engraved by a craftsman in a process that takes six weeks to complete. It depicts the vibrant movement of the bird's wings and delicate feathers, set against the backdrop of the front grille, which has a traditional infinite loop pattern of crowns.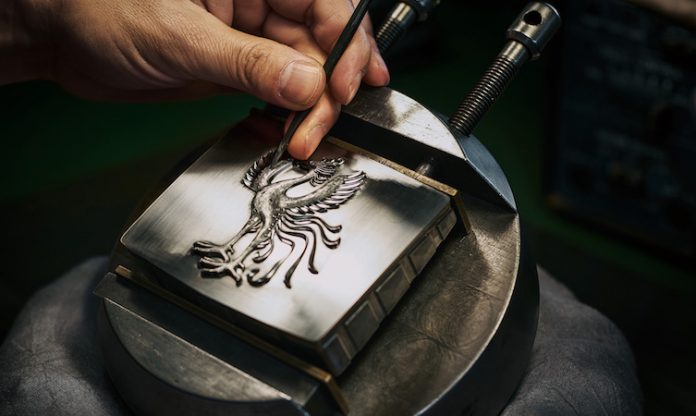 The car is finished in a new Kamui black, which gives the impression of a lacquered finish. Sanding and polishing developed from traditional techniques give the bodywork a deep lustre and shine. Each car undergoes three wet sanding treatments to smooth out even the slightest unevenness before polishing to a mirror finish.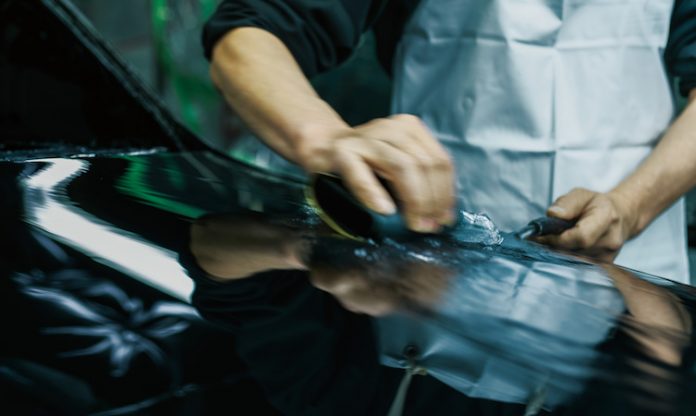 Toyota Century: interior design
Century's wheelbase has been increased by 65mm, creating even more spacious rear seat accommodation. The height difference between the scuff plate and the floor has been reduced by 15mm to ensure the floor mats lie perfectly flat and improve the ease of getting into and out of the car.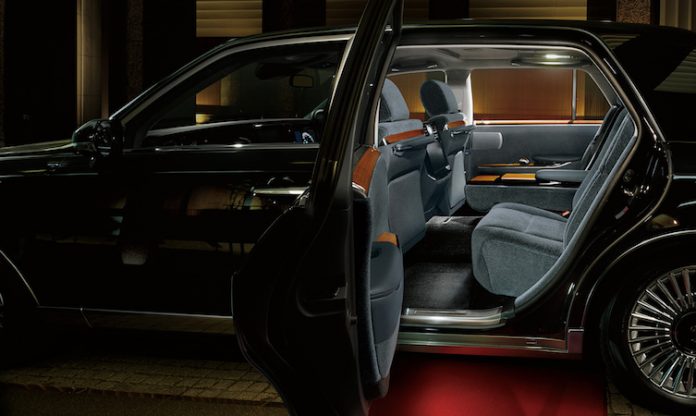 The rear cabin features wood trim and a raised ceiling design with an exclusive fabric headlining with a slanting lattice motif – a traditional manji design representing perpetual prosperity for the home and longevity.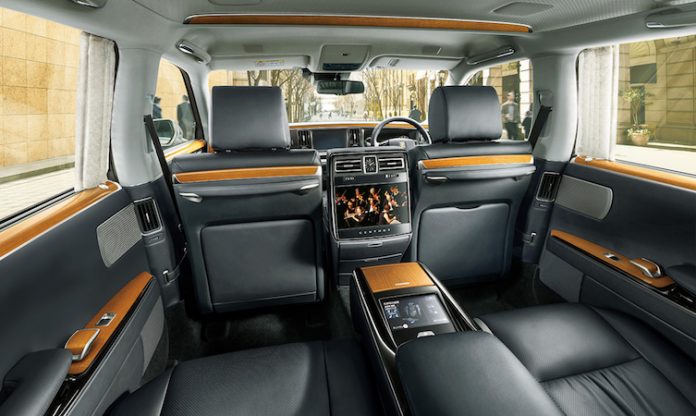 The left-hand rear seat has a power-extending leg rest and an integrated massage system and there is rear seat entertainment system with an 11.3-inch monitor, 12-channel audio amplifier and array of 20 speakers. A seven-inch touchpad in the centre armrest gives easy control of the audio system, air conditioning, seat massage function and rear curtains.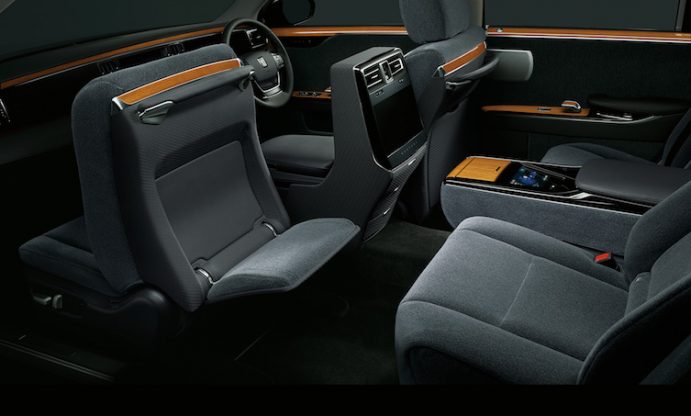 Toyota Century: powertrain and chassis
Century's new 5.0-litre V8 hybrid electric system delivers the kind of smooth, confident ride that a chauffeur car demands, together with excellent environmental performance. Under official Japanese test criteria, it achieves 38.4mpg.
Skilled craftsmen are responsible for extensive noise-proofing measures, including wide use sound-absorbing and insulating materials. An active noise control system also reduces noise and vibration levels at engine start-up and under acceleration.
The car is equipped with electronically controlled air suspension and Adaptive Variable Suspension. Body rigidity has been improved with the use of structural adhesives, while new tyres and suspension components all contribute to ride comfort and reduced road vibration.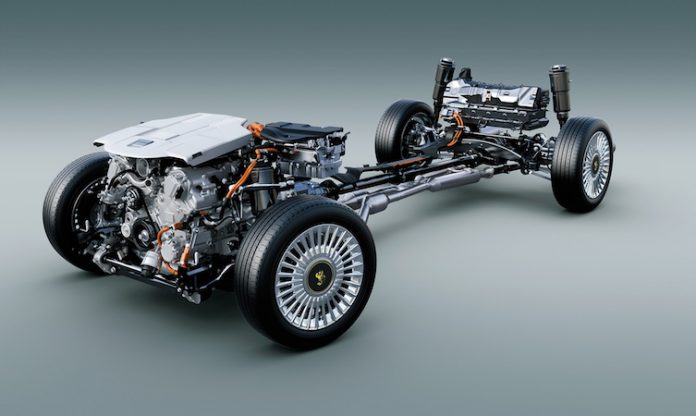 Toyota Century: hybrid system specifications
| | |
| --- | --- |
| ENGINE | |
| Engine code | 2UR-FSE |
| Capacity (cc) | 4,968 |
| Max. power (bhp/kW @ rpm) | 376/280 @ 6,200 |
| Max. torque (Nm @ rpm) | 510 @ 4,000 |
| MOTOR | |
| Max. output (bhp/kW) | 221/165 |
| Max. torque (Nm) | 300 |
| Full system output (engine + motor, bhp/kW) | 425/317 |
| Battery type | Nickel-metal hydride |
Toyota Century: advanced safety functions
The new Century is equipped with Toyota Safety Sense, a Blind Spot Monitor and Rear Cross Traffic Alert.
The Toyota Safety Sense package includes a Pre-Collision System, Lane Departure Alert, Adaptive Cruise Control (with all-speed tracking) and Adaptive High-beam System. There are two additional new features: HELPNET®, an automatic emergency reporting system that activates when the car's airbags are deployed; and D-Call Net®, which can make quick decisions to summon air or ground ambulances if vehicle data indicates a severe accident has happened.