The Toyota KIKAI concept has made its world debut at the 2015 Tokyo Motor Show.
KIKAI makes a statement about the beauty of engineering with a design that shows off and makes a virtue of the mechanical parts that are usually hidden beneath a car's bodywork.
The rear-mounted engine, chassis, suspension parts and exhaust manifold are all on display, while the car's bodywork is finished in a complementary grey-silver colour scheme, highlighted with red flashes.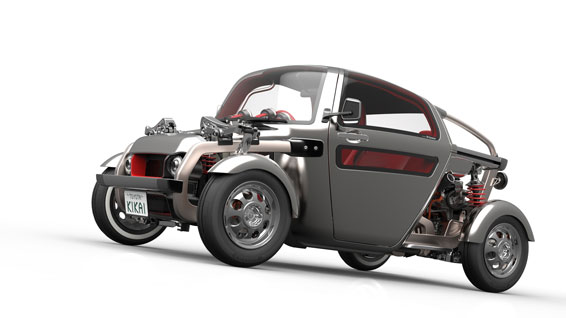 The simple, open approach extends to the interior, which features a host of analogue meters and uncomplicated switchgear. The driver and passengers can see the car's working parts even while travelling, through a window near the driver's feet that gives a view of the tyres, suspension and road surface.
The upper control arm of the front suspension can also be seen through the windscreen, and would move as the car negotiates the road surface it travels on. The effect is to create a new driving sensation that reveals how actions of cruising, turning and stopping in everyday driving are achieved.
The driver's seat is positioned centrally, putting the driver at the heart of the action. A triangular arrangement of the passenger seats and an expansive side window that extends up to the roofline help create a airy cabin environment.