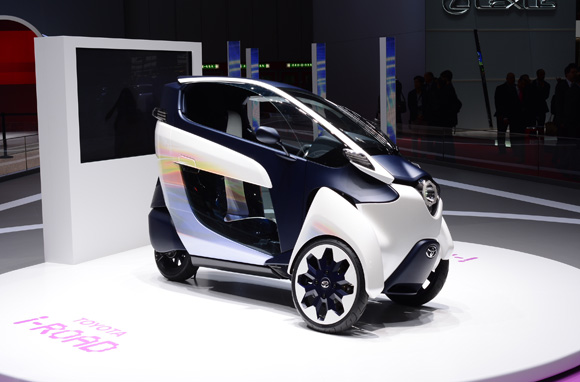 The innovative Toyota i-Road concept has made an electrifying debut at the 2013 Geneva Motor Show, carving gracefully onto the stage of our elegant new stand.
The show-stopping model's defining feature is its complex suspension and steering set up, designed to allow it to flow gracefully through curves like a motorbike.
[youtube width="580″ height="350″]https://www.youtube.com/watch?v=51uRN8tgvjA[/youtube]The banking motion might look dramatic, but it actually serves to provide the three-wheeled, tandem style two-seater greater safety and stability.
Described as Active Lean technology, the system uses a lean actuator, linked via a yoke to the front wheels. An ECU calculates the required degree of lean based on steering angle, gyro-sensor and vehicle speed, and automatically moves the tyres up and down in opposite directions, applying lean angle to counteract the centrifugal force of cornering.
The system also operates when the vehicle is being driven in a straight line over cambered surfaces, the actuator automatically compensating for changes in the road to keep the body level. The minimum turning circle is just three metres.
Best of all, no special skills are needed to pilot i-Road; the Active Lean system offers a unique driving experience with the enjoyment of riding a two-wheeler, but with no need for the driver to stabilise the vehicle when manoeuvring at low speed, or when stationary.
Designed for city streets, the three wheel, battery-powered i-Road provides covered tandem-style seating for two. At only 850mm, it is no wider than a conventional motorcycle, and measures 2,350mm long, 1,445mm high and has a 1,700mm wheelbase.
The compact dimensions make for easy manoeuvring through traffic, but also mean four can be parked in one parking bay.
The zero-emissions, all-electric model uses a lithium-ion battery to drive two powerful 2Kw motors mounted in the front wheels, offering instant acceleration and near-silent running.
The concept car's range is around 30 miles, after which the battery can be recharged from a domestic power supply in three hours.
It builds on Toyota's research into exciting new transport solutions, which we covered here.
Unveiling the car, Didier Leroy, President of Toyota Motor Europe said, "Toyota is defined by better, because we believe there is always a better way to build a better car. Take the i-Road as an example. We guarantee it will put a smile on everyone's face.
"This is a very serious proposition, and we believe it has an important part to play in the future of mobility in cities. It's this type of mobility project we have announced we are going to try in Grenoble over the next three years. But this is not our only focus as we continue to lead in the development of sustainable technologies.
He concluded: "This year we will have sold more than 5 million hybrid products world wide, and sales are growing all the time. Hybrids now account for 13 percent of all our European sales. By the end of 2013 that number will climb to around 18 percent of all our sales.
"And as you know, our hybrid technology can be paired with any fuel type. On that basis I can now confirm that one of the 21 hybrid power plants we will launch by 2015 will be equipped with a hydrogen fuel cell." he concluded.