The Toyota bZ4X Concept, presented at the 2021 Shanghai Motor Show, previews the first in a series of zero-emission battery electric vehicles (BEVs).
The bZ4X, a medium-size SUV with all-wheel drive, is integral to Toyota's transition from a pure car company to a business dedicated to delivering better mobility for all.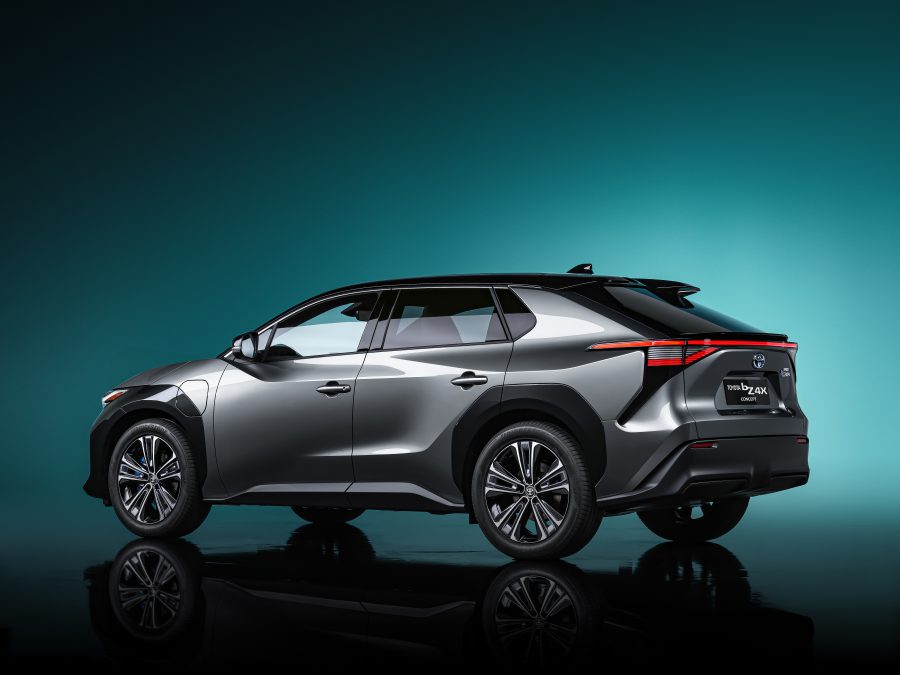 The 'bZ' is an abbreviation of 'beyond Zero', reinforcing Toyota's commitment not only to achieving zero carbon emissions and carbon neutrality, but also going beyond to realise new benefits for the environment, for individuals and for society as a whole.
Read more about the Toyota bZ series
The new Toyota bZ4X Concept has been developed by Toyota Motor Corporation in partnership with Subaru Corporation, drawing on the specific skills and experience of each company. Sales of the production version are expected to commence around the middle of 2022.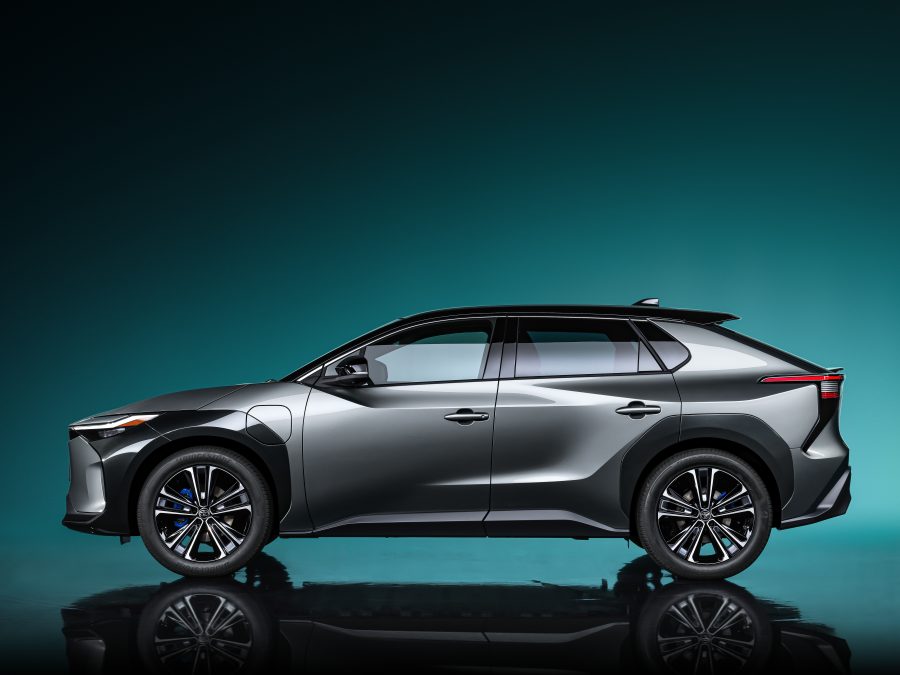 Introducing the Toyota bZ4X Concept
The Toyota bZ4X is more than just a means of transport. It is also a comfortable and connected space where people can enjoy spending time together on a journey.
Read more What is Beyond Zero? Toyota's bZ strategy explained
Chief Engineer Koji Toyoshima explains: "Our target customer is someone who places importance on time spent together with family and friends. When they want to enjoy such times, Toyota bZ4X Concept can serve as a hub for them."
Exterior design combines dynamism and utility
The Toyota bZ4X Concept's exterior design anticipates people's high expectations of an electric vehicle driving experience that requires no compromises. Its overall form marries dynamism and utility: there is a high driving position characteristic of SUVs but the car still appears planted on the road. The bodywork presents sensuous surfaces, combined with precise and high-tech styling.
The front of the car – an instant point of recognition for any vehicle – dispenses with the familiar grille and instead features an arrangement of sensors, lights and aero elements in a distinctive 'hammerhead' form, generating a new attitude and road presence.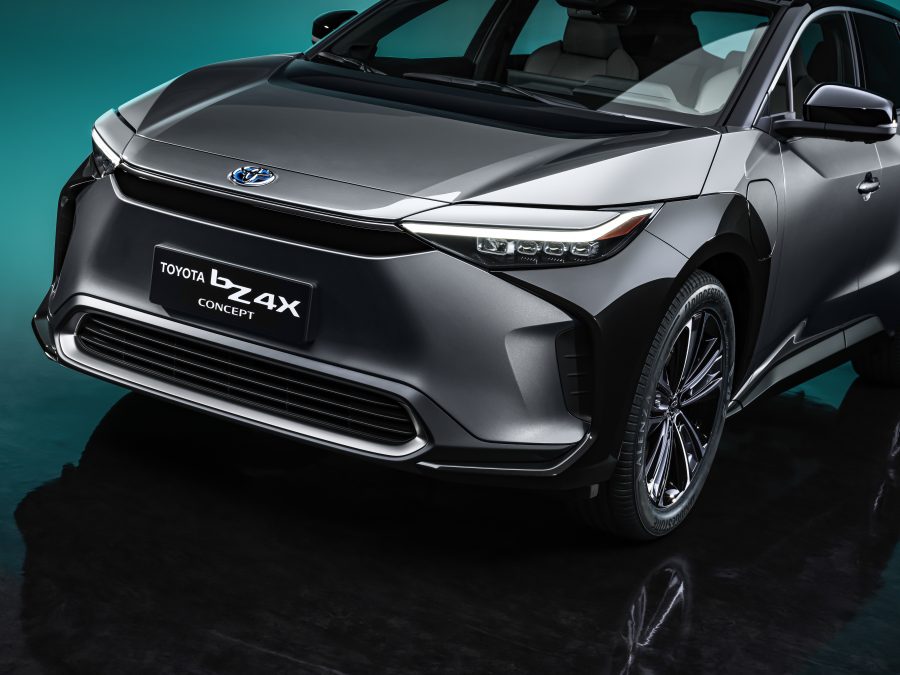 Toyota bZ4X Concept: spacious cabin and 'drive module'
The Toyota bZ4X Concept is built on the new e-TNGA modular platform, developed specifically for electric vehicles. A long wheelbase and short overhangs help create a notably spacious and open cabin. In fact, rear leg room is similar to that of a large D-segment model.
The front cabin is designed around a 'drive module' which gives the driver a sense of direct connection to the road and to important information. The low-set instrument panel opens up panoramic visibility and emphasises the sense of space. Controls are grouped around the centre console, designed for easy recognition and operation. The digital driver's instrument display is positioned above the steering wheel, so only minimal eye movement is required to register information.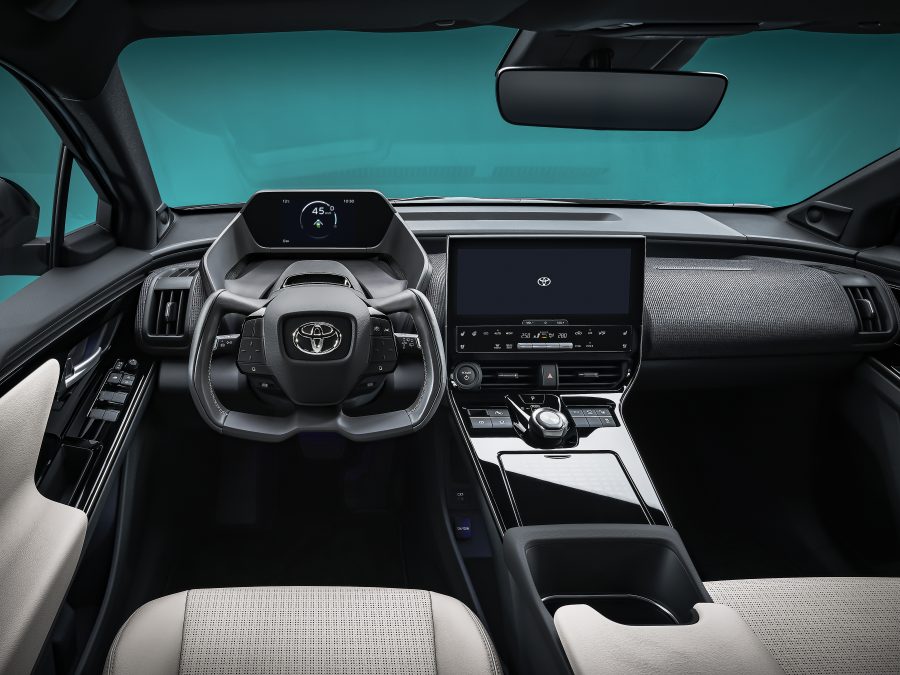 Battery management a key to optimising driving range
The development programme has reaped the benefits of more than 20 years of Toyota's leadership in vehicle electrification and the company's brand-defining quality, durability and reliability. This has ensured the electric powertrain – motor, control unit and battery management system – deliver class-leading efficiency and a very competitive driving range.
The car's environmental profile is further strengthened by an on-board solar charging system, which enhances the distance that can be covered. Thanks to Toyota's extensive experience in developing battery technology for its hybrid electric and plug-in hybrid electric models, the larger, more powerful battery required for Toyota bZ4X Concept has been engineered for reliable, lasting performance, maintaining the car's driving range, even in cold climates.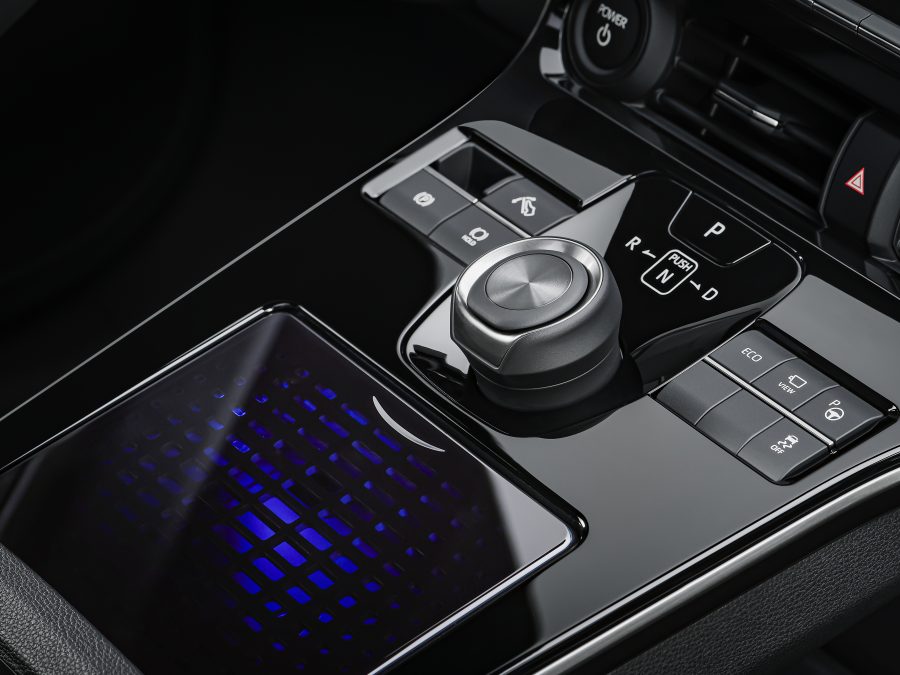 Toyota bZ4X: authentic all-wheel drive capability
The all-wheel drive system, delivered by electric motors on the front and rear axles, has been developed together with Subaru. The rich heritage and deep expertise of both Toyota and Subaru have been combined to deliver a best-in-class all-wheel drive capability that sets the Toyota bZ4X Concept apart in its segment. The system gives genuine off-road capability that also provides extra security and peace of mind for drivers in all on-road conditions.
Advanced steer-by-wire system
Toyota bZ4X Concept will be available with a world-first* combination of a steering yoke and a steer-by-wire system. This technology gives the driver greater control, removing interference from rough road surfaces and braking, and thus more precise response in line with the vehicle's speed and steering angle.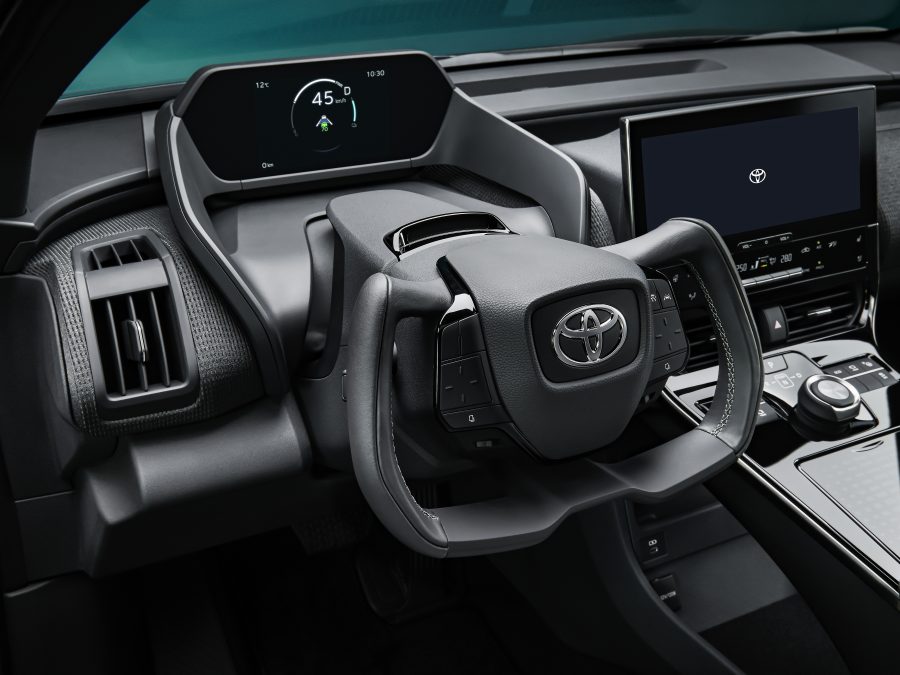 Steer-by-wire also dispenses with the traditional, circular steering wheel, replacing it with a different shape 'yoke' control, so the driver no longer has to move their hands around the wheel as they make a turn, adding to the car's fun-to-drive quality.
(*For a mass-production model; UK specs to be confirmed at a later date)