They correctly diagnosed faults, perfected panels, identified parts and showed off their exceptional customer service skills – and after a day of competitive testing, Toyota's Apprentice of the Year winners have been crowned.
Twenty-five young men and women working at Toyota and Lexus centres across the UK came together at the Toyota Academy in Nottingham last week to display their expertise in vehicle servicing, parts and repair work.
The annual competition is at the centre of Toyota's programme to develop and reward the work of the 180 apprentices who work in UK Toyota and Lexus dealerships. The Toyota Apprentice Programme ensures young people are equipped and encouraged to build careers in the motor trade, and places quality workmanship, technical skills and excellent customer care at the centre of their learning. Graduates complete the course with Advanced Apprenticeships that include functional skills, a technical certificate and VCQ and VRQ at Level 2 and 3.
Presenting the awards, Paul Craven, General Manager, Toyota Academy, said: "We're delighted to have seen a closely-fought competition this year; our apprentices can all be proud of their performances.
"They are essential to our aim of providing first-class service to Toyota customers, and events like this and the surrounding activities we run are a way of recognising their work."
The overall winners are:
Overall Apprentice Service Technician, Ryan Preece, Westlands Hereford
Overall Apprentice Parts Advisor, Tyler Dunbar, Lancaster Ipswich
Overall Apprentice Service Advisor, Asa Hallsworth, Lexus Stockport
Overall Apprentice Body and Paint: Alex Smith, Burrows Sheffield
Service technician awards by year group:
Year one Apprentice Service Technician, Ryan Preece, Westlands Hereford
Year two Apprentice Service Technician, Jack Brett, Steven Eagell Milton Keynes
Year three Apprentice Service Technician, Josh Whitaker, Lexus Bolton
Individual awards for body repair and paint technician apprentices:
Apprentice Body Repair, Ashley Salisbury, Body Perfect
Apprentice Paint Technician, Alex Smith, Burrows Sheffield
Find out more: Toyota Apprenticeships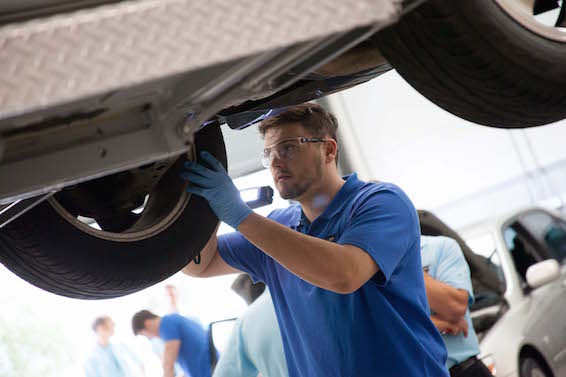 Ryan Preece, who started his apprenticeship in February 2014 and is based at Westlands Hereford, went home with the Overall Apprentice, Service Technician award. He said: "I'm really happy; it's a real surprise to win. The challenges were quite hard but they were a good test of things we actually have to do at work.
"I looked around quite a lot before applying for the Toyota Apprenticeship and I'm glad I did because it's fantastic and Toyota is a great company to work for."
Tyler Dunbar from Lancaster Ipswich said: "I'm really happy to have won. I was nervous because I've not taken part in the competition before, but once I got started it was OK. I had to identify parts, do a stocktake task and had two written tests. It's good to see the work paid off."
Lexus Stockport's Asa Hallsworth said: "I took part last year and won then, so it's good to do well again. The apprenticeship is really well organised and it's good that we do this competition; it's great motivation to try and do well. I definitely see myself staying in the business for a long time – I've told my boss I want his job one day."