Having spent the holiday period looking back at our media highlights of 2014 we thought that it would be appropriate to use our final day of the year to review the environmental, social and economic performance of Toyota in Europe over the 2014 fiscal year.
Toyota's global vision is to deliver products and services that respect and enrich society and the environment. That sustainable business model is expressed in Europe through the phrase Always Better Lives – a mission statement that aims to put the needs of people at the centre of all Toyota's activities. This is realised in three key areas that form the basis for this review of 2014.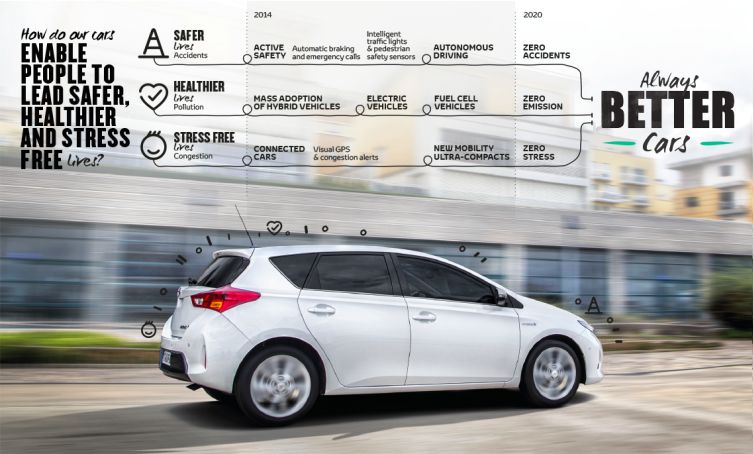 1. ALWAYS BETTER CARS
The aim of Toyota is to build cars that offer ever-increasing levels of quality, safety, environmental performance and driving pleasure. The focus of Toyota's European operations has always been on small- to medium-size vehicles, and 2014 saw the arrival of two important new models within this area: Aygo and Yaris.
The launch of these two cars was representative of the increased responsibility handed to Toyota's European research and development team, offering clear evidence of our commitment to give customers in Europe products that are better tailored to their individual needs.
Looking forward into 2015, Toyota will launch the Mirai hydrogen fuel cell vehicle in Europe. Its extended driving range, zero emissions and fast refuelling time will make it the foremost expression of environmentally-friendly motoring.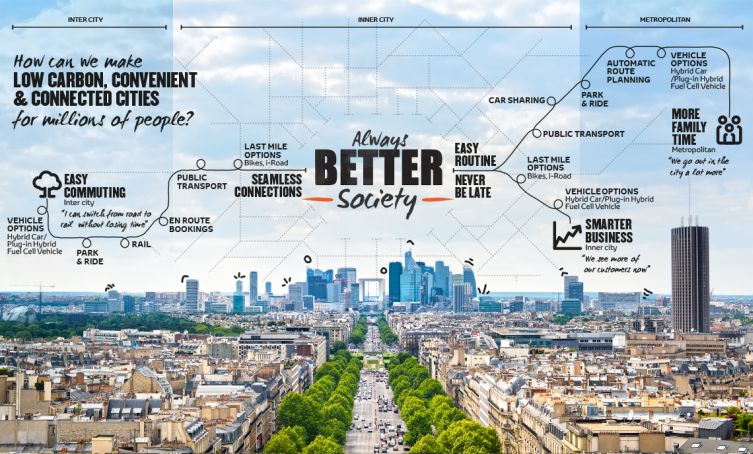 2. ALWAYS BETTER SOCIETY
Toyota vehicles are renowned for their green technologies and affordable running costs. But for the former to make a significant impact on our environment it needs to be widely available. For this reason, Toyota has spearheaded the adoption of hybrid vehicles. As of the end of 2014, Toyota has produced more than 7,000,000 hybrid vehicles worldwide, among which 830,000 have been sold in Europe.
At the same time, however, Toyota continues to pioneer alternative solutions by pursuing its vision for a mobilised society that seamlessly connects private and public transportation. A recent example of this is the introduction of the revolutionary Toyota i-Road ultra-compact electric vehicle into the Citelib by Ha:Mo mobility project in Grenoble, France.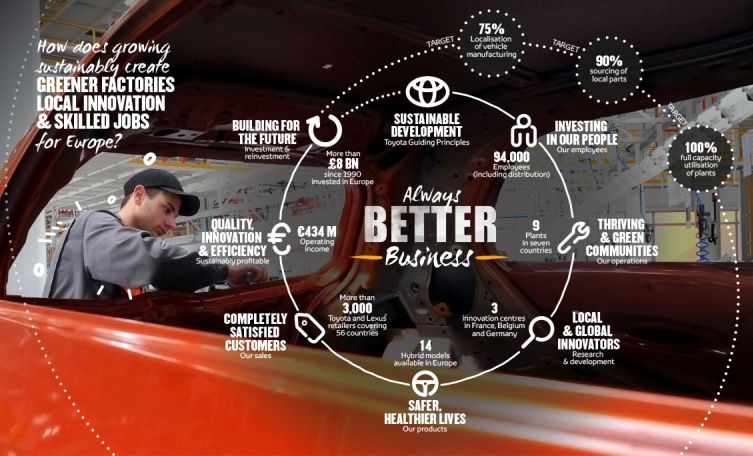 3. ALWAYS BETTER BUSINESS
Any business with long-term goals and vision must be successful, which also means creating a business model for sustainable growth. One of the ways Toyota achieves this is through local production – in other words, making the cars in the very areas where they are primarily sold.
In October 2014, Toyota reached the milestone of 9,000,000 European-produced vehicles. Our European operations include 20,000 employees, nine manufacturing plants, and 31 sales and marketing organisations that cover 56 countries.
Despite declining trends, Toyota sales in Europe have experienced growth for three years in a row and achieved solid profitability. Moreover, the manufacturer's dedication to hybrid vehicles has become one of the fundamental contributors to overall sales performance – recent figures show that one in every five cars we sell in Europe is a hybrid and that hybrid sales have increased by 28 per cent year-on-year.
ADDITIONAL INFORMATION: Read more from Toyota's 2014 Sustainability Report.