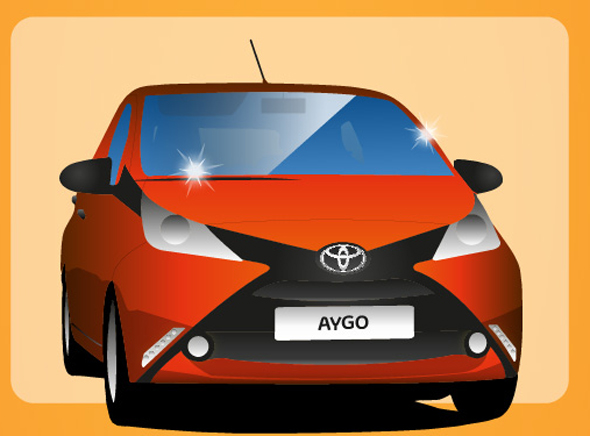 Have you noticed just how quickly it's getting dark these evenings? The hours of daylight reduce quite rapidly in autumn, and we are soon starting and ending our day at the wheel in darkness.
So it's time for a little preparation ahead of driving your Toyota in the sometimes hazardous months of autumn.
Lights
It only takes a few moments, but ask a friend or family member to confirm that all of your lights are functioning correctly, from headlamps and indicators to brake, fog and reversing lights, get them to give you a thumbs up – and if it's been a while since the light covers have seen a sponge, give them a good clean too.
According to statistics from the Japanese National Police Agency, there was a 24% higher probability of fatal traffic accidents occurring during twilight hours (4pm to 8pm) than other times of the day in 2013. Similarly, in these hours pedestrians are at a much higher risk, as twice as many deaths occur at night than during the day.
With this in mind, it's key that you make your Toyota as visible as you can for other road users and pedestrians by turning on your headlights well before the sun sets. By wearing reflective clothing at night pedestrians can also alert drivers of their presence much sooner and help to reduce the risk of accidents in twilight hours.
With your headlights switched on for more of the time, as well as the heating and heated rear windscreens engaged, your battery will be under higher demands than it has been throughout summer. Make sure that your battery is in good working order and that all terminals are securely attached, and if you experience any difficulty when starting, it's likely that a replacement battery is in order before the harsher conditions of winter arrive.
Windscreen and wipers
With the sun much lower in the sky, glare and bright dazzling light in your eyes is a common distraction at this time of year. A dirty windscreen, both inside and out, along with the often ignored stone chips and scratches can make glare even more exaggerated, so don't wait in getting these repairs made at the same time as making the screen spotlessly clean.
You need to replace wiper blades if they smear or make a squeak as they move across the windscreen. Check blades for any splits in the rubber and of course check the windscreen washer reservoir levels regualrly.
Tyres
Autumn's soggy leaves can be a hazard, making cornering slippery and braking distances uncertain while hiding potholes and bumps in the road. To combat this, reduce your speed when cornering and allow more space when braking to avoid any of those heart-stopping moments.
As the only point of contact on these slippery roads it is very important to check the condition of your tyres. Take the time for a complete inspection and look for signs of damage, excessive wear or bulges in the sidewall of the tyres, and at the same time make sure to check all pressures. If you are unsure of these, you can find them in the owner's manual.
Floor mats
It is important to check the condition of the floor mats and replace them if any holes, tears or damage appear. You should ensure that the mats are attached using the correct fixings to avoid the risk of them moving out of place.
As well as the challenges nature throws at drivers in autumn, there are areas under the skin of your car that your local Toyota Repairer can help you in inspecting.
Coolant
Overheating can cause serious damage to your engine. Your local service centre can make sure coolant levels are correct and inspect for any leaks from the system.
Hoses and belts
We will check these are not cracked, brittle, frayed, loose or showing signs of excessive wear.
Air conditioning
For the correct heating and cooling performance along with blocking air pollutants from entering the cabin, the air conditioning system and cabin air filters will be inspected to maintain interior comfort and safety.
Brakes
You should have your brakes inspected regularly. A Toyota Authorised Repairer will check your brake pads, discs and brake fluid level.
Where next?
Find your nearest Toyota dealer here.