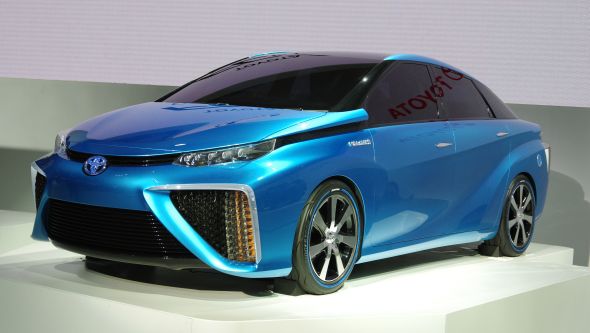 After teasing a selection of early renderings and then test-driving a heavily disguised development vehicle, this reveal at the 2013 Tokyo Motor Show is the first time we have seen Toyota's pioneering FCV hydrogen-powered fuel cell concept car in the flesh.
In some ways, there are more similarities than you might expect between the FCV and a conventional car. It takes roughly three minutes to refuel – about the same as a petrol car – and it can seat up to four people.
The design of the exterior gives some clues as to just how radical an innovation this vehicle is. While its bold front view features pronounced air intakes, the sleek side view conveys the air to water transformation of the fuel cell electric system with its flowing-liquid door profile and wave-motif fuel cap. At the rear the theme seamlessly finishes to convey a catamaran's stern and the flow of water behind.
The concept has a driving range of at least 300 miles, with the electric drive motor enabling powerful acceleration. Meanwhile, the fuel cell system is equipped with Toyota's high-efficiency boost converter. Increasing the voltage in this way has made it possible to offer enhanced performance at a reduced cost.
What's more, fully fuelled, the vehicle can provide enough electricity to meet the daily needs of an average home for more than a week.
Read more about Toyota's new models at the 2013 Tokyo Motor Show here.