Players from Ardencaple FC, along with members of the Helensburgh community, are celebrating setting a new world record for the most consecutive penalty kicks, raising money Red Nose Day 2015 in the process.
Organised with support from Helensburgh Toyota, the world record attempt was aiming to surpass 1860 consecutive penalty kicks set by German side Stadt Troisdorf in September 2012.
To achieve the new world record the organisers and Ardencaple FC had their sights set on a target of 1968 – the year the club was established – but the community response in support of the attempt and Comic Relief was so fantastic that they surpassed even their own expectations.
The unofficial total was 2048 consecutive penalty kicks, pending approval from Guinness World Records.
Celtic and Rangers legends Murdo MacLeod and Walter Smith helped promote the event, with MacLeod taking the first penalty and Smith taking the last.
As they streamed in the door, young and old, there was a sense of excitement that all of us together were part of something big. – Gary Mulvaney Helensburgh Toyota
Organising such a huge event always presents its challenges and this world record attempt was no different. As Craig Holborn, Chairman of Ardencaple FC explained.
"The day itself went remarkably smoothly apart from mid-afternoon when our queues started to get shorter and there was a genuine concern that they might dry up, thus threatening the record.
"Official Guinness rules stipulated that there must be a penalty kick taken at least every 30 seconds. Desperate times call for desperate measures so I commandeered a 30-seater coach and called on each and every pub and bookmaker in the town and dragged their clientele up to the sports hall to participate. After a couple of round-trips our queues started to solidify again and the record was in sight!"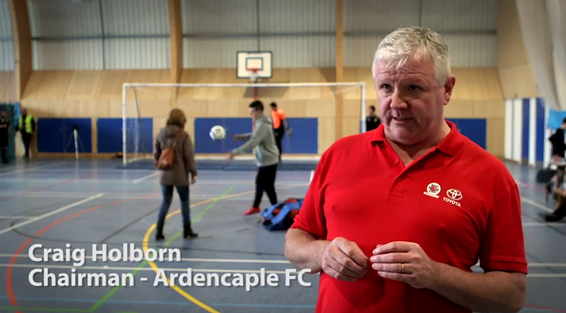 Gary Mulvaney, managing director of Helensburgh Toyota, paid tribute to everyone in the community who turned out to give it their best shot: "There are many people across the town who would not have thought a few days ago that they be part of a world record, probably some of those that were enjoying a quiet pint that afternoon as the bus appeared to take them up to the hall, but as they streamed in the door, young and old, there was a sense of excitement that all of us together were part of something big."
Mulvaney particularly noted the dozens of people at the football club who helped to organise the event and the many volunteers on the day who helped it to run smoothly. He continued: "A very special mention must go to Craig, the Chairman of the Club, without whose drive, tenacity and determination the event would not have happened."
"When all the rules and regulations appeared from Guinness World records, lesser men would have had second thoughts or have been too busy, but for Craig it was just another hurdle to clear. I am sure he has more grey hair than before he heard the words 'Toyota' and 'Comic Relief', but what a real Helensburgh and Comic Relief hero."
It's a brilliant result, and one that the people of Helensburgh can be rightly proud of.