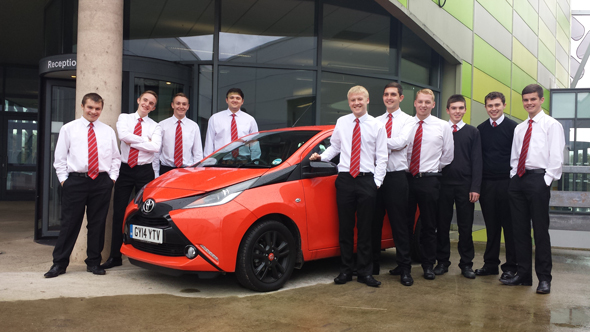 The first batch of new Toyota apprentices has started the academic year at the Toyota and Lexus Academy in Nottingham.
The Service Technician Apprentices are beginning a three-year apprenticeship that should end with them earning valuable qualifications and gaining invaluable experience in the motor industry.
Are you interested in becoming an apprentice? Whether you want to be a vehicle technician, paint technician, body repair technician, parts or service advisor, we ensure that Toyota Apprentices receive the very best training out there.
Better yet, there are still places available in for this year's intake. Find out more here: Toyota Apprenticeships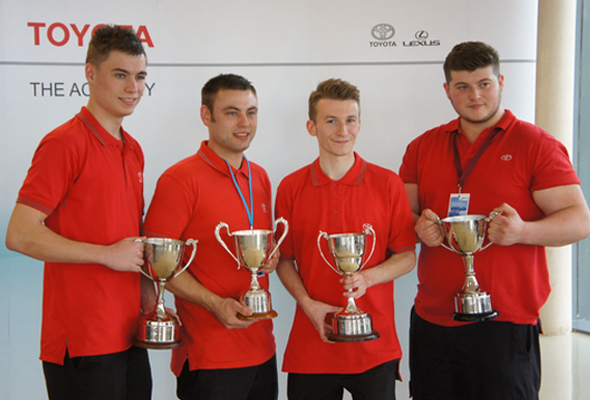 Recently we held the annual Apprentice of the Year competition. So what do this year's winners think of their apprenticeships?
Nic Barbary won overall Apprentice Body and Paint. He's now finished his apprenticeship at The Repair Centre in Redhill, Surrey, and is full of praise for his training.
"The training has been brilliant," he said. "Honestly it is something you just can't buy."
Nic kept a calm head during the Apprentice of the Year competition, despite facing equipment different from his workplace. He told us it was still a big surprise when he found out he'd won.
"During the competition I was nervous because I hadn't used the car alignment jig before on a day-to-day basis. But they all work around a similar basis and after I got my head around it I just got on with it.
"When I was told I had won, I was shocked. There were a lot of good contestants there and when my name was called out I was just really shocked."
Daniel Shilling won overall Apprentice Service Advisor, and like Nic, he wasn't expecting to win. He was really grateful for the support he's received from the centre where he works, Berkshire Toyota in Maidenhead.
"The competition was nervy," Daniel said. "I was shocked and then very happy obviously when I'd won. Neil, the centre principal, had told me to text him no matter what the result but when I sent him a text to say he was extremely happy. My parents we really proud as well."
Jake Baker, from Motorline Tunbridge Wells, Kent, picked up the overall Apprentice Parts Advisor in the competition and his advice to anyone thinking of applying to be a Toyota Apprentice is to do it now.
"It's definitely a worthwhile thing to do. "It's a great first foot in the door to the motor industry and you get a good qualification. But it can also lead to on other things."
Samuel Compton, from RRG Huddersfield, is already looking forward to his career in the motor industry. Samuel won overall Apprentice Service Technician at the Apprentice of the Year competition. He's now finished his apprenticeship and is keen to develop his skills further.
"At the moment I just want to concentrate on the Team 21 programme [a career development programme for technicians] and just see how far I can go."
If an apprenticeship isn't right for your, find out about our student placement scheme and working at Toyota head office.
See also:
Applications open for Toyota Student Placement Scheme