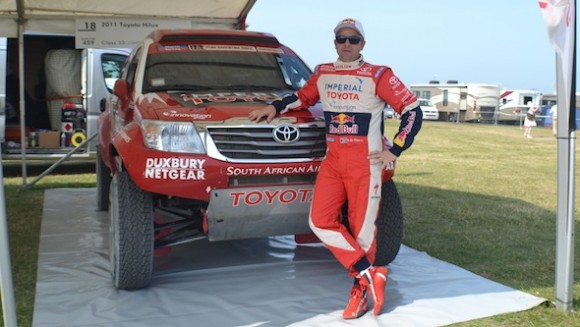 Race and rally driver Giniel de Villiers (born 25 March 1972) is best known for winning the 2009 Dakar Rally, but he started racing at the tender age of four, driving karts and tractors around the family farm in Barrydale, South Africa.
With a love of competition kindled by his father, Giniel progressed from clubman racing into touring cars in the mid-Nineties, generating a name for himself throughout the world by winning the South African championship four years in a row, from 1997 to 2000.
From this high, Giniel changed tack and 'returned' to off-road racing in 2003 by competing in the Dakar Rally. Numerous stage victories soon followed, culminating in an overall win in 2009. For the past two years Giniel has been campaigning the Dakar Rally in a Toyota Hilux with the Imperial Toyota South Africa team, during which he came third (2012) and a creditable second (2013) place.
Blog: Thank you for taking the time to talk to us, Giniel. During your career you've been successful in both track and off-road racing, how has it been possible to switch from one surface to the other and still be competitive?
Giniel: It wasn't a switch that I planned really. I had a very good run on the circuits and managed to win a couple of touring car championships. In 2000, when the touring car series lost its way and manufacturers were withdrawing, I basically didn't have any choice. I was with Nissan at the time and they told me that if I wanted to continue with them I needed to go and do off-road racing, so I said why not, I'm always up for a challenge – lets go and give it a go.
I knew that they had plans to do the Dakar which excited me and it was always something I wanted to do. I got the opportunity, started doing it, and got into the swing of things pretty quickly. Initially, there's a lot of testing and you need to learn to read the roads, but it worked out well and I've done 10 Dakars ever since.
Blog: People talk about the Dakar Rally being a grueling race. How is that manifested in the preparation of your Hilux?
Giniel: The Dakar is the toughest race in the world. It's the most difficult race to try and win because its so long and you drive over so many different terrains and there's altitude. There are so many things that can stop you from winning or even from finishing, so the only thing you can do is try to prepare as best as possible by testing a lot, and making sure the car is reliable.
The Dakar requires a lot of hard work from the team. You need a team of very dedicated mechanics and engineers, but at the end of the day, if everybody is prepared to put in that extra yard, you'll be rewarded at the end by getting on the podium.
Blog: What about yourself as a driver, then: How do you prepare for this type of endurance event?
Giniel: There's no secrets, I just believe that you've got to be as fit as you can. I train very hard physically and work on my fitness before the race, making sure I'm the fittest that I can be.
You're pretty much able to handle the first week of the Dakar, but in the second week you start getting tired, and if you get too tired you lose concentration, make a mistake and that can be the end of the race. You've got to be very focused and try and make the right decisions every time.
Blog: What do you think are the particular strengths of the Hilux compared to other Dakar machines?
Giniel: In the last two years that I've driven the Hilux it has had excellent reliability – we didn't have any mechanical or other serious issues with the car during the race, and that helped to put us in a podium position both in 2012 and 2013.
Blog: With Imperial Toyota you came third in 2012 and second this year. What hopes do you have of continuing the trend and coming first in 2014?
Giniel: There's no guarantees in the Dakar but obviously the next logical step would be to try and win. We've got a third and we've got a second, and we must try and improve on that. If we want to improve now there's only one place we can improve and that place is first.
We're working very hard to try and achieve a first, there's very stiff competition out there and its not going to be easy, but we've got to concentrate on doing our best and not worry to much about the competition – its onwards and upwards.
Blog: Thanks very much for your time.
Read more of our coverage from the Goodwood Festival of Speed here.