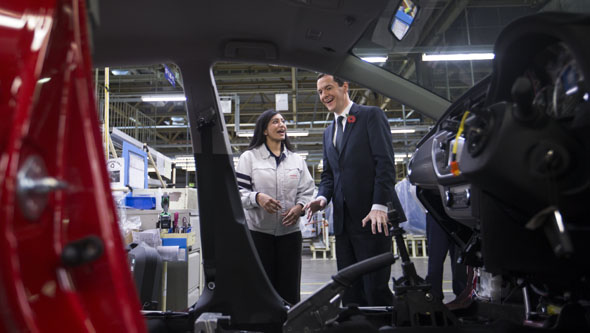 The Chancellor of the Exchequer George Osborne, praised Toyota's provisions for workplace childcare on a visit to Toyota Manufacturing UK's (TMUK) Burnaston car plant in Derbyshire. Mr Osborne, joined by Exchequer Secretary Priti Patel, toured the on-site Bumpers Nursery and spoke to some of the company's women engineers for whom it provides a valuable resource.
Making the nursery available to employees forms part of TMUK's commitment to encourage young people – women in particular – to study STEM subjects and take up a career in UK manufacturing. Its engagement also includes support for the Young Engineers initiative, running clubs at schools near Burnaston and the Toyota engine plant in north Wales; and the See Inside Manufacturing programme, giving school and college students the chance to visit its factories.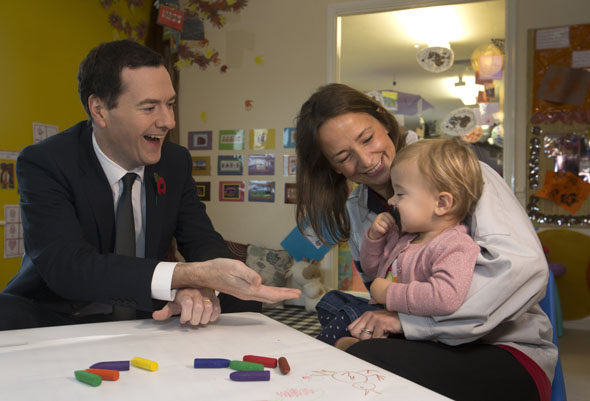 The nursery opened in 1998 and currently looks after 71 youngsters aged from three months to school age, the great majority children of TMUK members. Toyota provides and maintains the building, with day-to-day running by Kidsunlimited. In its most recent Ofsted inspection (2013), Bumpers was rated "outstanding".
Mr Osborne said: "It is brilliant to see an iconic company like Toyota actively supporting working parents by providing on-site childcare for staff. One of the key barriers to work for parents is finding convenient and affordable childcare. That is why we are introducing tax free childcare but there is still more we can do which is why I will be looking at this issue at this year's Autumn Statement."
Tony Walker, Deputy Managing Director, Toyota Manufacturing UK said: "Toyota UK is delighted to welcome the Chancellor to Derby to meet mothers who use our on-site nursery, Bumpers. We are extremely proud of Bumpers and its outstanding rating awarded by Ofsted. The nursery is currently helping 41 employees care for their children.
"It is of vital importance that our staff feel that they are welcomed back to work and that their children are well looked after. Toyota UK is committed to being an inclusive, family friendly place of work and the provision of an on-site nursery is just one example of the opportunities open to our employees."
See also:
Prime Minister David Cameron welcomes Toyota's £100m investment in UK jobs and manufacturing
Budding Engineers visit Toyota Motor Manufacturing UK
Toyota European vehicle production passes nine million units