Following a 13-year break in competition in the FIA World Endurance Championship (WEC), Toyota's all-new works entry was historic for pioneering petrol-electric hybrid power in this top-level motorsport – a set-up other top teams are now replicating.
But from that introduction in 2012, what changes have been implemented in order to keep the car competitive through three generations? We take an illustrated tour through its evolution from TS030 to TS050 Hybrid in terms of specification, technology and power.
Toyota TS030 Hybrid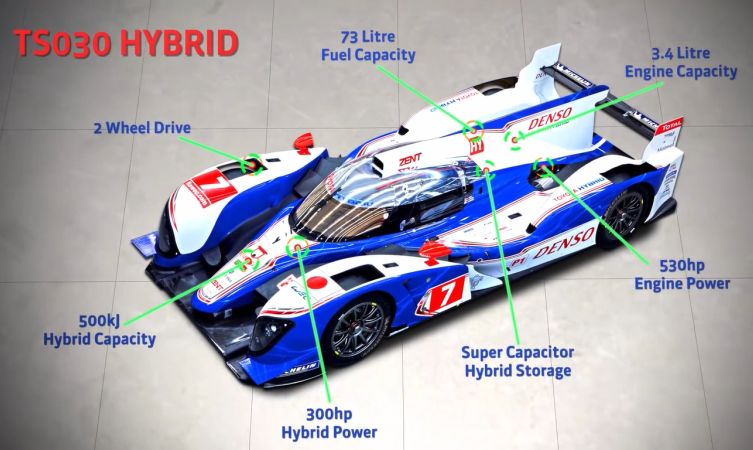 Although Toyota was the first manufacturer to participate in the WEC with a hybrid petrol-electric machine, our pioneering experience with this technology meant the TS030 Hybrid was immediately competitive. The racers were powered by a naturally aspirated V8 with additional torque from the electric motor-generator supplied to the rear wheels via a super capacitor system. The TS030 Hybrid won half the rounds entered in its debut season in 2012 and set a new LMP1 lap record at Silverstone.
Learn more: Focus on the Toyota TS030
Toyota TS040 Hybrid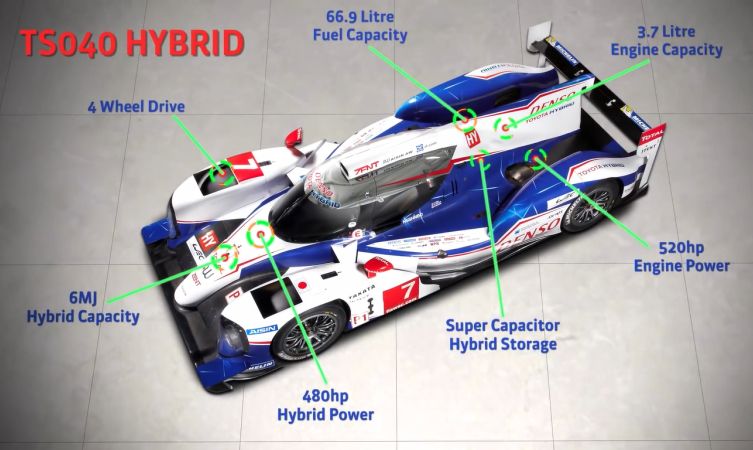 It may have looked similar externally but the TS040 Hybrid of 2014 was significantly altered under the skin, developed in line with revised WEC regulations that required teams to use 25 per cent less fuel than in the previous season. Hence the 60 per cent increase in hybrid power and myriad other changes to the powertrain and aerodynamics. Among these was the adoption of an additional electric drive system to the front axle, endowing the TS040 with temporary four-wheel drive.
Learn more: Focus on the Toyota TS040
Toyota TS050 Hybrid
Resplendent in new Toyota Gazoo Racing livery, the Toyota TS050 for 2016 has once again evolved in line with new WEC regulations. Natural aspiration makes way for a smaller capacity yet twin-turbocharged V6 with direct injection, while super capacitor storage similarly concedes to lithium ion batteries. This latter change has allowed Toyota to upgrade to the most powerful 8MJ hybrid class alongside manufacturer-backed competition from Audi and Porsche.
Learn more: Focus on the Toyota TS050 Hybrid
The nine-race 2016 WEC season begins with the 6 Hours of Silverstone on 17 April. Click the following link for the full season calendar and further links for ticket purchasing.

Learn more: History of Toyota's Le Mans race cars