Forget about charging up your Prius Plug-in Hybrid before setting off on the weekly shop because if the car designers of tomorrow have their way, we'll be exploring the universe in cars powered by rubbish! These are the vivid imaginations of entrants in the 2013 Toyota Dream Car Art Contest, the winners of which were acknowledged at a special awards ceremony at Toyota GB's headquarters.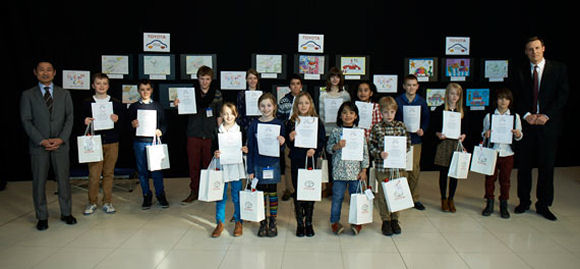 The Toyota Dream Car Art Contest, now in its seventh year, is open to artists aged 15 and under and gives would-be designers and young car enthusiasts the opportunity to let their minds run riot creating their future dream car. The 15 UK finalists will now have their entries submitted to the global round of the contest, with the overall winner enjoying a very special trip to Japan later this year.
For the 2013 Toyota Dream Car Art Contest, we received more than 600 brilliant entries, which made judging the competition especially difficult. Our expert panel was amazed by the impressive standard of the artwork and creativity submitted, all of which were packed with inspired and original ideas.
Jon Williams, President and Managing Director of Toyota GB, led the celebrations by announcing the winners, with Masa Nohara, Executive Director and Co-ordinator of Toyota GB, presenting the prizes to the youngsters, who were supported by their parents, families and friends.
The winners in each category were:
2013 Toyota Dream Car Art Contest –

Under 10 years:
Charlie Louise Sutherland – The Underwater Nessy Adventure Truck (pictured below)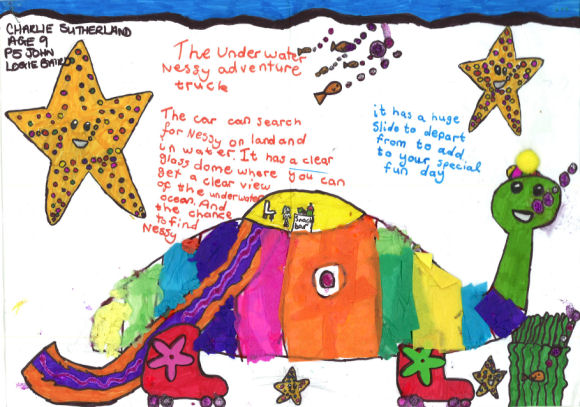 Denisa Rissa – My Playmate
Lottie Allan – Eco Car 2013
Natasha Maya Thomson – Sea Star
Scott McKenzie – Jubilee Jalopy
10 to 12 years:
Joss Thompson – I.P.S (pictured below)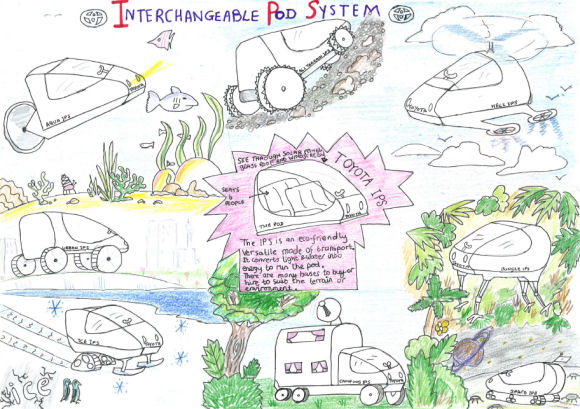 Rachel Rissa – The Smarty
Stewart Peden – The Red Rocket
Catriona MacBean – The Telebus
Chloe MacKinnon – Toyota Smiler
13 to 15 years:
Jack Faulkner – Altin 300 (pictured below)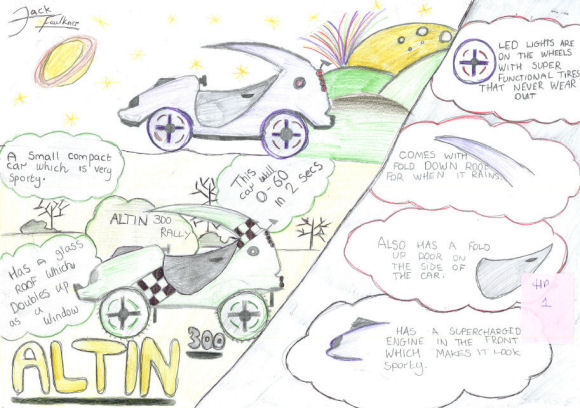 Melissa Robinson – Sky Bubble
Ronan Walker – Toyota Escape
Matt Appelquist – Planetary Boom Buggy
Samuel MacPherson – Reve
Warm congratulations and a huge well done to everyone who entered and particularly to our winners present today for being chosen as the best UK entries in their respective age groups.
We hope you enjoyed following the UK competition and join us in extending congratulations to all those who entered. You can also see the winners of 2012's competition, here.
What did you think of the 2013 Toyota Dream Car Art Contest? Let us know by following @ToyotaGB on Twitter and joining the community on Facebook.