The camouflage is off and Team Toyota GB is ready to return to the British Touring Car Championship with the new Toyota Corolla. Check out the reveal film below.
"Over the winter, we had the exciting opportunity to build something awesome from the ground up," said team principal Christian Dick. "Planning, designing and evaluating every tiny detail [of the Corolla] with the aim of creating a car that simply has no weakness, irrespective of weather and track conditions, ballast or tyre choice."
Read more: Behind the scenes of the Corolla testing programme
The newly-liveried BTCC Corolla carries the name of title partner Ginsters, which is embarking on a landmark tour of the UK to celebrate its 50th anniversary.
Tom Ingram, who will pilot the 2019 Corolla for the upcoming season, said: "Alongside Toyota's commitment to building the best cars in Britain, I genuinely don't believe there is a team with stronger foundations in UK motorsport than Speedworks – and in Ginsters, it's incredible to find another brand that is as completely focused on simply doing things properly as we are."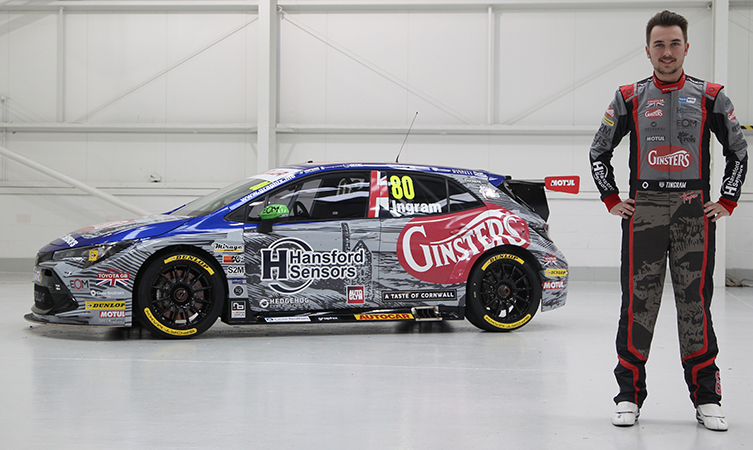 Ingram heads into the forthcoming campaign with a spring in his step following back-to-back wins of the BTCC's Independents Trophy in 2017 and 2018.
The start of the 2019 season also marks the first time the Corolla name has graced the BTCC starting grid since 1989, following the model's return to UK roads this year.
To get to this point, the 2019 Corolla has been through rigorous development, which included taking the car for some warm weather testing at Calafat circuit in Spain. Our cameras were on hand to capture the early testing, which you can watch below.
The 2019 British Touring Car Championship season gets off the line at the Brands Hatch Indy circuit in Kent on 6-7 April, with live coverage continuing on ITV4.