Esapekka Lappi scored his first World Rally Championship win on Rally Finland last weekend, one of the most spectacular and specialist events on the WRC calendar. It has been a meteoric rise for the young Finnish driver, who only made his debut at the top category of the WRC in May this year.
So here we take a closer look at Lappi, his career to date and some of the highlights that suggest his win in Finland was not totally out of the blue.
Amazing 🍾🍾🍾🇫🇮 pic.twitter.com/JV26OIb0Hi

— Esapekka Lappi Rally (@EsapekkaLappi) July 30, 2017
Esapekka's Early Career
Lappi was born in Pieksämäki, about an hour or so from Jyväskylä, the university town around which Rally Finland is based. But his early career was actually in karts, winning the Finnish karting championship in 2007. He switched to rally two years later and in 2011 he competed in his first Rally Finland – behind the wheel of a Citroën C2 with Janne Ferm as his co-driver.
The following year really put Lappi on the radar. Aged just 21, he won all seven rounds of the Finnish Rally Championship on his way to the title.
Picked up by Skoda Motorsport in 2013, he reached further milestones, winning three out of six events on the Asia Pacific Rally Championship. He competed on selected Tarmac rounds of the European Rally Championship that year too, winning the Rallye International du Valais in Switzerland.
He also competed in selected WRC-2 rounds in 2013, winning the class on Rally Portugal, where he also scored his first WRC point, finishing 10th overall.
His career took another step forward in 2014 when he picked up his first title, winning the European Rally Championship. The following year, Lappi continued to build his WRC experience, contesting eight rounds in the WRC-2 category. He took four podiums that season, including class wins in both Rally Poland and Rally Finland. He finished eighth overall in Finland.
2016 was another watershed moment in Lappi's career as he won the WRC-2 category outright, with wins in Finland, Germany, GB and Australia.
"This is one of the biggest days in my life," said Lappi as he was crowned champion Down Under, but he was soon to take another big step in his career.
Career with Toyota
In December 2016 Lappi was announced as Toyota Gazoo Racing World Rally Team test driver, under the tutelage of four-time WRC champion and team boss Tommi Mäkinen.
"This is a tremendous opportunity for me, a dream come true," he said at the announcement. "I can't wait to start the testing programme."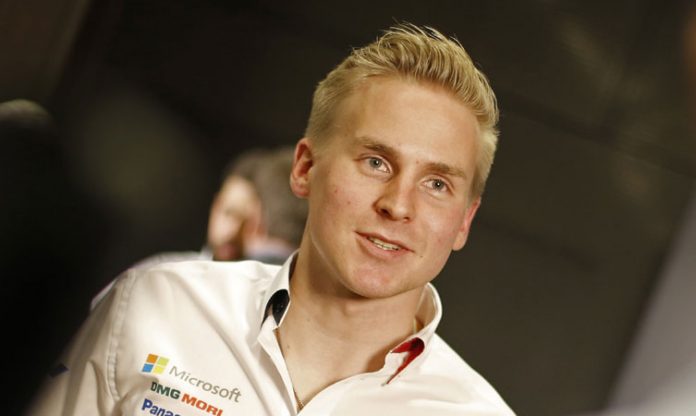 While Lappi took part in various test sessions at the start of 2017 his big opportunity came in May when Toyota announced it would run a third car (alongside regular drivers Jari-Matti Latvala and Juho Hänninen) on Rally Portugal and a few other selected rallies in the 2017 season.
"This is the moment I have been working for all of my life" said Lappi, who downplayed his expectations. "My goal is to try and get to the finish of the rallies without issues. If you can do that, then you always have a good chance of scoring some points."
On that first event there were signs of the success that was to follow. True to his word he finished 10th on Rally Portugal, but he also finished fourth fastest on the WRC points scoring Power Stage, taking his tally to three points on his first competitive outing in the Yaris WRC.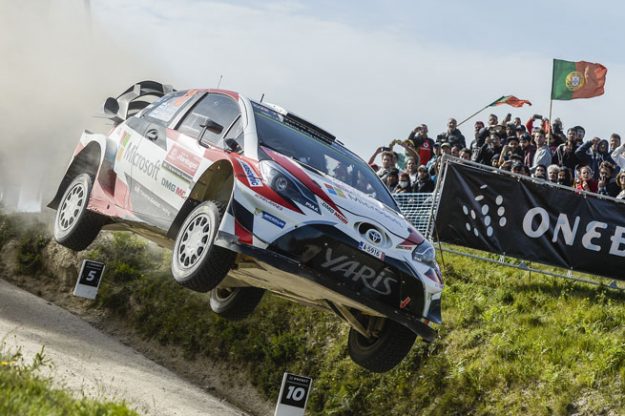 "Esapekka did a fantastic job to score three driver points on his debut," said Mäkinen. "The way that he quickly came up to speed was very impressive and I am sure he has a strong future."
Rally Italia Sardegna, Lappi's next outing in the Yaris WRC, was even more exceptional. He set six fastest stage times on the event, including the Power Stage, to finish fourth overall and take his WRC points tally to 20.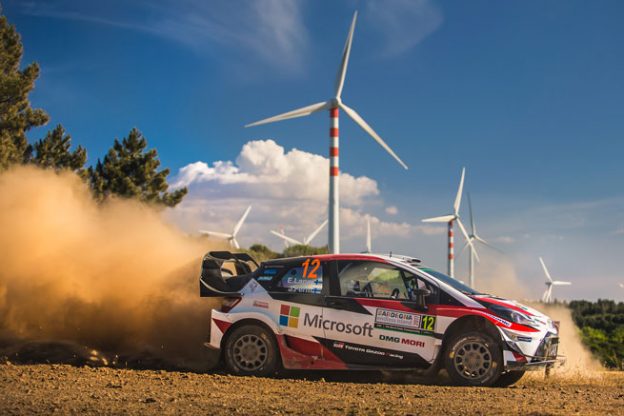 You have to roll with the punches to be top rally driver and Lappi had to deal with disappointment on his third outing in the Yaris WRC – Rally Poland. While running in the top five overall, he retired citing suspension damage. No finish, no points.
Esapekka as a person
How you deal with disappointment can be as motivating as how you deal with success. With Esapekka, the person you see is the person you get, according to Becs Williams, the voice of WRC Live Radio.
"He's determined and focused, as all competitors are, but he shows a massive amount of sincerity and a very real human quality," explains Williams. "He's direct and tells it how it is. You get the sense that whatever he says is the truth – creating smokescreens is not what he is about. He's there to drive and that's it. No more no less.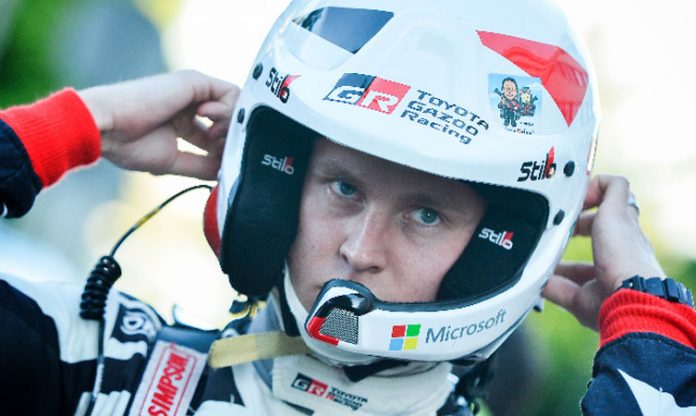 "He is approachable and has a dry sense of humour – he clearly loves what he does," she continues. "He's the kind of guy you want to watch compete because he is so dynamic, but he's also the kind of guy you would want to enjoy a few beers with. He's a fierce competitor, but behind that is a very real guy, someone you want to get to know."
2017 Rally Finland
After the short special stage on the Thursday evening, the 'Finnish Grand Prix' got under way in earnest on the fast, flowing stages around Jyväskylä on Friday. The Yaris WRC was flying, scoring nine fastest stage times – and incredibly Lappi set eight of them. Team mate Latvala described him as "a hurricane". At the end of that second day Lappi lead the rally by just over four seconds from his more experienced team mate.
Latvala roared back on the Saturday morning setting the fastest times on all four of the early stages but an electrical problem sunk his chances to fight for victory. Lappi took another stage win in the afternoon – the second run through the famous Ouninpohja stage – which earned him a comfortable 49 second lead going into the final day. Could he cope with the pressure?
"I know how to manage a lead," he said calmly at the end of Saturday's stages. "I must now concentrate and keep my mind clear. I will sleep well tonight."
He tweeted as much to his followers.
It's okay. It's going to be fine. https://t.co/oU1t90HEaY

— Esapekka Lappi Rally (@EsapekkaLappi) July 30, 2017
And that's exactly what he did. He kept his cool and delivered his team's second victory on its return to the WRC, and his first in the top echelons of the sport. Only then could he let his emotions out.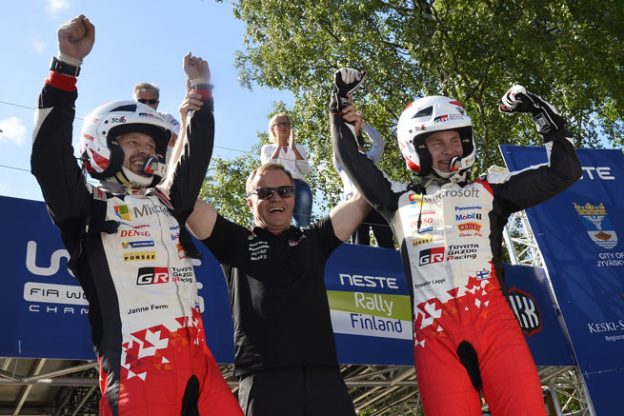 "I'm not normally an emotional person, but this is amazing," he said of his win. "I could never have imagined that we could get a result like this."
However, his boss Mäkinen did.
"I had a very, very strong feeling before the rally that Esapekka could do this," he said. "I knew that he could easily concentrate for this kind of moment and I was absolutely confident that he could do it."
His plans for the rest of the season have yet to be revealed. But you get the feeling that whatever the future holds for Lappi, he'll get there quickly. That's part of who he is. As Becs Williams explains: "He is completely relentless in his pursuit for success. He wants to improve NOW – not next week. He is highly self-critical because he wants to get better as soon as possible."