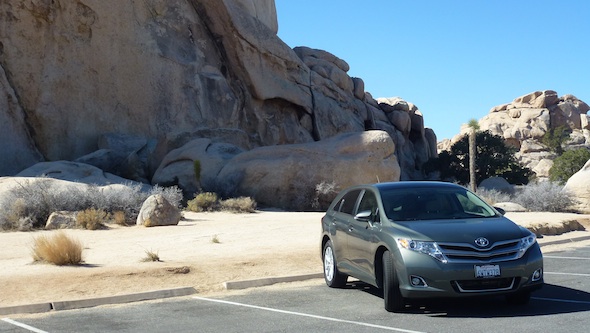 "Let's go places" is Toyota's rallying cry in the USA and it's a call we took to heart when the blog travelled to California to try out one of the home-grown models that we don't get to see here in Europe. Waiting for us at Toyota's American HQ, conveniently just down the road from Los Angeles international airport, was a Toyota Venza.
It's a crossover, but on a large scale to suit the nation's bigger-is-better thinking when it comes to family transport.
The rough and rutted surfaces of LA's clogged freeways aren't much fun, even when the sun's out. So it was an easy choice to head east into the desert, home to Hollywood playgrounds, spectacular scenery and empty highways.
Venza has proved a success for Toyota's American design and manufacturing operations. Its lines were styled at the CALTY studios in California, its engineering was tuned at the Toyota Technical Centre in Michigan, and it is built (alongside Camry) in Georgetown, Kentucky.
The mission was to create a car that blends SUV qualities with the handling, style and comfort traditional American sedan drivers prefer. The result is a car that at first glance displays the low lines of an estate, yet in fact has more than eight inches of ground clearance and can be specified with all-wheel drive.
Think larger Avensis Tourer with a pinch of RAV4 mixed in.
It's proved a success for Toyota since it first appeared in 2008, its reputation leading to American-assembled models being shipped for sale in Russia and Ukraine from this year.
From behind the wheel, Venza was easy to get to know as the Moreno Valley Freeway left LA's low-rise eastern suburbs behind, and climbed steeply through tightening bends into the 'Badlands' that separate the city from the eastern edge of the Mojave desert. Cupholders, big comfy seats, climate control and a touchscreen multimedia system that's just like our own Toyota Touch & Go made for an easy journey, with the panoramic roof showing SoCal blue skies edge-to edge.
In spite of the high ground clearance, overall height has been kept down to 1,610mm – 50mm less than RAV4, which helps avoid wallowing in corners. But this is an American car, so the comfort dial is switched firmly to soft, which means a less engaging driving experience than we expect and appreciate in Europe. But in the context of US Interstate driving, it's absolutely appropriate.
Our Toyota Venza was a front-wheel-drive model with a 181bhp 2.7-litre four-cylinder petrol engine and six-speed automatic transmission. The range also offers a 3.5-litre V6 auto with 268hp – really not the kind of model we're used to in our familiar UK market – but no hybrid as yet.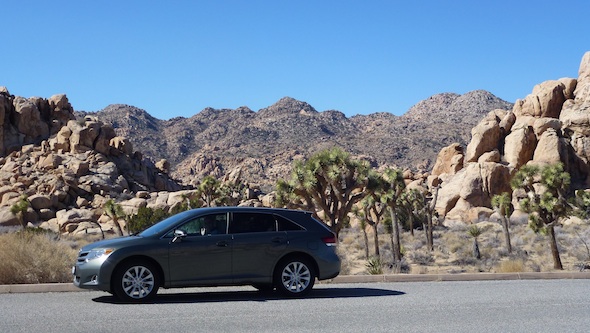 Even with the smaller block up front, response could be tyre-squealing quick when required; otherwise it purred away quietly and unobtrusively, the gear shifts hardly perceptible. Toyota quotes a 'combined' fuel consumption figure of 23mpg – about 27.6 UK mpg – and we managed slightly better than this in our week of mainly open road cruising.
Once settled in Palm Springs, a community rich in well-maintained auto classics (and equally well-preserved retired folk), we planned a route into the mountains and down through the heart of the Joshua Tree national park. Rising up more than 1,500 feet from the desert floor on Route 62 to Twentynine Palms, we watched the temperature gauge plummet by more than 15 degrees. The Venza was balanced through the twists of the pass into the Morongo Valley and the aircon did not miss a beat in spite of the external fluctuations.
Into the park, the raised ride height provided a grandstand view over the amazing landscape of giant boulders, scattered by ancient volcanic action and now a rocky playground for climbers. Over loose gravel sections and the eccentric cambers of the park's 65-mile through-route, there was never a doubt about the Toyota's poise.
In truth the Toyota Venza was every bit as American as the scenery: a car that's proud to be big and comfortable, born and bred in the USA.