Motorcycle racing legend Valentino Rossi took on a new motorsport challenge this week, swapping two wheels for four to test a 650bhp V8 NASCAR Toyota Camry.
The multiple World Champion and works Yamaha MotoGP racer had some special tuition before his laps, from none other than the most successful NASCAR Nationwide driver in history, Kyle Busch.
There was nothing sedate about The Doctor's demonstration laps at the Charlotte Motor Speedway in North Carolina – after a few acclimatisation laps the Italian was setting times which would have put him into the top 15 of a Nationwide Series practice session.
Rossi tests NASCAR Camry – the expert's assessment
It impressed Busch: "He did pretty good. He started out a little slow, which is fine, but every lap he picked it up a lot. He got to where he was running some competitive lap speeds – that's pretty good for a guy in his first start, who is just coming over and getting used to things and someone that is used to driving on two wheels. I think Rossi is a really cool dude."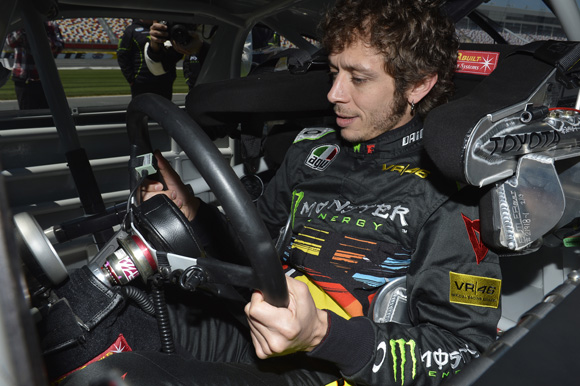 Rossi tests NASCAR Camry – his own verdict
After his laps of the superspeedway, Rossi was beaming: "It was so cool to understand the feeling. It looks like it's a completely different type of racing than what we do in Europe and I expected something more like this – exciting, high speed and a great feeling in the corner. In the banking you have a lot of grip, so you are glued on the racetrack. It was great, I enjoyed it a lot. I love driving the race car, and I always have, so it was exciting to drive a NASCAR.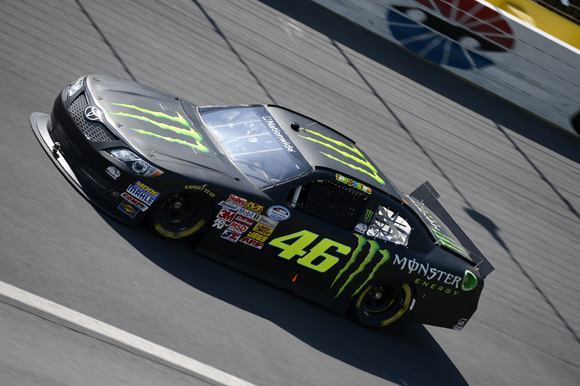 "At the beginning it was a bit strange because it's difficult to go straight. But after some laps, I had a lot of confidence and I was able to go faster. I must say I got along very well with Kyle. He's a good guy; I like him and he gave me a lot of important advice." Rossi slotted in his Camry test right after his sixth-place finish in round two of MotoGP in Austin, Texas; he races next in the Spanish Grand Prix on 5 May.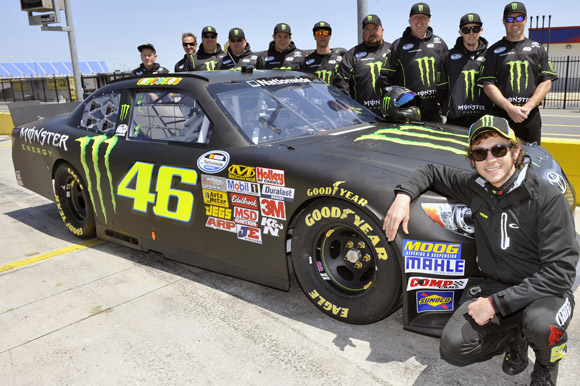 This Saturday sees Busch and his #18 M&M's Joe Gibbs Racing Toyota in action at the Richmond International Raceway in Virginia for the Toyota Owners 400 – he's looking for his fifth consecutive win at the three-quarter-mile oval.