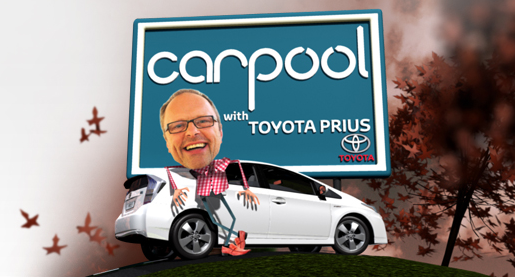 The months of waiting are finally over. The first episode of the new Carpool TV show will be broadcast for the first time anywhere in the world this week. If you're not up to speed, here's a quick update on what you can expect.
Each week, Robert Llewellyn will pick up celebrity guests in his Toyota Prius and interview them while driving to their chosen destination. Click here to see the Red Dwarf star and former Scrapheap Challenge presenter explaining how he came up with the idea of Carpool.
Famous faces using this unique taxi service include fellow Red Dwarf alumnus Craig Charles, comedian Tim Minchin and award-winning funnyman Rob Brydon. For the full list of celebrity guests taking a ride in Robert's Prius, click here.
The first episode, featuring The One Show's Jason Manford and Argumental's Rufus Hound, will be broadcast on Dave at 8.30pm on Thursday, 4 November. How will they find their ride in the Prius? You'll have to tune in to find out.