To mark Toyota's sponsorship of ITV Movies, we asked our Twitter followers to create alternative titles of movies old and new, using Toyota models past and present.
There were over 500 entries using the #ToyotaMovies hashtag, from which three were selected as the overall winners. The creative geniuses behind the titles won 1:43 scale Toyota GT86 models, and some additional goodies.
Below you can see the winning movie titles, as well as a round-up of the most notable entries, which have been separated into categories, just for fun.
Thank you to everyone who took part – your tweets were a joy to read!
The winners
Well done to Lee, Andrew Cliffe, and Jonathan Kershaw for their entries, which display simplicity and originality – which was surprisingly rare!
City Celicas

American HiAce-tory X

Lock, Stock and Two Smoking Barrels

Best of the rest
Here are some more entries that we loved.
Captain Corolla's Mandolin

Diamonds are for RAV4

Raising Aurisona

Aygo What You Did Last Summer

The overused
Here are the Toyota movies that score few points for originality… presenting the most duplicated entries.
'Starlet Wars' and it derivitives was mentioned nine times. Proof that Star Wars never gets old!

We could only marvel at the eight times 'Avensis Assemble' came up.

The Man of Steel and the mighty Supra form a winning combination, as many fans demonstrated with 'Supraman' – this came up seven times.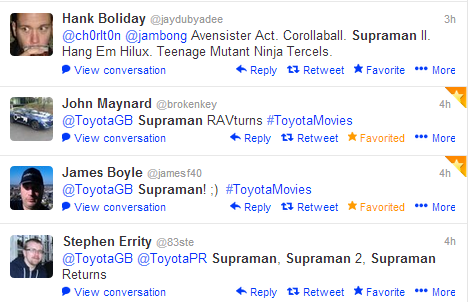 Gunfight at the OK Corolla, Last Tango in Yaris, Toyota Story and RockNCorolla were just some of the many popular entries. Great minds clearly think alike!
The crazy
Here are the Toyota movies that required an interpreter to understand. Congratulations to the creators of these ones, they proved to be quite the head-scratchers.
Star Trek: The Wrath of Khan

Pain and Gain (we think)

Follow Toyota on Twitter at @ToyotaGB and keep up with the latest model news, events, and competitions. Find out more about the Toyota range on the Toyota UK website.
And if you like films, take a look at our #AurisMovies photo tour of the UK's top film locations.