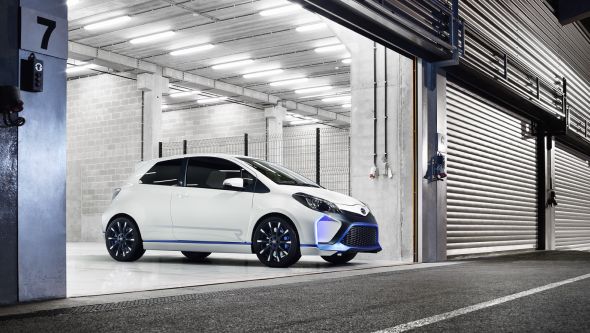 The Yaris Hybrid-R is set to lead the Toyota charge at the Frankfurt Motor Show – and here are the first full images of the car.
Showing off the car in detail for the first time, these pictures leave no doubt that Toyota's engineers have taken the Yaris to a completely new level with the show model.
As we've already reported, the Yaris Hybrid-R 'super' supermini brings the best of Toyota's hybrid knowhow derived from the Toyota Hybrid Racing team's efforts with the TS030 Hybrid in the World Endurance Championship to a mainstream car for the first time.
This means a four-wheel drive layout and maximum power of 420bhp, achieved by the use of 300bhp, 1.6-litre engine and two 60bhp electric motors to provide extra stability and higher cornering speed.
A third electric motor is located between the engine and the car's six-speed sequential transmission. This 60hp motor has no effect on drive, but instead operates as a generator in two different cases: during deceleration to recover energy from the braking force and during acceleration to directly power the rear electric motors.
And while the batteries used in the Yaris Hybrid-R are similar in principle to the nickel-metal hydride units used in the standard Yaris Hybrid,  the concept stores energy in a supercapacitor, which enables more power to be sent to the wheels more quickly. The same goes for energy recovery through braking.
Find out more details about the Yaris Hybrid-R in this post, and stay tuned for more news about the car during next week's Frankfurt Motor Show.