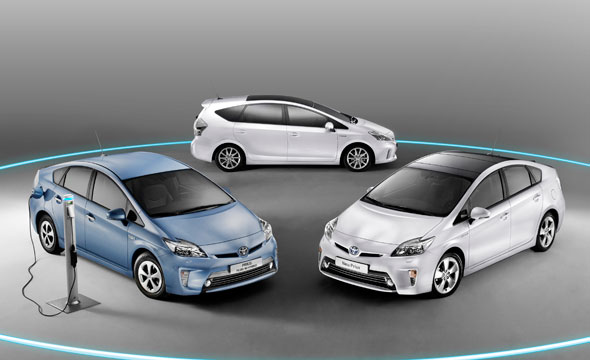 Toyota has won a major prize for its role in reducing the environmental impact of motoring, taking the title of Car and Van Manufacturer of the Year at the Low Carbon Vehicle Partnership awards at a ceremony in London last night.
Graham Smith OBE, Managing Director of Toyota Motor Europe London, was also named Outstanding Individual in Promoting Low Carbon Transport. He was the founding chairman of the UK LowCVP from 2003 to 2009 and remains a member of its board of trustees.
Announcing the awards, Andy Eastlake, LowCVP's Managing Director, said: "In a year of outstanding growth in UK car sales, Toyota, the name synonymous with hybrids, has introduced the technology across the widest range of vehicles on the market. Thirty per cent of its sales are now of vehicles which produce less than 100g/km of CO2.
"With an impressive increase in its sales and market share, together with a UK CO2 average below 120g/km, this really does show Toyota's strong determination to reduce carbon from cars."
Graham Smith said: "Low carbon, low emission vehicles are important not just for the environment but also for the economy, for UK manufacturing and in reducing the motoring costs of retail and fleet buyers alike. LowCVP has played a central role in delivering these benefits and Toyota has maintained its support throughout."
Toyota is committed not only to reduce the CO2 emissions from its vehicles, but from every aspect of its business. A large scale carbon reduction programme has been implemented across the 180-strong Toyota Centre network, which achieved a 15 per cent year-on-year CO2 reduction in 2012.
In the past year Toyota has launched four new hybrids in its strategy to make the low carbon, high efficiency benefits of the technology available to as wide a range of customers as possible. As well as low CO2 performance, these vehicles produce almost no NOx (Nitrous Oxide) and PM (Particulate Matter), emissions which impact on air quality.
The newcomers include the seven-seat Prius+ – which was named Best Green MPV by What Car? in 2012 – and Yaris Hybrid. Each has the distinction of being the first full hybrid in its market segment in Europe.
The year also saw the introduction of the new, British-built Auris Hybrid hatchback, and Prius Plug-in, Toyota's first plug-in hybrid electric vehicle. Hybrids aside Toyota has continued to reduce the emissions and improve the fuel efficiency of its petrol and diesel powertrains across its model range.