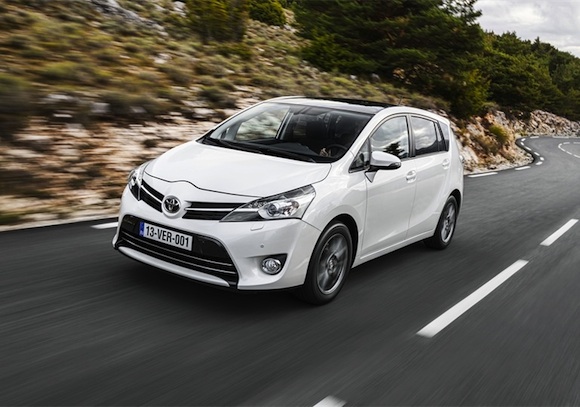 Details of a new addition to the Toyota Verso  family have been announced today. The entry-level model will be powered by a BMW built 1.6-litre D-4D diesel engine, and goes on sale early in 2014.
The engine deal marks a first step in the collaboration agreed between Toyota and BMW Group in 2011.
Offering 111bhp and producing 119g/km of CO2, the engine develops an impressive 270NM of torque.
The deal for it to be used by Toyota is part of a wider collaboration between the two companies, which will see us work together to develop a fuel cell system, investigate the feasibility of a new mid-sized sports car, and carry out research and development of lightweight technologies and lithium-air batteries.
The research and development team at Toyota's European technical centre in Belgium led the development of the Verso 1.6 D-4D, focused on ensuring a seamless match between the engine and the Toyota transmission and electronics.
At the same time they safeguarded the car's established ride comfort and dynamic performance. This involved the development of a number of new components, including new engine mounts, a dual-mass flywheel, a new gearbox and a stop/start system to further improve efficiency and reduce emissions.
Production of the Verso 1.6 D-4D will begin in January 2014 at Toyota Motor Manufacturing Turkey's Adapazari plant, the centre for all Verso manufacturing.
Didier Leroy, Senior Managing Officer of Toyota Motor Corporation, and President and CEO of Toyota Motor Europe (TME), said: "At Toyota, we believe that tackling environmental challenges facing our industry will require more than one approach. Hybrid is at the core of our strategy towards sustainable mobility, but we also see a role for clean diesel in Europe.
"Working together with an industry leader like the BMW Group allows us to benefit from economies of scale to reduce development costs as well as improve our time-to-market."
DIESEL

PETROL

Engine

New 1.6 D-4D

2.0 D-4D

1.6 Valvematic

1.8 Valvematic

Power (bhp/kW @ rpm)

111/83 @ 4,000

122/91 @ 3,600

130/97 @ 6,400

145/108 @ 6,400

Torque (Nm @ rpm)

270 @ 1,750 – 2,250

310 @ 1,600 – 2,400

160 @ 4,400

180 @ 4,000

CO2 (g/km)

119

129

154

159
Read our interview with Mehmet Kilic, deputy chief engineer of new Verso – here.