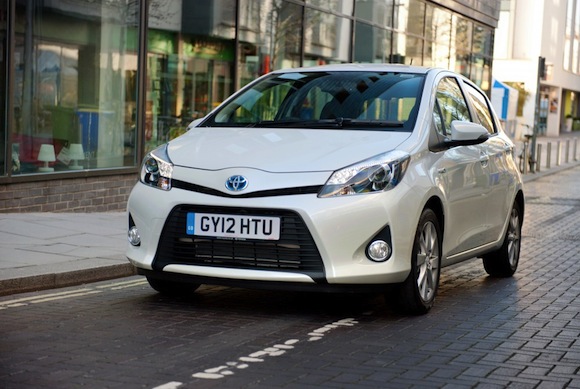 2012 was a year to remember for Toyota GB. Official figures for the year show sales of passenger cars and light commercial vehicles for the brand at 92,318, a 12.6 per cent increase over 2011.
The continued success of Aygo, Yaris and the British-built Avensis were responsible for the increase, while hybrid models made up almost 14 per cent of total sales.
Company car buyers increasingly chose to drive a Toyota, as fleet sales went up by 8.2 per cent.
Here's a look behing the numbers.
Toyota Aygo seven, and not out
In the seventh year of its life, Aygo continues to be one of Britain's best-loved city cars with a sales increase of 12.8 per cent. The car is the fifth best selling city car with sales of 16,046 units.
New Toyota Yaris a hit with supermini buyers
A new generation of the best selling Yaris arrived late in 2011, and was joined by a hybrid version in July 2012. Sales exceeded forecasts and were up 67.8 per cent up on 2011, with a total of 29,963 cars.
Toyota Avensis, winner on road and track
Avensis has had a great year on the track, with a first BTCC win at Brands Hatch, thanks to young driver Frank Wrathall and the Dynojet team. The car has found favour with company car drivers too. Sales to corporate customers increased by nearly eight per cent compared to 2011.
Hybrid a mainstream choice
Toyota launched five new or revised hybrid cars into the UK market in 2012, giving customers more choice than ever before. The new Yaris Hybrid supermini, Prius + seven-seat MPV and Prius Plug-in Hybrid took the market-leading technology into new sectors of the market. Consequently, nearly 14 per cent of Toyota models sold in 2012 were hybrids. On track, Toyota's squad took three wins in the World Endurance Championship with the TS030 hybrid Le Mans-style racer.
Company car buyers flock to Toyota hybrids
Corporate buyers have switched on to Toyota Hybrids in 2012. Nearly one in five Toyota cars and commercial vehicles sold to corporate customers in 2012 featured a hybrid powertrain. The recent launch of the British-built Auris Hybrid adds to the attractiveness of the technology as a good choice for the tax conscious corporate customer.