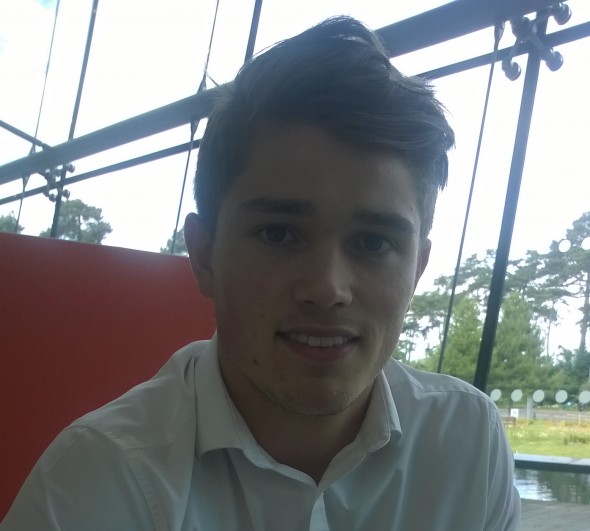 Full name: George Gazzard
Year of graduation: 2015
Business departments worked in:  Aftersales
Length of placement: One year
Toyota Blog: Hi George, tell us a bit about your role within Toyota
GG: My main areas of involvement are management of customer escalations from our eBay (e-commerce) stores as well as maintenance of the shop front. For example, if a customer is after a certain part for their vehicle, I will liaise with the relevant department to ensure they are given professional advice and assistance. In a lot of cases, this will involve communication with our logistics hub in Lutterworth (near Rugby).
I also coordinate the creation of new SMR (Service, Maintenance, and Repair) data within SMR application for EPOS. (This is essential for our dealerships). This also involves managing any dealer queries over pricing and data within our SMR matrices.
TB:  What projects have you worked on and particularly enjoyed?
GG: The e-commerce project – it hadn't been launched when I joined, but was still in the planning phase. My initial tasks within this project were analysis of eBay using our market tool 'Terapeak'. This was to establish what hard parts/accessories were selling well on eBay, so we could than provide these parts/accessories on behalf of Toyota and Lexus. It has been interesting and exciting to see the project go from the planning phase to a live shop. It has a lot of potential and I look forward to seeing the growth of the shop fronts over the next couple of years.
TB:  What have you learnt during your time at Toyota?
GG: I have learned to approach tasks with more thought and to challenge conventional processes. I have also learnt that establishing SOPs (Standard Operating Procedures) for any ongoing tasks helps you be consistent in delivering your objective. 
Being proactive within projects is key; examples of this are constantly ensuring all stakeholders are meeting their objectives and keeping live reports on projects to document progress or any problem areas.
TB:  What has surprised you most about your placement?
GG: I didn't think I'd get as much responsibility as I have been given. I have been involved in some large projects and left to make decisions that have a real impact.
I was surprised by how supportive people are. I thought it would be a very efficient, professional place to work, which it is, but people recognise that we all have improvements to make and therefore are very helpful and supportive of me in my learning and development.
TB:  Would you do your placement again?
GG: Yes
TB: What would you say to someone who may be considering a placement with Toyota?
GG:  The interviews were daunting, especially when you arrive at the impressive head office building, but the environment is so friendly and supportive. It's not a strict environment which I think has helped me enjoy my time here a lot more and probably aided my productivity! There's nothing to worry about in coming here.
Where next?
Apply for a student placement with Toyota
See also:
Applications open for Toyota Student Placement Scheme
What is it like to complete a student placement with Toyota?