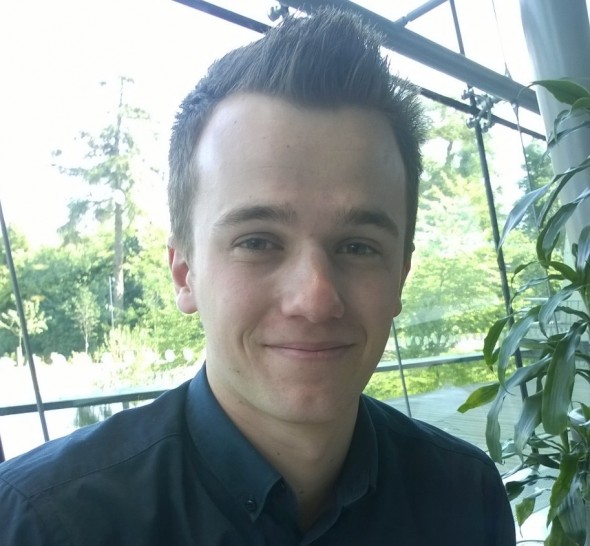 Full name: Craig Horne
Year of graduation: 2015
Business departments worked in:  Product and Technical
Length of placement: One year
Toyota Blog: Hi Craig, tell us a bit about your role within Toyota
Craig Horne:  My role is to support technical advisors and senior managers with monthly reports and breakdowns of calls from technicians. These calls come in outlining issues that they have faced, and therefore my review of the data allows me to see if there are any patterns or trends that need to be investigated further. I am also responsible for taking service and repair data from our Global head office in Japan (TMC) and our European head office in Belgium (TME.
I work alongside our Fleet team to make sure that they have accurate information when tendering for bids so that they can correctly provide the cost of wear and tear over the life of the vehicle.
Finally, I liaise with the Product marketing team and help them to answer any customer technical queries they receive from the network.
TB: What projects have you worked on and particularly enjoyed?
CH:  I prepared a paper on VOSA, how it compared with the US version (NHTSA) and the impact that this had on how recalls are managed in the UK and the US.
I presented this paper to the divisional director, Steve Settle, and he then arranged for me to help present this with Neal Standen (GM Product Technical) in front of some Product Technical representatives from our Global head office.
It was really daunting to be in front of some very senior people who work in a similar field but have a much wider view! It was fun to do though, and I'm really pleased I had the opportunity.
TB: What have you learnt during your time at Toyota?
CH:  Excel! I've been on a couple of Excel courses here, and although I thought I was quite good before, I've learned a lot more. I've also learned about several other MS products, including Visio, which I'd never used before. I think my communication skills have improved too; I've got more confidence and have built relationships around the business so that I am comfortable talking to anyone.
TB: How do you think you have changed during your time at Toyota?
CH: I think that I am much better prepared to start work after my degree, now that I've got more experience in a work environment. My time management is much better too – the difference between doing eight hours a week at university and eight hours a day at work is huge! It's going to seem really strange going back.
TB: What has surprised you most about your placement?
CH: I've used a lot of different cars! My department has its own fleet, so I've been able to drive a wide range.
The whole placement has all been more than I expected. I expected to be in a relatively junior position making the tea! That's not been the case, and I've been trusted to do so much more than I thought I would, such as presenting a paper to senior executives.
TB: Would you do your placement again?
CH:  Yes, definitely. In fact, if I was asked to stay and do the last year of my degree over the next two years, then I would do it.
TB: What would you say to someone who may be considering a placement with Toyota?
CH:  Get involved with as many other departments as you can. Put your name down for any trips and courses you can do – make the most of it! You're only here for a year, so get as much as you can out of the experience.
Take the chance to speak with people and get to know them; the more people you know the better off you will be after university, so take those chances.
Doing the placement is great – it gives you a chance to apply what you're learning in practice, and see what working life is really like.
Where next?
Apply for a student placement with Toyota
See also:
Applications open for Toyota Student Placement Scheme
What is it like to complete a student placement with Toyota?