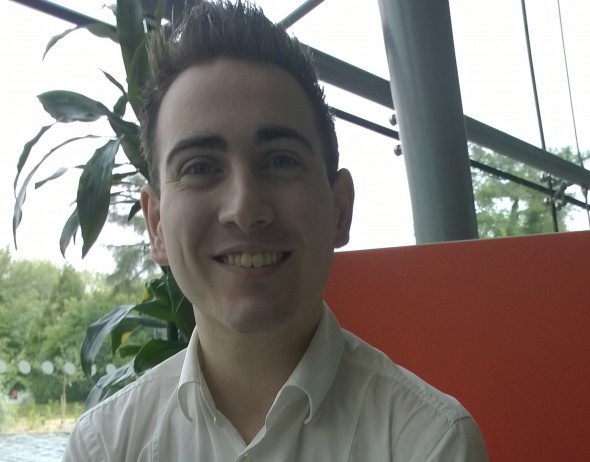 Full name: Callum Swain
Year of graduation: 2015
Business department worked in: Product, Customer Services, ISD, TFS, Fleet, Social, ABU, Network Development.
Length of placement: Two years
Toyota Blog: Hi Callum, tell us a bit about your role within Toyota.
Callum Swain:  I work on the website. I work with up to four agencies and meet weekly with all of them to plan and deliver an optimisation programme. I also get involved with the design of the sites, user experiences and Search Engine Optimisation.
I was involved in a massive data migration project, which meant testing every page of the website multiple times. It was a huge job but really forced me to understand the website layout and how other departments link to the site.
I have also been involved in a data architecture project, which enabled me to visit our European HQ in Brussels (TME). It was really interesting, as it gave me an understanding of how lots of internal systems feed into the website and obviously it is important that the data they transfer is accurate and well formatted so that it is easy to read.
TB: What projects have you worked on and particularly enjoyed?
CS: I've been involved in the recent Aygo project. This project involved preparing launch sites and pages, making sure that all of the content suits the car and branding – it is important to keep a consistent tone. This project enabled me to take a second trip to TME in order to receive training on a product system and the website's Content Management System (CMS). It was a great project as it encompassed the whole range of the role in one project, from data capture and flow through to agency and branding work. It was also very high profile, and so it was great to work on!
TB: What have you learnt during your time at Toyota?

CS: Lots! Watching how agencies work has been interesting, seeing the different approaches and thought processes to how they make their recommendations and presentations.
I have learned how important the teamwork element is, especially working across the range of the projects, the website and the company as a whole.
I have learned about best practice, and how this can be applied across the work I do. Learning how to support integrated campaigns has been an underlying theme across my placement and tracking developments and analytics has provided a number of insights.
TB: How do you think you have changed during your time at Toyota?

CS: I'm more mature and responsible; I have to take responsibilities for different projects. The professionalism is very different to being at university too.
TB: What has surprised you most about your placement?
CS: I was quite open-minded about it – I was interested in several roles here. I didn't expect to be asked to travel to TME, and I also get to spend a lot of time at various meetings in Central London, including a conference at Google.
The level of responsibility is much higher than I thought; sometimes the responsibility for the content of the site has just been down to me! I didn't expect to work on such high profile projects – I'm definitely not just making drinks.
Additionally, I did not anticipate such a close working relationship with your team and boss. Team spirit is always high and there is always a good atmosphere where you can openly share ideas and opinions. Another thing I found surprising was the job that I do does not involve social media; the two are very detached.
If you're willing to put the effort in and work hard, your opinions will be considered, and you can influence the direction of projects at a number of levels.
TB: Would you do your placement again?
CS: Definitely – it's a fantastic place to work!
TB: What advice would you give to someone who may be considering a placement with Toyota?
CS:  Have an open mind when you come here. It's the biggest car company in the world and even one year on, I am still proud and excited to come to work each day. It is a proper job, which makes me want to do well and put in extra effort. It's a fantastic working environment with great people in it. I didn't think I would be able to work somewhere like Toyota but I am really glad that I do.
Where next?
Apply for a student placement with Toyota
See also:
Applications open for Toyota Student Placement Scheme
What is it like to complete a student placement with Toyota?