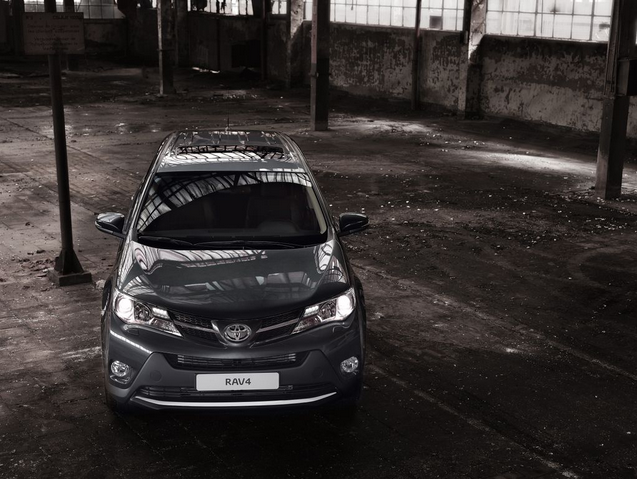 The Toyota RAV4 is the original compact SUV – and with the latest, fourth generation model arriving on UK roads in spring, the UK's top reviewers and writers have finally been given the chance to get behind the wheel.
Here's a summary of what they had to say.
Auto Express Toyota RAV4 review
"The new car is 205mm longer and 30mm wider, at 4,570mm and 1,845mm respectively. Yet the more significant increase comes in the wheelbase – it's 100mm longer, at 2,760mm, which gives excellent levels of interior space." Says Auto Express' Tom Phillips.
"The styling is sharper. There's an aggressive trapezoidal shape in the front bumper that houses the number plate and a gurning air intake, while the angular headlights look great, particularly where the chrome bar from the grille runs into each lamp.
"The dash is a smart design, although the plastics are hard and scratchy, despite Toyota's best efforts to jazz things up with carbon-fibre-effect trim. New Clear Blue dash lighting is soothing at night, too, while the mid-spec Icon model – predicted to be the top seller – has all the kit you need, including auto lights and wipers, sports seats and Toyota's touchscreen infotainment system."
What Car? Toyota RAV4 review
What Car?'s RAV4 review focused on value for money, commenting: "This all-new version [of RAV4] promises more space, more equipment and more performance for less money.
"Prices start at £22,595 for the 2.0-litre diesel model, which means the new RAV4 not only undercuts its predecessor, but also entry diesel versions of key rivals, including the Honda CR-V and Mazda CX-5.
"The latest RAV4 is one of the biggest cars in its class, so there's plenty of space inside. Four six-footers will be perfectly comfortable, and although the narrow central rear seat means life isn't as good for a fifth, those in the back get even more legroom than they do in the CR-V and CX-5.
"Boot space is also impressive, and the rear seats fold down almost flat. Meanwhile, a conventional tailgate makes it much easier to load the boot in tight spaces than it was with the old model's side-hinged door."
Autocar Toyota RAV4 review
Autocar's Toyota RAV4 review said: "Our test car was a range-topping 148bhp 2.2-litre AWD auto.
"It had good mechanical refinement, plenty of mid-range torque and an elastic-feeling gearbox well calibrated to take advantage of that easy pulling power. This is an easy car to drive.
"Performance felt bang-on the class average, as the 10sec to 62mph claim would suggest. Economy was likewise, with a return of just over 35mpg in mixed use."
Honest John Toyota RAV4 review
Honest John's verdict on RAV4 explained the clever Integrated Dynamic Drive System, and why it makes for great handling: "Normally, the RAV-4 is front wheel drive. But as the steering angle sensor detects that you are entering a corner, drive is initially split 90% front and 10% rear, tightening up the steering. Mid-way through the corner, drive is split 50/50. Then, as you come out of the corner, torque gradually vectors back to the front.
"This doesn't merely make the steering much sharper and more positive, it transforms the driving experience into a pleasant one. And that's despite the fact that our four-wheel drive car was on the same 225/65 R17 tyres as the two-wheel drive RAV-4, which it won't be on in the UK. It will be on 235/55 R18s over here, so they will make it sharper still without ruining the ride quality.
"The RAV-4 obviously still isn't sportscar-like… but it's comparable to a Honda CR-V, Mazda CX-5, Volkswagen Tiguan and Ford Kuga. I could spend all day driving one on a twisting route."
Read our other posts on RAV4 here, or find out more on the Toyota website.