The new Toyota RAV4 is Toyota's latest SUV, enhancing the features that made the RAV4 so successful in the past. Ideal for those looking to transport the whole family in comfort and safety, the RAV4 features increased on-road performance and economy from its line up of three engines – a 2.0-litre Valvematic petrol engine or a choice of 2.0 or 2.2-litre diesel engines – and a revised, more spacious cabin for passengers across four trim levels: Active, Business Edition, Icon and Invincible. The RAV4's increased interior space and versatility will suit those with an active lifestyle, and the availability of all-wheel drive on all engine variations makes it easier and safer to get where you need to go.
Driving
A revised engine line-up makes the Toyota RAV4 even more appealing, with an economical, low emissions 2.0-litre diesel engine available in both 2WD and 4WD formats, while improvements to the 2.2-litre D-4D (six-speed manual) and D-CAT (six-speed automatic) diesel engine powering the other all-wheel drive models. AWD models are also offered with Toyota's 2.0-litre Valvematic petrol engine and exceptionally smooth Multidrive S automatic transmission.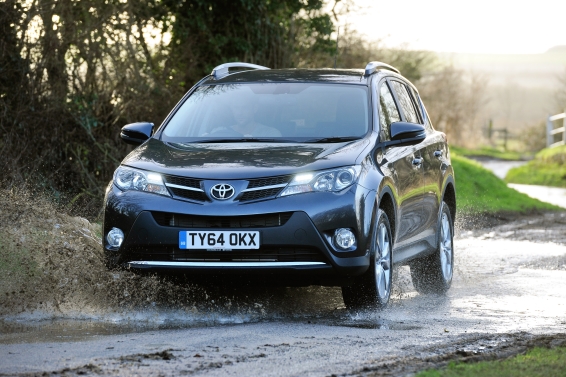 Toyota engineers have improved the RAV4's suspension and steering, making it more stable and agile. Ultimately this instils confidence in the driver, making the experience more enjoyable. The RAV4's all-wheel drive system comes with a Sport mode which delivers a faster throttle response, more responsive steering and a sportier drive, while the 4WD Lock button is available for off-road driving.
Comfort
Toyota engineers have gone to great lengths to ensure that the RAV4 is quiet, comfortable and spacious for passengers. Improved sound insulation and the RAV4's aerodynamic styling keep engine, road and wind noise to a minimum, enabling occupants to enjoy the feature-packed interior.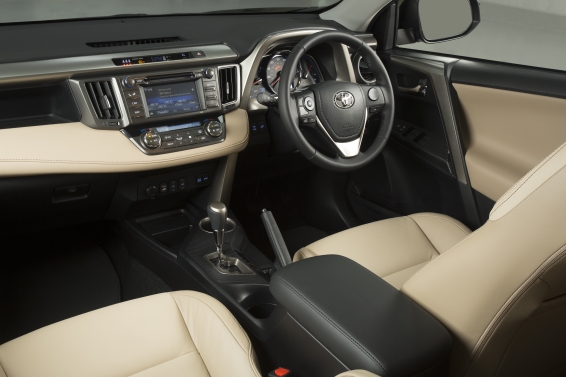 All four model grades include electric windows, air-conditioning, privacy glass and Bluetooth. The Icon grade adds a powered tailgate, Toyota's latest Touch 2 touchscreen entertainment system, a keyless Smart Entry and Start system, dual-zone automatic air-conditioning, cruise control and new two-tone 18-inch alloy wheels. The RAV4 Business Edition, aimed primarily at company car drivers, is similar in specification to the Icon, with the addition of Toyota's Touch 2 with Go multimedia and navigation package as part of its standard equipment.
Top-of-the-range Invincible models extend the range with a choice of either black or beige leather upholstery, heated front seats, and front and rear parking sensors. Optional on both Icon and Invincible models is an upgrade to Toyota Touch 2 with Go navigation which features imagery of the vehicle's location or a chosen location to help pinpoint and recognise destinations.
Practicality
Increased interior space makes the RAV4 even more practical, with the ability to carry five adults in comfort thanks to class-leading rear legroom. Plenty of cubbyholes and storage compartments mean there's loads of space for your knick-knacks in the cabin.
A longer load space means that luggage capacity grows to 547 litres, and when the 60:40 split rear seats are folded forward, that figure more than trebles to 1,746 litres if you load right to the roof. The new top-hinged tailgate (powered on Icon and Invincible models) and lower sill height means that it's easier to load the boot too.
Safety
The strong body of the RAV4 contributes to high standards of pedestrian and passenger protection, such that the SUV achieved the maximum five-star rating in the Euro NCAP safety crash tests. Also, the RAV4 is equipped with anti-whiplash seats and seven airbags to give further protection in the event of an accident.
To avoid that happening, Toyota has fitted the RAV4 with safety systems including anti-lock brakes with technology to aid braking ability in emergency situations, stability control and traction control to prevent skidding and maintain grip.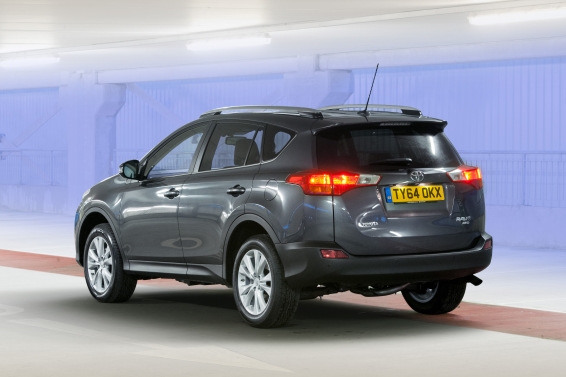 Running Costs*
By making the RAV4 even more economical, Toyota has reduced running costs. The two-wheel drive 2.0 D-4D models are equipped with stop-start technology and achieve 57.6mpg on a combined test cycle, combined with low CO2 emissions of 127g/km which saves money on road tax – the first year is completely tax free.
Among the all-wheel drive models, the 2.0 D-4D with six-speed manual gearbox delivers 53.3mpg and 137g/km, while the 2.0-litre Valvematic petrol engine with Multidrive S CVT transmission returns 39.2mpg on the test. Finally, the 2.2-litre D-4D (six-speed manual) and D-CAT (six-speed automatic) diesel engines achieve 49.6mpg and 42.2mpg respectively. Lastly, visits to the dealer for servicing are only required every 10,000 miles or once per year.
Quality
One of the main benefits of owning a Toyota is its outstanding quality, and the RAV4 delivers as you'd expect. It is covered by a five-year/100,000-mile mechanical warranty, as well as Toyota providing three years' warranty against rust and paint defects irrespective of mileage. The bodywork is also covered by a 12-year anti-corrosion warranty.
Prices*
All two-wheel drive RAV4 models from Active all the way up to Invincible use the 2.0 D-4D diesel engine and six-speed manual gearbox. Prices start at £22,795 on the road (Active), £24,295 for the Business Edition, or £25,295 and £27,245 for Icon and Invincible grades respectively. The 2.0 D-4D is also available in the all-wheel drive RAV4 Active for £26,300 or RAV4 Invincible for £28,250.
Toyota's 2.0-litre petrol engine coupled with a CVT automatic transmission can be specified in Icon and Invincible models only, priced at £26,305 and £28,255 respectively. The 2.2-litre diesel engine is offered on all-wheel drive Icon and Invincible models, costing £27,100 and £29,050 respectively when fitted with a six-speed manual gearbox. Specifying the 2.2-litre diesel with a six-speed automatic transmission adds another £1,110.
For further information about the RAV4, and to arrange a test drive, visit the RAV4 section of the Toyota website.
*Prices correct as of 10/9/15