Just as the Toyota RAV4 was the first car to answer the public's desire for a compact sports utility vehicle, the latest generation of Toyota's family-friendly crossover is breaking new ground by being pitched against rally-honed machinery in the fiercely competitive world of off-road motorsport.
Ryan Millen is the man introducing the RAV4 to stage rallying, a task he is nervously relishing as the latest chapter in the Millen family's long history of taking Toyota vehicles to new heights. His father, Rod Millen, famously smashed the outright Pikes Peak Hill Climb record in a highly modified Toyota Tacoma pickup, and Ryan himself was class winner in last year's punishing Baja 1000 off-road race.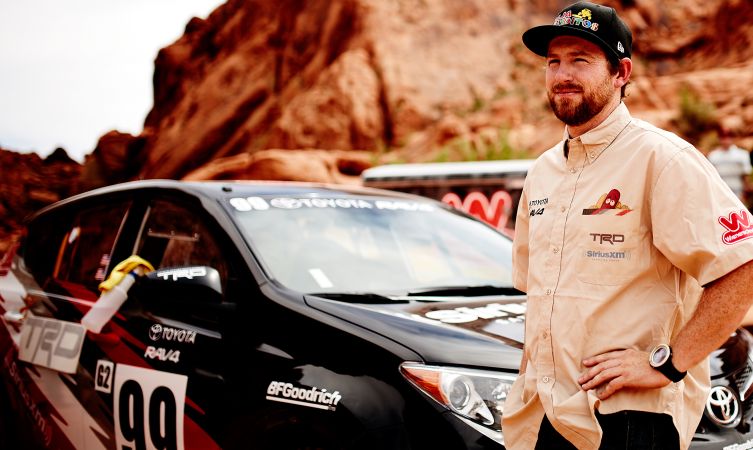 "I've been very impressed with the RAV4's tight, compact body and smooth handling," Ryan commented. "And I'm looking forward to putting it through its paces this season."
Although the RAV4's strong, monocoque platform makes it a perfect go anywhere, do anything road vehicle, it is not capable of competing in original specification. Watch the introductory video below to get an idea of the time scales and modifications needed to prepare the car for rallying.
In the second episode below we see the RAV4 prepared in time for its official debut in front of 70,000 people in Las Vegas, where Ryan's girlfriend Christina Fate was also revealed as co-driver – her first time in such a competitive environment.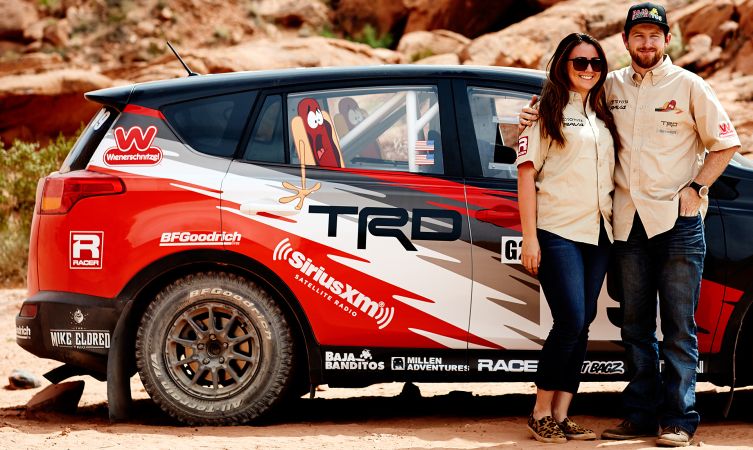 "The navigator is… almost more important than the driver," said Millen with an air of gravity and no hint of nepotism either. "I think if Christina makes a mistake, we're both getting hurt; and if I make a mistake, we're both getting hurt."
Immediately afterward, the RAV4 was put through its paces in a series of tests to flush out any issues that had not already been addressed.
In episode three below, the third member of the team is introduced – lead mechanic Brian 'Mother Hen' Hoeppner. Compared to the 400-man rally teams he has previously worked in, the personnel in this campaign is minimal to say the least, and it comes down to Brian's efforts in the service area to keep the car going whatever happens within the race.
The video also sees the nerves building as the RAV4 emerges from its trailer and heads out into the gravel-strewn roads of California for its first shakedown test. How will it handle? Will it be quick? Will anything break? And how will Ryan and Christina adapt to the demands of calling and following pace notes?
The Car:
Ryan Millen's Toyota RAV4 Rally is built to 2WD Open Class rules and retains its original 176bhp 2.5-litre four-cylinder petrol engine and six-speed automatic transmission. More than 225kg of weight has been removed from the vehicle, while a roll-cage has been installed to comply with safety regulations. Further additions include off-road specification Tein suspension, BFGoodrich all-terrain tyres and a vinyl makeover for the bodywork.
Tentative Schedule in Rally America Series*:
Idaho Rally – 13-14 June (11th among 49 entrants, of which 10 did not finish)
Mendocino Rally – 18-19 July (4th among 18 entrants, of which 6 did not finish)
Rally Utah – 7-8 August (rally cancelled at last minute)
Gorman Ridge Rally – 22 August (first among 12 entrants in two-wheel drive class)
Prescott Rally – 2-3 October (3rd among 28 entrants, of which 11 did not finish)
Mount Hood Rally – 17 October
* Results will be updated after each race
Learn more:
History of the Toyota RAV4
Toyota RAV4 tackles Pikes Peak